Sneaker connoisseurs are known to go to great lengths to get their hands on the latest shoes. But for two Nike Air Max releases this week, it was a store that took extreme measures. In a continued effort celebrate global sneaker culture, Foot Locker surprised three customers with a "pick up trip" across the globe. Complex went along for the ride on one of those trips.
Bronx native Dashawn Martin didn't know what to expect when Foot Locker sent him an email asking him to partake in a survey as part of its VIP program, but as soon as he saw it addressed to "sneakerheads," he knew it was worth his time. What he didn't know was that he would soon be asked to stop by Foot Locker's New York City flagship store, along with a couple of odd requests: a friend and a passport.
Retailers regularly have themed releases and pop-up shops, so asking guests to bring a passport could've been part of a stunt to add suspension. "I wasn't sure where we could possibly be going just for the fact that we weren't going straight to the airport, so it was like, 'Maybe it's not that far or something quick,'" Martin says.
A quick trip was far from what he and his friend Johnathon Williams found waiting for them when they arrived at 9:30 a.m. on Monday. After being greeted by Foot Locker employees, the two friends were encouraged to take a look around the store. At this point, it seemed like they might just be treated to a private shopping experience, which would have been a treat for anyone. After a few minutes of browsing, Martin and Williams ended up at the Nike Air Max wall where the Foot Locker associate brought up the highly coveted Nike Air Max 97 "Silver Bullet." As expected, both men were hyped about the upcoming release and asked if they had it in store. The answer was no, but there was a catch: They could pick up the sneaker at another location. That location was 4,000 miles away in Milan, Italy, and suddenly having their passports with them made a lot more sense.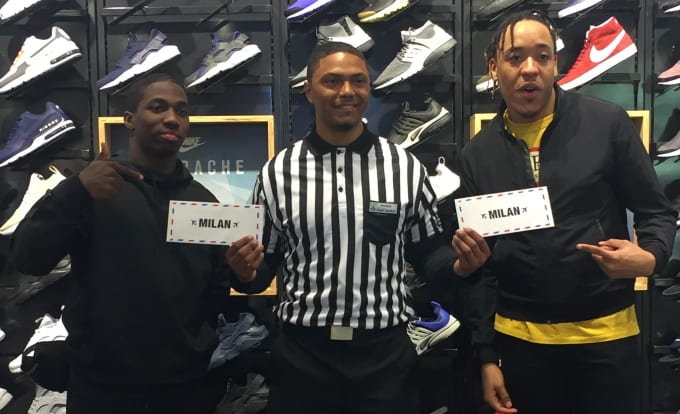 The reason Foot Locker took these customer to Italy goes deeper than giving them a nice trip: The country's the spiritual home of the Air Max 97. It's rumored that Italy's sold more pairs of the sneaker than any other place in the world, which is something that was reflected in Nike's marketing of the shoe; not only this year, but over the past decade.

"It's amazing. It's another country so we're about to visit different cultures, different people, and different languages," Williams said.
Next thing you know we were on a business class flight out of John F. Kennedy Airport to the world's fashion capital for what would sure to become their most memorable sneaker pick up ever. After eight hours in the sky, we were in Milan and while it was the middle of the night in New York, we were greeted by a beautiful Italian spring morning. Checking into our hotel in the heart Milan seemed like the next move, but who needed sleep when there was something better waiting at the Foot Locker Italian flagship store. As we arrived, there was a already a crowd of teenage boys gathered inquiring about the "Silver Bullet' release, but they, like the rest of the world would have to wait until Thursday. Martin and Williams on the other hand, would soon be rewarded for their journey. Before the Foot Locker associate could ask the men what they were looking for, Martin requested the sneakers in his best Italian impression. Apparently he had gotten a quick language lesson from his driver on the to the store. Without hesitation, both men put on the sneakers and their excitement soon led to breaking out dance moves they memorized from their NYC-based "Waffle" dance crew.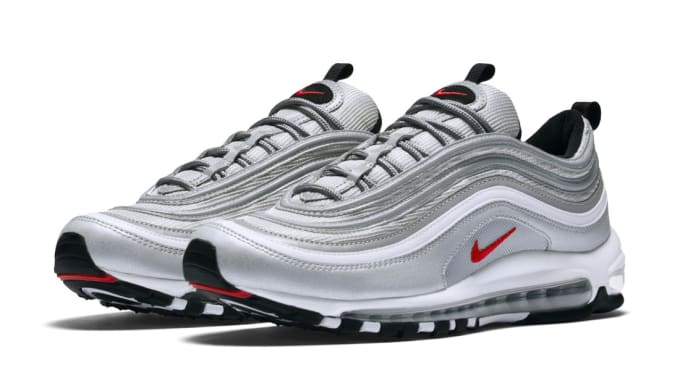 Now that they had gotten a pair of this weekend's most sought after releases, the two were off to soak in everything that Milan has to offer. In true VIP fashion, they were escorted by a personal tour guide and driver to experience the city. From lunch overlooking the famous Duomo Di Milano to riding the Trams in Milan like locals, Martin and Williams made the most out of the Air Max 97's first wear. "I think it was dope. The people of Milan were wearing dope sneakers, they're part of the culture. It makes sense that I was able to travel out to Italy and pick up the 'Silver Bullets' where they actually first came out earlier this year. Seeing the sights, the culture of Italy, the styles, it was amazing. I'm happy I had the opportunity to come with somebody and share that experience. I'm happy I got to get those Air Max 97s," said Martin as he boarded his flight home.
Not a release goes by the without a viral story about "backdooring" or customers being dissatisfied with treatment and retailers still have a lot of work to do to make releases better. But the last 30 hours might have restored these two young sneakerheads' faith in the process. Of course, this is clearly an extreme case and once in a life occasion, but it's also a reminder that sneakers are more than just products. They've always been more than that. They're about how you got them, the people you met along the way, and the memories that will be associated with that pick up for the rest of of your life. Not everyone will be able to relate to traveling across the world to pick up a pair, but we all have our own unique stories that make sneakers more than just sneakers to us. The stories that separate this "niche" community with the everyday consumer. Ask any sneakerhead, they'll tell you. Saluti.