If the story is to be believed—and seeing that it is the story produced by Jordan Brand itself, it probably can be—the royal blue and black Air Jordan 1 holds a special place in Michael Jordan's heart. It was apparently his favorite color combination, this despite it's being every bit as much of the (Duke Blue) "devil's colors" as the red and black of North Carolina State. As it re-releases this weekend for the first time since 2013, and the fourth time since 1985, we look back on the best Air Jordan that MJ never wore on an NBA court.
That may sound like something of an outrageous statement to make, but honestly it isn't. MJ wore nearly everything that Nike produced on-court during his 1985-1993 first run with the Bulls. He didn't wear the "True Blue" IIIs, but later donned them (or a too-close-to-call PE) as a member of the Washington Wizards. The others he never got to? "Military Blue" IVs, "Grape" Vs, "Maroon" and "Sport Blue" VIs, and any number of 1s (metallics, Shadows, etc., etc., etc.). Technically he didn't wear the "Olympic" VIIs on an NBA court, but we'll make an exception for those.
Each of the aforementioned styles have their champions—"Military Blues" have come back twice, the "Grapes" kicked off a whole run of lifestyle versions of performance shoes, and the first "Maroon" VI retros were blessed with that coveted Nike Air branding. But the "Royal" 1s are different.
For starters, they were one of the first Air Jordans anyone saw Michael Jordan wearing, period. He wore them, along with the classic matching sleeveless royal-and-black Flight suit standing on a runway for an iconic Chuck Kuhn photo that would become one of the earliest Air Jordan posters. As a Nike employee from the time period tells it, the private jet in the background of the photo wasn't supposed to be there. It was just supposed to be Jordan and the runway lights. But as sunrise drew near and the pilot couldn't be found to move it, Kuhn had to just take the shot. Given Jordan's meteoric rise—and now, his own plane—it was a fortuitous mistake.
The only photo of Jordan wearing "Royal" 1s on court is an equally iconic one—wearing the same exact outfit as in the poster, he's playing defense on the deck of a cruise ship. Visible on a chalkboard in the background is "Norway Sports Program: A Cruise Staff Fit with Fun Program." Jordan almost looks like a time traveler from the near future, in his slim-fitting outfit and colorful hightops, taking on guys in short shorts, tube socks, and traditional white basketball shoes. They were the stylistic forebears of Jordan-and-Bugs defeated chumps in the Hare Jordan commercial from a few years later.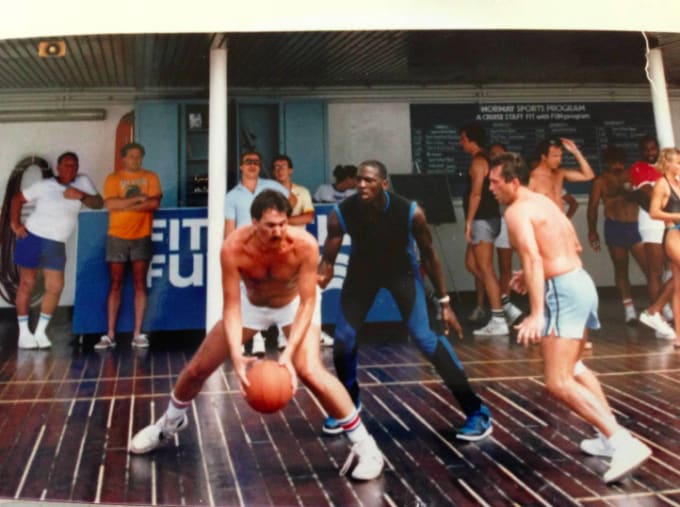 The Royal Jordan 1s had a second life as well—serving as one of Powell & Peralta pro skater Lance Mountain's mismatched pair during the filming of Search for Animal Chin. Fellow skaters Tommy Guerrero and Christian Hosoi dogged Royals as well. Later, the "Royal" Jordan 1 was re-issued (under white or black coatings) as half of two Lance Mountain Jordan 1 SB packs.
But the Royal Air Jordan 1s true heritage was in basketball and with Michael Jordan. And we should have known how much the "Royals" meant to MJ even before this latest re-issue—after all, they, along with the "Banned" and "Chicago" colorways, were one of the three original AJ1 colorways referenced in the "Top 3" Air Jordan 1 retro, and the only colorway he never wore on-court. It's the best there ever was and—barring one final comeback—the best there ever will be. Hm, feels like we've heard that before.