The counterfeit goods industry is worth more than a trillion dollars, and fake sneakers are a big part of that equation. When it comes to bootleg shoes, they've morphed from Air Jordans with Spongebob on them to near-identical Adidas Yeezy Boosts that can even fool discerning sneaker enthusiasts. Except for Yeezy Busta, a 19-year-old medical student from Los Angeles who runs an Instagram account that calls out celebrities and regular people.
Yeezy Busta, who prefers to keep his identity hidden due to legal ramifications and to preserve his privacy, first fell in love with Kanye West's sneakers when Kanye wore them in Keri Hilson's "Knock You Down" music video. He's since garnered a social media following of nearly 190k Instagram followers and is viewed as a bona fide expert on whether a pair of Yeezys is real or fake. As expected, his account has become controversial, as he calls out people publicly for wearing bootleg sneakers, which has caused him to make friends and enemies along the way.
His passion for identifying legitimate footwear, however, started when he fell victim to owning a pair of fake sneakers himself. Since then he's learned the ins and outs of what constitutes a real pair of Yeezys. We spoke to him on what it's like to be the Internet's authority on who's wearing authentic sneakers or not and how to make sure you're laced in nothing other than pairs straight from an Adidas factory.
How did you create the Yeezy Busta persona?
There were a few kids in my high school who always showed off their fake Yeezys, and I thought it was funny. I don't have a problem with people who want to wear fake shoes, just own it. They'd say, "I spent $1,000 on these. They're real." I'd call them out for lying. I was a fan of Fake Watch Busta. I first called out a few of my friends from high school and some random people I found on Instagram. I got a shout out from a big page and got on Complex the same day.
Who's the most surprising person you've seen in fake Yeezys?
Teyana Taylor, because she signed to Good Music. She was wearing fake "Turtle Dove" Yeezy Boost 350s. This was before "Fade," but she's the star of one of the biggest songs on The Life of Pablo. I caught Jackie Chan, Zac Efron. I caught Soulja Boy and there was a huge beef between me and him on WorldstarHipHop. One of my followers showed me that he posted a fake pair of Yeezys on his Instagram. He took the photo down a few minutes later. I called him out and he commented on my photo, "Nah, my shit's real. You Photoshopped this photo." I posted another photo and then he got angry. He ended up deleting the comments. He said he's got millions on me and all of these followers. I said, "I don't care you're still wearing fake shoes." He got interviewed by WSHH and said, "Fuck Yeezy Busta." He then went to Flight Club and bought a real pair that day.
Have you had people threaten legal action over you calling them out?
That's why I stay anonymous. I've had people threaten to sue me, but they can't because they don't know what my name is. I've had people threaten me and say they're going to ruin my life and get my page taken down. The people who unwillingly buy fakes are the ones who say, "I spent a lot of money on these, how can I get my money back?" The ones who willingly bought fakes are the ones who lash out. There was a billionaire from Indonesia who threatened lawsuits against me. He even sent me documents that he's going to sue me. That's why I stay anonymous, because if I'm going to be famous, I'd want it for doing something else. I love my fans and supporters, but when I go out in public I want to be myself.
How do you know sneakers are real or fake?
I'm really meticulous, I notice the smallest things. I could tell what's real and what's fake. I've never been wrong, and I don't call someone out unless I'm 100 percent sure. A fan sent me a pair of good fakes, so I could tell the difference. Ever since then, I've been lucky enough to get Yeezys every drop, as well as fake pairs, so I can tell what's real and what's fake.
What percentage of Yeezy photos online are real?
I've seen Hypebeast post fake samples unknowingly. I get tagged 1,000 times a day in their friends or celebrity photos. They're fake 7/10 times.
Do you have a relationship with Adidas?
I've made friends over at Adidas and they take care of me, that's all I'm allowed to say.
What do you think of Kanye supporting Donald Trump?
I'm supportive and I'm a fan of his music, designing career, and everything he does. I think everyone's entitled to their own political views, and if those are his, then so be it. I think he's going through some sort of midlife crisis. If he is hanging out with Trump for his political views, I think that's OK. If people don't like that, I understand it. I think he may be doing it in a superficial way for attention, and it may not be the best idea. Donald Trump might be the most talked about person, but he's not the most positively talked about person. He needs to spend time with his close friends.
What would you say to people who are getting early pairs?
If it's too good to be true, it's too good to be true. If someone's trying to sell you samples. 9/10 times they're going to be fake. So few people can get their hands on samples. People who work on the Adidas design team would get thrown in jail if they sell the samples. My advice to people who want to be samples: Don't do it unless you're getting them from the man himself. If you want to be buy them early, be extremely skeptical. If it's a week before the release, there's a bigger chance they're real. If it's over a week early, don't trust it. You have a better chance of getting a better deal on resale than presale. The "Oreos" were going for $2,000 before they came out on Flight Club. Now they're $600.
What about samples that get posted on Instagram?
From the friends I've been able to make at Adidas, I can say that 99 percent of them are fake. This might be a conspiracy, but from what I've heard the factories in China make a sample pair and someone from a gang or the mafia steal it, reproduce it, and call them "samples." The fakes are so close to the originals, it's hard to tell if it's real unless you have a trained eye.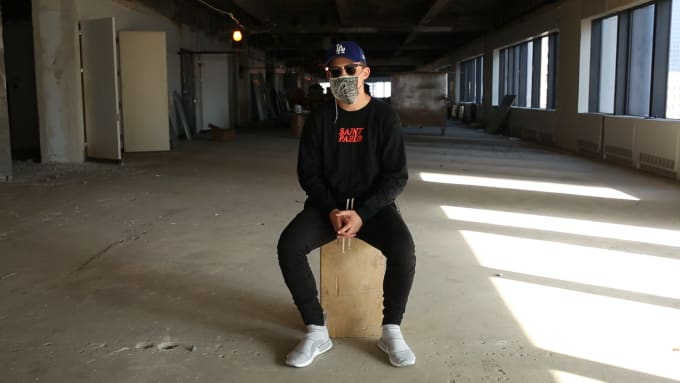 Have you seen fakes at stores?
I've seen fakes at Round Two Hollywood multiple times. I've tried to be nice to them about it. I've seen StockX posted a pic of really bad fake "Turtle Doves," and it said, "StockX, verified authenticity." Unless you have a trained eye, you won't be able to tell the difference.
[Ed. note: StockX's response to the claim of it having fake Yeezys on its site: "This particular shoe was not sold on StockX. A person not associated with StockX posted this picture on their Instagram account with the hashtag #StockX #VerifiedAuthentic. A member of our social media team - not authentication team - reposted that picture without checking to see if there was a StockX Authentication Tag in the picture (there wasn't) or if it had been sold on StockX (it hadn't). It was taken down ten minutes later. We agree with Yeezy Busta as to the ubiquity of fake Yeezys on the market. Since we began authenticating sneakers almost a year ago, we have prevented the resale of more fake Yeezys than any other sneaker brand."]
Have you turned this into a business?
I've started a few things that are separate from me. I tried to do $2 legit checks, and I got called an asshole. I got 2,000 DMs a day, so I don't have time to look through them all. If I was getting paid, maybe I'd have time. I've been approached by iPhone applications and stores.
Have you met Kanye?
I've interacted with everyone that Kanye knows except him. There's 10 million people in Los Angeles. There are 500 people who run the entertainment industry, you get to know a lot of people. I met Ibn Jasper through a friend of mine, I met Pusha T, Big Sean, but I haven't met 2 Chainz. It's a dream to meet Kanye. I don't get starstruck, but that would be the one time I'd fan out.