The Nike Air Force 1 is celebrating its 35th anniversary next year, and it's going to have a strong presence at this year's ComplexCon. Stadium Goods is selling 100 pairs of Air Force 1 grails for $89 a piece, Nike's re-releasing the "L.A." Air Force 1, and the SF Air Force 1 is being debuted at the event, too. The latter was created by 30-year-old Nike Sportswear designer Ben Kirschner, who was previously at Jordan Brand and worked on collaborations such as the Supreme x Air Jordan V and the Just Don x Air Jordan II. But he's spent the last night year at Nike, and now his projects are coming to fruition.
The SF AF1 is a combination between the Air Force 1 and the Special Field Boot. It's an Air Force 1 that can be worn on the battlefield, and it's bringing the silhouette in a new direction. The all-white SF AF1 will be available at ComplexCon starting November 5 and will retail for $165.
We had the chance to talk to Kirschner about how he designed the shoe and received some advice for upcoming designers.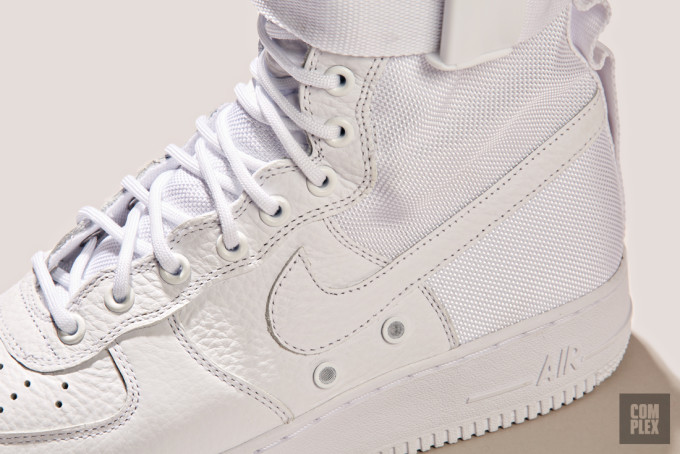 Is this the first sneaker you've done with Nike?
There are a couple of collab projects I've worked on, but they haven't come out yet. The process takes 18 months, so the SF AF1 is one of the first projects that's coming from me. I did one other project, the Zoom Cabos, it was on the Zoom GP tooling and had bands all over it. Those were the first two shoes that I worked on that went to market.
Do you feel like you can push your work as far as you want or do you feel the need to show restraint?
Nike's an interesting place, because as a designer you can do either of those things. You don't have to show restraint. It's on the individual to push that. I come from the culture and grew up in Seattle and worked at two boutiques. When I came to Nike, I had a 1,000 pairs of shoes before I was a designer. I had an understanding of what works. Working in retail, I knew what worked on the Air Force 1 and what hasn't. I worked with DJ Clark Kent on Air Force 1 stuff when I was in college. I would execute the projects he was doing with Nike. My knowledge of the Air Force 1 is fairly strong. Sometimes Nike will change the tooling: the midsole and the outsole. But one thing I saw was that you don't need to make the Air Force 1 into a boot, the rubber on the sole already does that. That's one thing on the SF AF1 that I wanted to keep true to its heritage.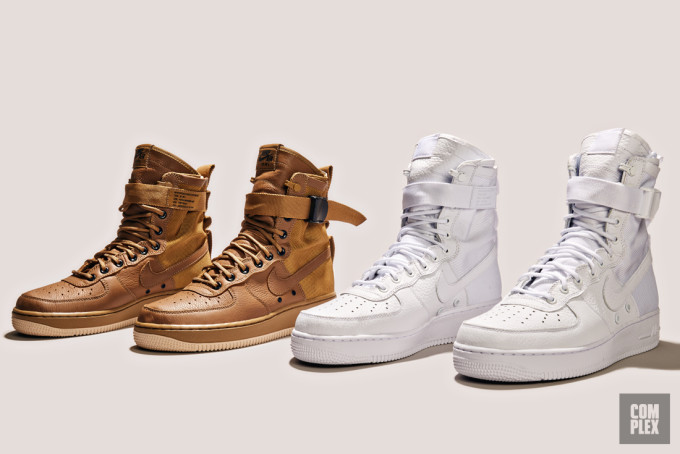 Do you think it's more important for a designer to be fluent in sneaker culture or design?
I think you need to be well-versed in culture. It's not about an architect or designer. I'd say that the most successful designers know about culture. They understand the sport they're designing for, and they understand what's going on in the world. You need to understand the footwear industry and what's cool and what's been successful. The thing about Tinker is that is that when he came into the industry, he didn't have the chance to be a "sneakerhead," because there wasn't that culture yet. He had to create it. There was a culture that loved shoes, but you didn't have an abundance of shoes that you'd collect.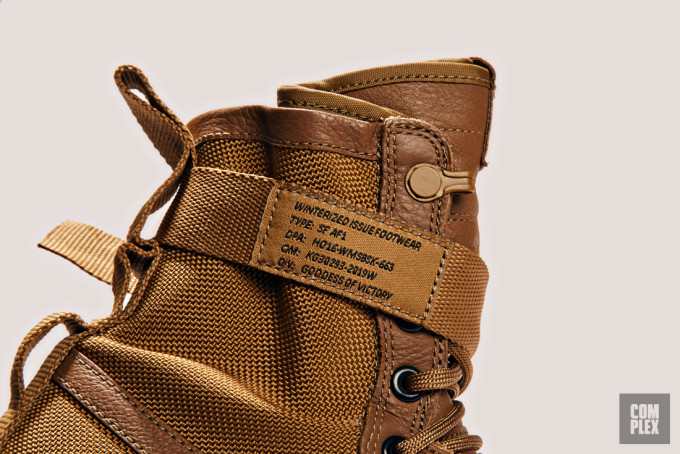 Tell me about the SF AF1.
The Air Force 1 has been adopted by people of all ages, and it's become this all-encompassing shoe. We wanted to make the SF AF1 to push the sneaker into a new space. We wanted to give it a new flare and turn it up a little bit. It has the classic cues that you love about the AF1, but it has added things. We tried to add little things to it that were quirky and funny. The traditional tongue label on the Air Force 1 was turned into a button, and it turns into a pouch. The idea came from the movie Rescue Dawn with Christian Bale. In that film he was getting his boots done, and he asked if they could hide a pocket in the tongue for his passport. We wanted to play off that idea. It's something you wouldn't see on most shoes.
Is it more important to make a stylish shoe or one that's rooted in performance?
Designers always say form follows function. With basketball shoes, the form brings a new aesthetic, and it's going to catch on in the street or it isn't. A lot of the times, if a shoe's made for a specific purpose, it's going to look unique and push where design has been in the past. I never think I'm going to design a fashion sneaker, although I work in Sportswear and design retro product. It's more about, "What can I do to elevate and push?" I think it's important to add a stylistic piece to it that gives it a unique look. That comes from solving a specific problem. The SF AF1 is based off the Nike Special Forces Boot and taking one of the brand's most beloved products and making it into something durable. It's a shoe you can go to war in and wear everyday.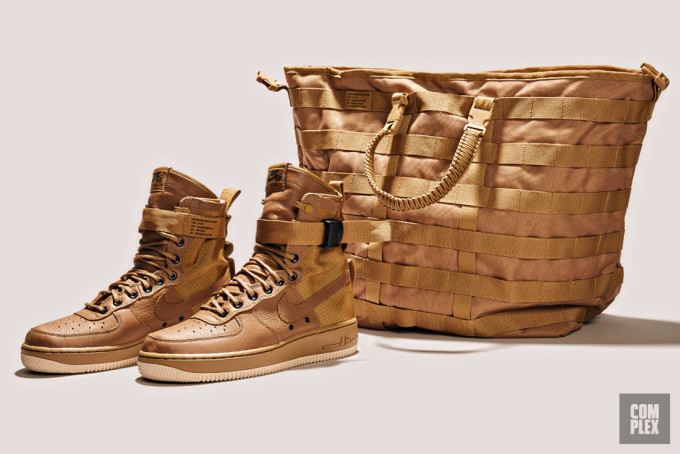 What was the hardest part about making that sneaker?
The hardest part was making sure that the height was right. We were playing with the idea of what's too feminine, what's too masculine, and what looks gender neutral? Because I think the best shoes are worn by both men and women. The funny thing is that they've done really high Air Force 1s: some work, some fail terribly. We wanted a height that people weren't afraid of. The traditional military boot is 12 inches, and we thought that was too high. I don't sketch as much as other people do, I build and make a lot of things. This shoe is based off a sample I made. It's based off something I made in the kitchen. I still sketch every once in awhile, but I have an idea in my head and make it straight into a sample.
Want to experience Complex IRL? Check out ComplexCon, a festival and exhibition on Nov. 5-6, 2016 in Long Beach, Calif., featuring performances, panels, and more. For ticket info, click here.