A pair of sneakers might not save the world, but they can act as a common ground for people from different walks of life to come together and better understand each other. This has been a consistent theme in Pharrell Williams' collaboration with Adidas, and it continues to be a focal point for his latest collection with brand, which is inspired by Native Americans from North Dakota.
Pharrell's newest line with Adidas is called "Hu," and its intention is to "explore humanity and celebrate diversity around the world," according to Adidas. The collection contains five pairs of the NMD sneaker—coming in Scarlet, Black, Sharp Blue, Green, and Tangerine—that Pharrell made in collaboration with Adidas. There's also 14 new apparel pieces for men and women, which is anchored by anoraks and track jackets.
Beyond the clothing items is the storyline of Pharrell and Adidas working with the MHA Nation in North Dakota to give them a platform to share their culture with the rest of the world.
"The community's reaction was amazing. They love the idea of Pharell working with Native Americans in the proper way," Dee Jay TwoBears of the MHA Nation told Complex. "They thought it was very cool that they got our perspective on things, so we can help educate people of the world on who we actually are and what we do on a day-to-day basis as Native Americans."
The sales from the collection itself won't go directly to the MHA Nation, but it is part of a broader initiative for Adidas to help Native American communities through donating sports gear and equipment. The sneakers and clothes will launch on September 29, but in the meantime we got to talk to Pharrell about his latest work with Adidas.
Why did you choose the Native American theme for this story?
I had the idea for Hu which tied into the human race. I met the guys we worked with through my buddy JR and spent some time with them on their reservation and felt they were the perfect kickoff to the collection. There was a natural connection.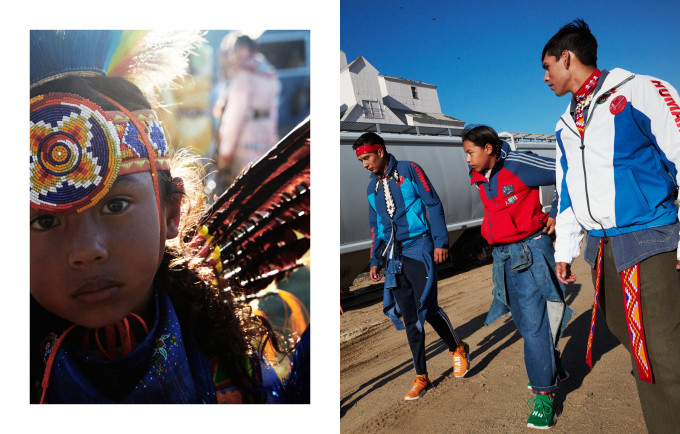 What was the collaboration process like to make sure that it properly represented Native Americans?
It was influenced by Native American culture and aesthetic. It's an homage to their history.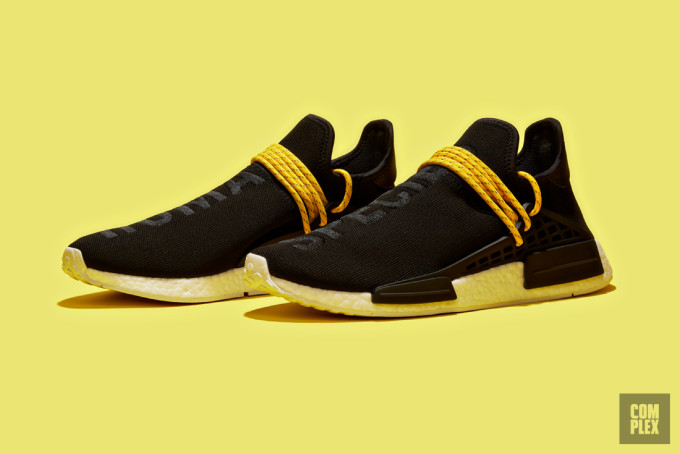 What was the inspiration behind the jackets?
We wanted to aim for a team gear aesthetic for human beings.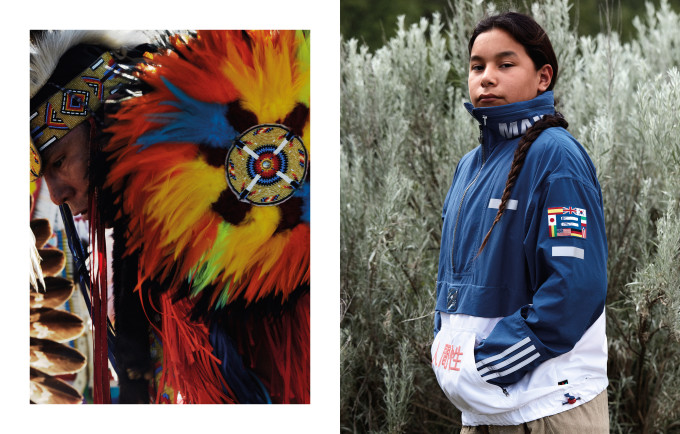 Is it more important to you to make a "hot" shoe or tell a great story?
[Laughs] I never am looking to make a "hot" anything. I always do what feels right to  me in everything I do. I think the most important thing is to make something I love, other people will love, and I am influenced by stories always, so they go hand in hand.
With the controversy with the pipeline going through Native American lands in North Dakota, do you think this collection is going to have a bigger impact right now?
I'm hoping to use my platform to help tell their story and make people aware of what's going on in their backyard.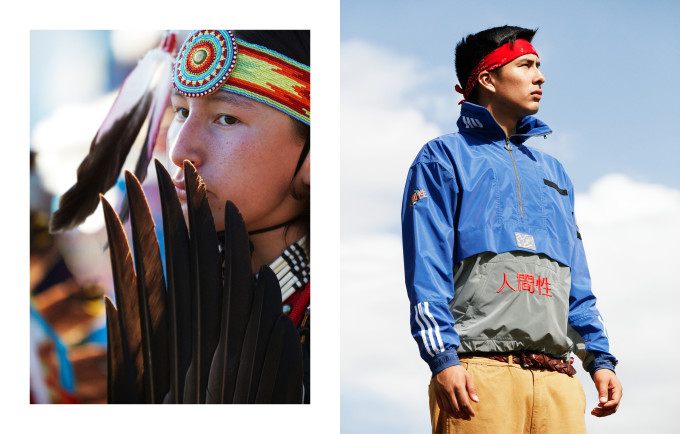 Do you hope that people buying the shoes will get educated on the story behind the sneakers, rather than buying them for the hype?
Of course I hope that hearing this story gets people educated and involved, that is always part of the mission. But I do what I can do, and it's up to others to interpret it the way they want. I think learning about where people are from and what they're about is always a step in the right direction. Ultimately it is my goal to sneak [in] the message and never ever preach.