So, "athletes will always be more important to sneaker brands than celebrities" huh? As much as I want to believe that, because it's the era in which I grew up in and came to love sneakers, it's simply an old way of thinking. But before you get defensive, let me explain.
When Michael Jordan won the Dunk Contest in 1988, I wanted to be like him. We all wanted to be like him. It was because he had an athletic ability unlike anyone we'd ever seen. Michael Jordan could fly. Sure, Dr. J and others dunked from the free throw line previously, but not with the style and grace that MJ did. Even the way Michael walked to the from one end of the court to the other in preparation, he had that swag, "like a ball player," as Jay-Z references on 2003's "Public Service Announcement." More important than his athletic ability or his air, he was marketable.
The era of MJ was unique in that the American consumer was being introduced to more commercials than ever before. Thanks to cable television and channels like ESPN and Chicago's WGN showing nearly all of the Chicago Bulls games new audiences were exposed to out of market teams, allowing us all to see MJ's greatness on a regular basis. 
Nike and their partnership with super agency Wieden+Kennedy was also just coming into its own because of this new avenue of putting commercials in front of massive and specifically targeted audiences. Because of these new opportunities, Nike's marketing budget behind MJ and his Air Jordans elevated the seemingly uncontrollable yearning that teens (and many adults) of the time were experiencing, to be like Mike. Within the years that followed, Gatorade, Hanes, McDonald's, Ball Park and any other brand who could afford it, jumped at the chance to be associated with Michael Jordan in any way possible. But it was of course, his Air Jordans that became the most important of his endorsements.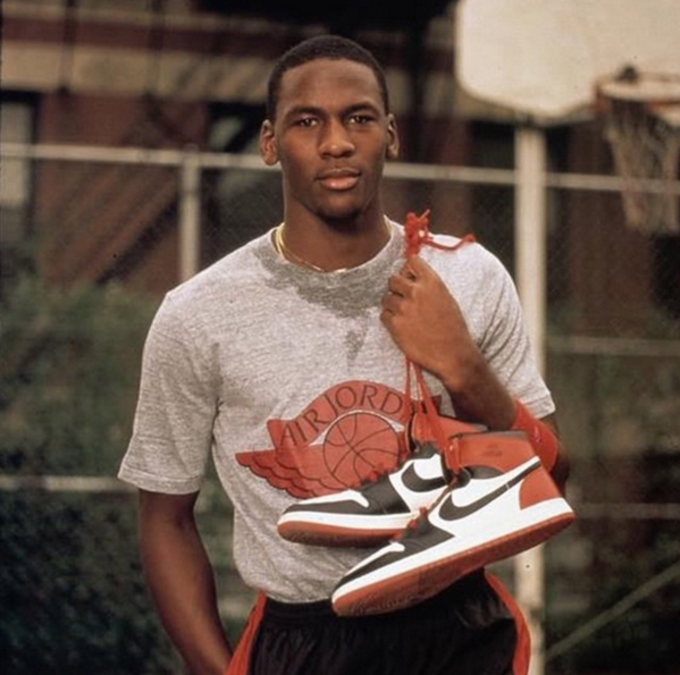 Before MJ, no brand had ever spent the type of money endorsing a single athlete the way that Nike did for Air Jordans. And in the world of sneakers, Michael and his Air Jordans are the anomaly, a deviation from the status quo that turned a new page of marketing for athletes with big dollar investments into marketing plans and budgets that had never been seen before. Around the same time, other athletes like Andre Agassi, Bo Jackson, Michael Chang and others received new "technologically advanced" sneakers and huge marketing campaigns, but none drove sales the way Air Jordans did. Michael Jordan established the modern day athletic endorsement and made athletes important to brands in a new way.
Technology in sneakers is a funny thing. I agree with Welty, it does help drive sales of shoes but it's the marketing of new technology that is most important, not the technology itself. For instance, the Air Max 1, which is one of the most important shoes in sneaker history (and in my opinion one of the best looking as a modern day casual shoe), introducing us to the visible Air cushioning unit in the heel. Nobody lands on their heel when they run. If you don't believe me, try to run and land on your heel, it's not natural.
As Matt mentioned, important things came from this era of footwear, like tumbled leather on the Air Jordan III and the 3M reflective tongue on the Air Jordan V, but they are not by any means related to athletic performance. There are plenty of innovations that serve a performance purpose, Huarache sockliners and the "quick lace" system come to mind right away from the Jordan line. For the average consumer however, these technologies are irrelevant and offer nothing more than aesthetic value, so long as the shoes are comfortable.
Times have changed. NBA players play in retro model Jordans (and sometimes even Yeezys). Consumers no longer rely solely on an athlete cosign to buy a product, most likely because we all know that top tier athletes are being paid to tell us about the latest and greatest from their sponsors. We all know this and we all pick and choose our favorite athlete or celebrity endorsers, regardless of what the product can do for us, we stick by our choices. A perfect example of this is the LeBron 11, which was rarely worn by LeBron James on the court compared to other LeBron models, yet still sold incredibly well.
Take a look at modern technologies like adidas Boost and Nike Flyknit. Boost is one of the most comfortable cushioning systems ever created. That's what makes it popular. Yes, it is an important part of "the best ever made" running shoe (that's marketing genius, not fact), the Ultra Boost, but do you know anyone that talks about running in them? Flyknit is also one of the most comfortable uppers ever created, and may serve some performance purpose, but most importantly it allows for Nike to create limitless color options, including the "Multi" color that for the last few years has sold out almost as quickly as Nike can produce them, regardless of the silhouette it's put on. Both of these "technologies" are incredibly popular, not because of athletes, but because of social media and its ability to spread the word in ways that no athlete can or ever will be able to.
That spread of popularity through social media has been the most important part of Kanye West's marketing plans for his adidas line. Thanks to his marriage to Kim, there isn't a single person in the Kardashian/Jenner family that hasn't plugged Kanye's adidas. Whether being featured on one of the many TV series, or on one of the social media accounts with millions of followers the family's use of their accounts offer undeniable influence. So if Kanye has a shoe dropping, his 16 million followers, Kim's 37 million, Khloe's 17 million, Kourtney's 16 million, Kylie's 12 million, and Kendall's 13 million, see them. That's potentially 111 million views of Kanye's new release, on Twitter alone. You can roughly double the amount of followers each person has on Instagram, while Facebook and Snapchat together also double the Twitter follower amount. Compare that to LeBron James' 25 million followers on Twitter and 15 million on Instagram, and you can see the amount of publicity that comes from being a celebrity now, is much more powerful than being an athlete, especially when your entire family is comprised of celebrities that can be seen on "reality" TV every single day of the week at anytime. Let's be real, not even SportsCenter repeats itself as much as KUWTK. There has been a perfect storm around Kanye West's adidas releases to cause this crazy growth in popularity, but I believe Kanye West is the new type of anomaly that Michael Jordan was 2-3 decades ago. It's one of those right place, right time, meets preparation and opportunity moments that only comes along once in a great while and can change the entire direction of an industry. However, there is an even better example of the power of the present-day celebrity and the importance of influence and reach. That's Drake.
Drake may not have the strength of the Kardashian family behind him but his influence is valuable​. Consider this: Drake's Hotline Bling video has been viewed over 85 million times. But even people like my parents, who never listen to Drake or watch his videos, are familiar with the song because of the billions (maybe trillions) of memes that circulate around the internet. The more people mimic him and his forever gif-worthy performances, which is intentional marketing, the more his influence and reach grows, causing boots like the Nike ACG Manoa he wore in Hotline Bling, to sell better than they ever have before. But the most important element to Drake's influence when it comes to footwear is not about what he's wearing in a video, it's his personal preference turned partnership with Jordan Brand. Up until the last 12 months or so, Jordan Retros had become more popular than ever earning MJ more than ever. Being one of the best in the business, Jordan Brand's Director of Entertainment Marketing, Reggie Saunders and his team did something unprecedented, they signed an entertainer, not an athlete. Drake's partnership with Jordan began in early 2014, just as the sales of Jordan Retros began to slow, making him the most important "innovation"  for Jordan Brand for the next few years.
While most of us look to Nike and/or Jordan Brand as the innovators in the sneaker business, in 2015, innovation of a brand has less to do with athletes than it ever has and everything to do with marketing. And while Nike CEO Mark Parker points to the athlete as the most important piece of Nike's business because for years it has been true. It's also his job as CEO to say those things, and dismiss the potential of competitors like Kanye. Besides, we all know marketing has always been the strongest part of the Nike/Jordan Brand business model. It's their marketing that played the biggest part in creating us "sneakerheads."
We are at a turning point in the business of sneakers. Sneakers have become more about style than they ever were before. Take a look at your closet, a majority of your shoes you bought with no intention to use in a performance oriented manner, which means the present day endorsement is not about the performance of an athlete. It's about reaching consumers in new ways as they move away from traditional television watching to new social platforms. Today, it's all about how uses the Internet best and in the most creative ways. Make it look cool and people will buy. That's why, as much as it pains me to say, celebrities are more important to the future of footwear than athletes.