New Balance's 990 series has been a staple in Baltimore and the DMV area for quite some time. And with the all attention being placed right now on Baltimore, due to the city's ongoing riots over the death of Freddie Gray, this trend has become more apparent. Photos of the current scene in the Charm City have sprung up with people wearing New Balance sneakers, and the Internet used this coincidence to make an insensitive joke.
Two Photoshopped pictures have appeared, which read, "Exclusive colors only found in Baltimore," and "Official sneaker of the 2015 Baltimore looters." The trouble is that the people in the photos — whom appear to be partaking in the riots — are wearing the New Balance 993, and they've been Photoshopped onto New Balance's website.
Twitter caught wind of these Photoshops, and people have been tweeting at the @newbalance account. But the brand has a strong message: "This is clearly not a New Balance generated post – we ask that you please do not re-tweet."
That hasn't stopped people, though. Even Joe Budden, who has since deleted his tweet, questioned if the images were real, and New Balance responded, confirming that they're not. 

<span></span>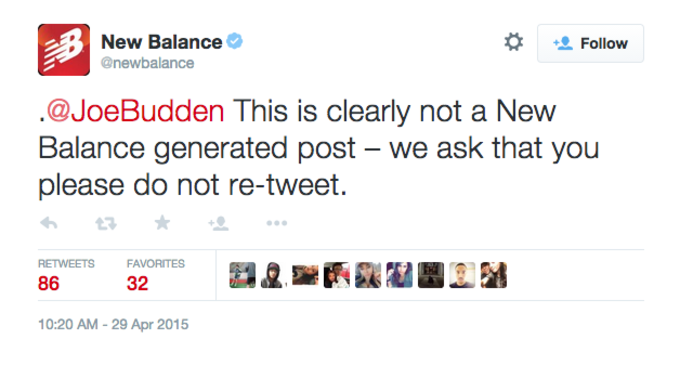 <span></span>
There are very real and dangerous things going on in Baltimore that are sneaker-related right now, so it's more than poor timing for these "jokes" to pop up. Stay safe and tasteful, folks.