Over the past couple of years, a major buzz word around the technology world has been the implementation of exosuits. While it was believed to be a thing of the future, New Balance has teamed up with Harvard and has brought the future to now.
Still in it's beginning stages, the wearable robot suit is a soft textile garment that is designed to enhance the human's natural mobility. When the suit is put on, a battery pack attaches to the waist, and begins using the force to help supplement the users power, therefore assisting his leg muscle movement by up to 20%. The goal for the suits is to hopefully aid soldiers, or firefighters who are carrying heavy amounts of weight while on patrol, and the mechanics of the system will decrease the effort used, leaving more energy to complete other tasks.

"You actually don't really notice that it's helping you. But as soon as you turn the system off, it makes you instantly feel that your legs are heavy, which shows that your legs have adapted," says Walsh, who heads Harvard's Biodesign Lab.
The belief behind the exosuit is so real, that it just received a $2.9 million grant to get the suit up to proper working order. By proper working order, they mean designing a light enough suit that can fit under your clothes and wear on an everyday basis. While that's the end goal in mind for the suit, it could have great healing power, including giving people who were previously paralyzed the ability to walk again in some capacity.
"We don't know if the person uses that extra assistance so they can go faster, or if they say, okay, I can walk at my happy, normal pace and just use a little less effort," says Walsh. "Early evidence is showing that the underlying muscles take the assistance and decide to do less work. ... You're not necessarily making them jump higher or run faster, you're helping them perform over a long period of time."
Check out the video above to see the suit in action, stay with us for further developments on this truly revolutionary invention.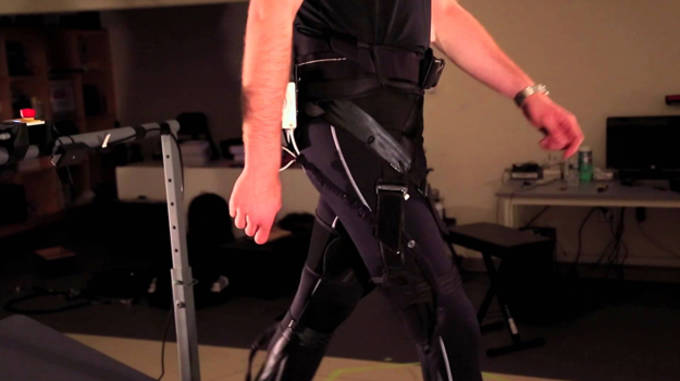 RELATED: Is the "Invisible Helmet' the Future of Urban Cycling
RELATED: Sauna Or Steam: What's The Best Post-Workout Treatment for Athletes?