When Lacoste invites me to join them at Forest Hills Tennis Club, I enthusiastically oblige. This is cool for two reasons. Forest Hills is a beautiful private tennis club in Queens where the US Open was originally held in 1920 until the late '70s. We were set to play with 7 time Grand Slam Champion Mats Wilander, the Swedish pro that came out of nowhere in 1982 to win the French Open and ranked No. 7 in the same year.
Wilander has played against Lendl, McEnroe, Vilas and Edberg⎯and now he's playing with me. He seems to really enjoy it too, which is a shock as most somewhat talented players hate playing with me (chasing down stray balls isn't most people's definitions of fun, apparently).
What's amazing is that he voluntarily plays with regular joes such as myself on a weekly basis, as the founder of Wilander on Wheels, a traveling tennis experience that helps raise awareness about Epidermal Bulluyosa with the Dystrophic Epidermolysis Bullosa Research Association of America (DEBRA). Mats, along with his business partner and Naval Academy graduate, Cameron Lickle, have been touring America in a their custom Winnebago since WOW started about a year ago. The pair has been injecting their friendly demeanors and positive attitudes into tennis courts all over the country; now it's my turn to see what all the fuss is about.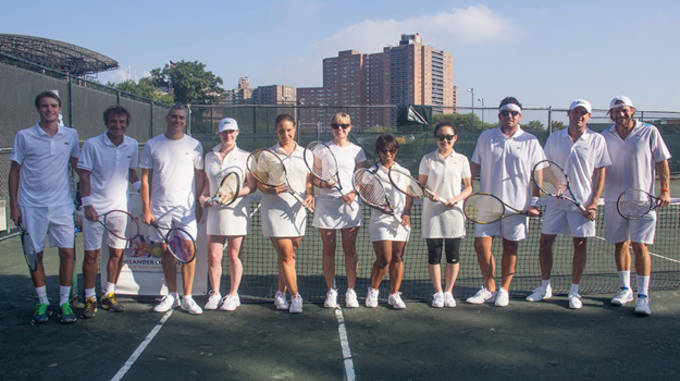 Rolling up in a group of editors is always a fun ordeal. You never really know what you've gotten yourself into. As a whole we'd be a motley crew if not for our matching Lacoste 'fits and shoes. We look like we know what we are doing. Two hits in, it's clear we do not.
But the super-talented duo has no qualms with this. Based on his welcoming words, it's abundantly clear that Mats loves tennis. He loves playing, he loves teaching, and he never gets frustrated. The key to this is that he sets low to no expectations for himself on the court. "I never have an expectation about where the ball is going to go." This outlook is refreshing, as frustration on the court can lead to this, this or this. All bad.
"Wilander has played against Lendl, McEnroe, Vilas and Edberg⎯and now he's playing with me."
His colleague shares this perspective. During an overhead drill—where the instructor launches ball after ball high into the sky forcing an "overhead" shot⎯ Lickle warns us of the amateur mistake of regretting your last hit, which only sets you up to miss your next. Hit it and move on. Seems simple, and after all it all comes down to timing.
Split into two groups of four, we switch in-between Cameron and Mats to continue the drills. During one of the interludes, Mats stops to talk about the beauty of sliding. Apparently we Americans are much worse on clay surfaces because we are raised on hard court (which rings true for this American, so he's probably right). A proper slide is about being prepared to make the shot, if a player runs up to hit he has to take the time to plant his feet correctly before hitting. If you slide into position your feet are already in the right place, which is why Wilander loves the slide. "The slide is tennis," Wilander says.
One of his favorite sliders today is Rafael Nadal. "If you look at the court with the other guy removed after he has played, the marks he [Nadal] leaves on the court look like a painting. Just beautiful." As he identifies the marks he made earlier in the green clay, I can see what he means. It's a line drawing made by a decisive, powerful gesture.
After a few volley and forehand drills we are ready for our doubles match. Seeing as I am in a group of decent guys, Mats picks me as his doubles partner. In my mind it was Wimbledon in '86 and I am Joakim Nystrom. I run my hands through my sweaty mullet and adjust my wristband, thinking Swedish thoughts in Swedish words. In reality, I just tried to stay on my heels and remembered to keep breathing.
It's a blur of a three set match, I'm ninety percent sure Mats and I won 2 -1, but I was too focused on hitting the ball to remember the details. At a pivotal moment in the third match, Wilander yelled across the court to our opponents to switch sides mid-play, as they had forgotten to switch before the serve (a classic Calvy move). I thought we were re-doing the serve, so rather than hit the ball, I just caught it. Mats' face went deadpan. "OK players just because I yell to switch that doesn't mean to stop playing!"
And just like that, the clinic is over. Exiting the club you walk through a hall lined with portraits of US Open Champions that have earned their stripes at Forest Hills. After blowing a kiss to my tennis gawds, Chris Evert and Billy Jean King, I'm out the door. It's not until I sit at my desk that I remember I forgot to ask about the "secret" three step move that will forever change my volley. All of the positive direction in the world won't turn me into Serena, but tennis is about embracing a sport you could play throughout your life, just like Mats.
Calvy Click is the Editor-in-Chief of Sneaker Report. When she isn't writing about performance footwear and apparel, you can find her running around Manhattan to Rick Ross anthems or hitting the tennis court. Keep up if you can on Instagram or Twitter. 
RELATED: The 2014 US Open Brand Breakdown: What the Highest Ranked Men's Players Are Wearing 
RELATED: 7 Reasons the US Open Will Be Less Entertaining Without Nadal, In GIFs