Canadian lifestyle and activewear brand Lolë, just announced the dates and locations of it's 2014 tour of yoga events. Building of the success of last years tour, Lolë White is bringing it's emerging yoga tour to some of the most famous museums around the world, providing for a unique experience of both body and soul. Last year's tour brought nearly 10,000 yoga enthusiasts together, from beginners to experts, at the historical Grand Palais in Paris.
"The five prestigious museum locations – each one selected for its unparalleled space and atmosphere – will be transformed to provide the serenity of a yoga studio while accommodating between 500 and 1000 guests, for a yoga experience unlike anything else. Together, participants will practice their favorite yoga poses under the guidance of celebrated instructors while dressed all in white - a color symbolic of peace. This powerful collective presentation expresses the tour's mission to promote peace and unity," said Nathalie Binda, VP Marketing at Lolë.
The 2014 Lole White Tour will make stops in the following 5 cities:
Barcelona, Spain: Museu Nacional d'Art de Catalunya - April 12, 2014
Montreal, Canada: Montreal Museum of Fine Arts - May 8, 2014
New York, USA: The Museum of Modern Art - May 22, 2014
Toronto, Canada: Royal Ontario Museum - June 12, 2014
Edmonton, Canada - July 2014
An added positive coming from the Tour is 100% of proceeds generated from the White by Lolë collection, will go to support wellness programs that promote an active lifestyle in the communities around the Tour.
Although many of the museums provide large areas, space is limited and those interested in participating should reserve their spot by purchasing a $25 ticket at lolewomen.com.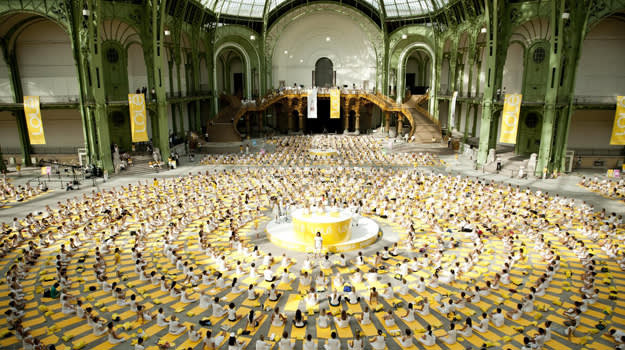 RELATED: NBA Players Making a Difference Through Yoga
RELATED: 10 Things Every Man Should Know Before his First Yoga Class