Paulina Gretzky, daughter of NHL great Wayne Gretzky, and fiancee of PGA pro Dustin Johnson covered this months Golf Digest magazine, and not everyone is happy about it. A few LPGA pros sounded off about their disapproval of Gretzky making the cover, when in actuality, she has nothing to do with the sport besides being engaged to a professional golfer.
Stacy Lewis, two-time LPGA major winner, was one of those upset with the cover. In an interview with the NY Times, Lewis said "It's frustrating for female golfers. It's kind of the state of where we've always been. We don't get respect for being the golfers that we are. Obviously, Golf Digest is trying to sell magazines. But at the same time you'd like to see a little respect for the women's game."
Golf Digest defense for using Gretzky, who became famous due to her Instagram page, is that she was covering the magazines fitness edition and is a qualified candidate.
"Sports figures, celebrities and models have appeared on Golf Digest covers since the magazine's beginning," editor in chief Jerry Tarde told the New York Post. "Paulina ranks at the high end of the golf celebrity scene today, and she has a compelling story to tell. She also might get some new people interested in the game."
LPGA pro's are not accepting this reason as they struggle to gain national coverage and look at the cover as a publicity stunt in order to sell more magazines.
Longtime pro, Juli Inkster said on the subject, ""It's frustrating because it's Golf Digest; it's not Sports Illustrated's swimsuit issue. I think they should maybe recognize some of the great women golfers that we have. It's like, 'What do you have to do to get a little respect?' I'm guaranteeing you right now, it was not a woman editor who chose that cover."
They may have a point, as the last female to grace the cover of the sport's most popular magazine was all the way back in 2008 when Loren Ochoa was on the rise to the top of the sport. Let us know what you think Paulina's Golf Digest cover and if the LPGA pro's have a fair beef @SneakerReport.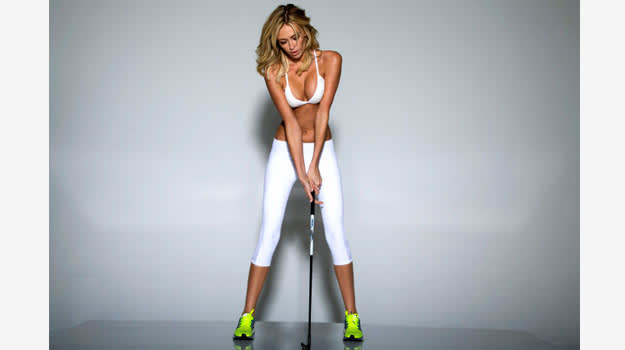 RELATED: Nike Golf Challenges You to Bring Your Game to the Modern Era
RELATED: adidas Golf Announces the Adizero One