Leading up to the 2014 World Cup, we've seen a great deal of apparel and gear coming from adidas specially designed to take the field during the upcoming soccer spectacle. Being the world's most popular sport, soccer reaches and influences all types of people, even the most unlikely. Skateboarding and soccer don't often go hand in hand, but the two adidas sectors teamed up just in time for the World Cup to develop to skater-exclusive decks featuring designs representing countries set to compete this summer.
adidas Skateboarding hooked up Benny Fairfax, Lucas Puig, Mark Gonzales, Rodrigo TX, Lem Villemin and Raul Navarro with a special collection of decks inspired by their favorite teams, or the country they are from. The decks are as much a work of art as they are a skateboard and can dub as either a fresh new mantle piece, or your new board to go rip through the streets.
No word on when the adidas Skateboarding Copa Deck Collection will hit shelves, but keep it locked to for all future information and release details as they roll in.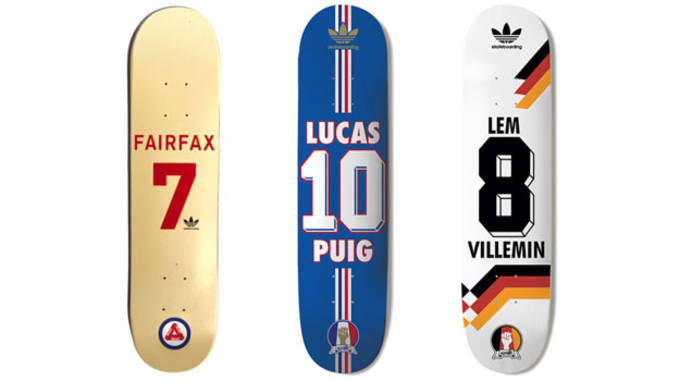 RELATED: The Complete History of adidas' Official FIFA World Cup Soccer Ball
RELATED: adidas Treats Us With a Samba Collection Teaser for the 2014 World Cup