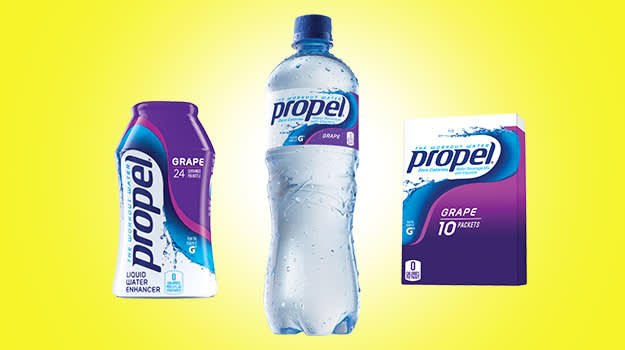 As Sneaker Report reported a few days ago, Propel is getting a makeover. The fitness water made by the makers of Gatorade is dropping the "Zero" from its title and moving towards a cleaner logo and packaging along with a few new finds.
In celebration of Propel's facelift, we decided to give the new products a try to see what exactly constitutes Workout Water and how it differs from regular water. Click through to see each product and how they stacked up against each other.
RELATED: FitSip Launches 2nd Generation Hydration Armband for Runners
RELATED: GEAR OF THE DAY: Salomon Sense Hydro S-Lab Set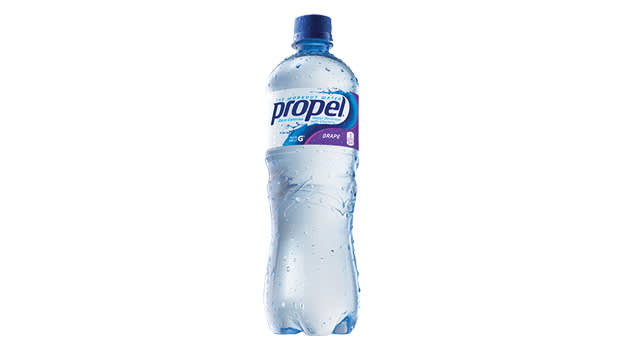 Propel Workout Water
How much we drank: 24 fl oz
It tasted like: That Grape Gatorade Rain flavor.
Best time to drink: Before, during or after physical activity.
Propel Workout Water is billed as a lightly flavored hydration aid containing zero calories fortified with antioxidant vitamins C and E. For the purposes of this taste test, we downed a 24 fl oz. bottle of grape flavored Workout Water. What we found was that Workout Water served as a viable alternative to other sports drinks such as regular Gatorade or Powerade, however because of its clear color you don't get the cool beads of sweat.
As far as taste, the Workout Water tasted a lot like the grape Gatorade Rain flavor from 2006. In fact, it tasted exactly like it. The only thing missing was Kevin Garnett popping out of a basketball (like this). Overall, this is definitely a product that we could see us reaching for before, during or after any physical activity.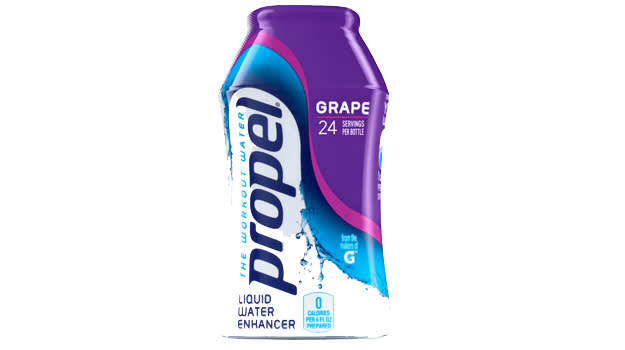 Propel Liquid Water Enhancer
How much we drank: One squirt of grape Liquid Enhancer into a glass of water.
It tasted like: a watered down version of the bottled grape Workout Water
Best time to drink: Before physical activity
The idea of Propel Liquid Enhancer is that you can turn any ordinary water into "Workout Water." However after testing this product, we were left scratching our heads at what exactly it does. The directions said that one squirt of the liquid enhancer was all that was needed for one glass of water, however, we disagreed. One squirt of the liquid enhancer left our water tasting like a watered down version of the bottled Workout Water. We found ourselves adding another squirt or two to get the full flavor effect.
We also didn't see the liquid enhancer as being practical, as we didn't see ourselves lugging along the bottle of liquid enhancer to the gym or the field. To us, the Workout Water just wasn't worth the squeeze.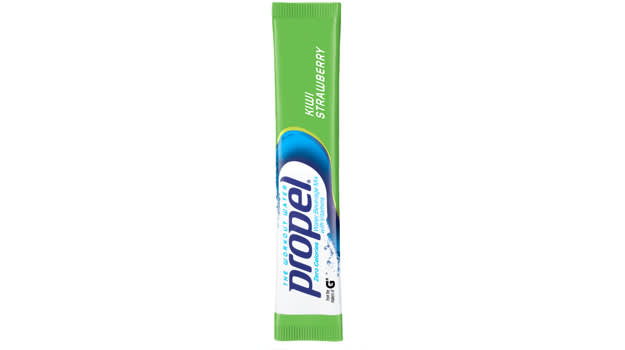 Propel Powder Packs
How much we drank: One single-serving powder packet in a glass of water
It tasted like: Kiwi Strawberry
Best time to drink: Before physical activity
The last product we tested was the Propel Powder pack. Like the Liquid Enhancer, the idea is that it can turn any water into Workout Water. Unlike the Liquid Enhancer, we think it did a good job at doing this. We switched it up and tried the kiwi strawberry flavored powder, which was a welcome change as we were getting tired of concocting purple drinks.
Much like a Crystal Light packet, (yeah, Crystal Light...) one packet of Propel powder got the job done, as there was plenty of flavor. Also, one single-serving packet of Propel powder is a lot more practical to carry around than a bottle of liquid enhancer. So while they are supposed to do the same thing, we found that the powder did a lot better job of turning regular water into Workout Water.
RELATED: FitSip Launches 2nd Generation Hydration Armband for Runners
RELATED: GEAR OF THE DAY: Salomon Sense Hydro S-Lab Set