It's late August in New York and tennis fever has hit as the US Open kicks off at Arthur Ashe Stadium in Queens.
The final tournament in the Grand Slam is an amazing opportunity for brands to show the latest (and most colorful) tennis 'fits after the conformity of Wimbledon. The combination of celebrity support, day-to-night game apparel options and performance requirements makes for some impressive outfits for the men and women (like newcomer Sloan Stephens above).
If all of this has you inspired to hit some balls at your local court or at least look the part, here are a few of the best tennis looks available now. Squeeze every drop of summer out before Labor Day with the following, here are 10 Tennis Outfits That Will Make You Look Like a Pro.
Calvy Click is the Editor-in-Chief of Sneaker Report. When she isn't writing about performance footwear and apparel, you can find her running around Manhattan to Rick Ross anthems. Keep up if you can on Instagram or Twitter. 
RELATED: The 10 Best Hard Court Tennis Shoes for Women
RELATED: The 10 Best Clay Court Tennis Shoes for Women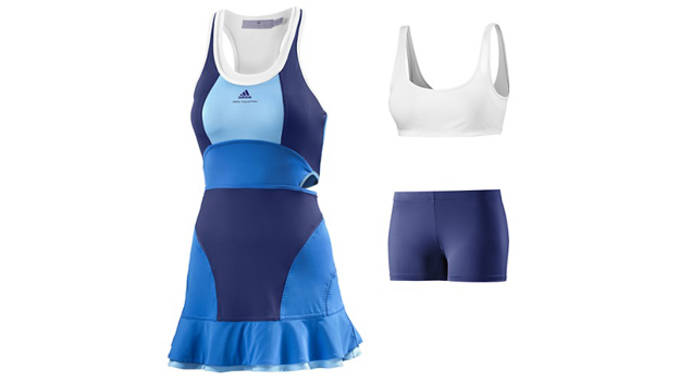 Stella McCartney Barricade Dress
Worn by: Carolina Wozniacki
Goes well with: Stella McCartney by adidas Barricade tennis shoes, $125
This year's Barricade Dress added an extra ruffle at the hem and peek-a-boo cutout in the back for some extra fun. The combination of color blocking and dynamic cut is flattering and something about the patchwork assortment of blue hints that you have a carefree attitude on the court. Throw in an extra sweatshirt and you're good to hit the bar after a few rounds.
$120
<!--nextpage-->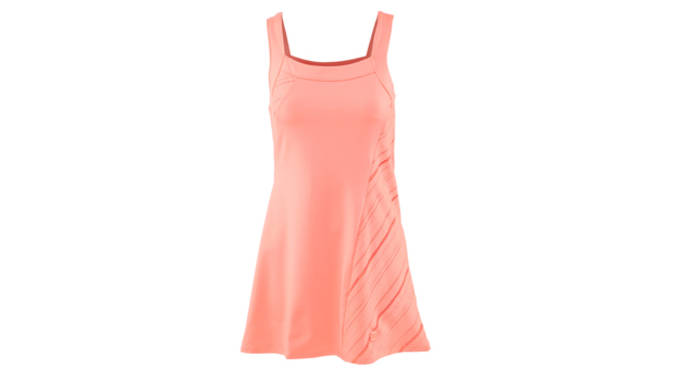 Fila Collezione Strappy Dress
Worn by: Jelena Jankovic
Goes well with: Fila Baseline Clear Tote, $60
Slip this on at work with a pair of leggings or a sweater and flats and you'll cut your desk-to-court time in half. Plus the jacquard knit is super breathable so you'll be comfortable playing in this last August heat much like Jelena proved last month in Atlanta.
<!--nextpage-->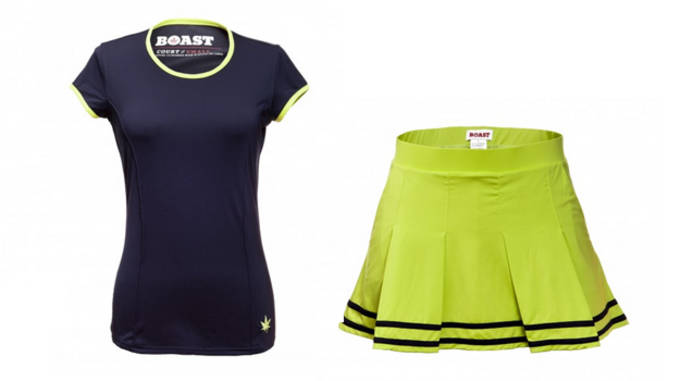 Boast Tennis Tee and Tipped Pleated Skort
Worn by: Upstate Prepsters
Goes well with: adidas Stella Barricade 8's in Yellow, $125 
It's actually a Japanese maple leaf, but the twisted, preppy vibe that Boast sports is just what this country club sport needs. For players that still need a performance edge, the Court collection's synthetic blend is quick-drying and light to the touch so you can look cool like Agassi without the hairpiece anxiety.
$58 (Tee), $84 (Skort)
<!--nextpage-->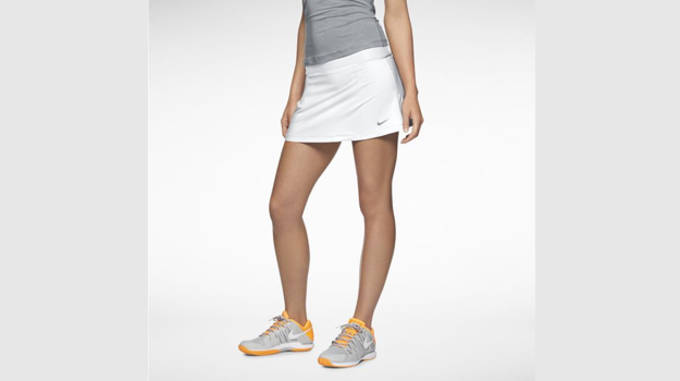 Nike Slam Tennis Skirt
Worn by: Victoria Azarenka
Goes well with: Anything! That's the beauty of this basic white tennis staple.
Everyone needs the basics. Pair this skirt with one of Nike's performance tops or mix it up with your favorite off-court tees. If you're really channeling Azarenka, the bandana is an essential item.
$45
<!--nextpage-->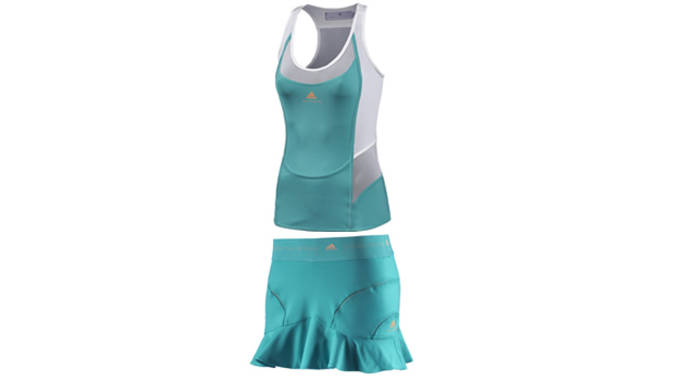 Stella McCartney by adidas Barricade Tank and Skort
Worn by: Maria Kirlienko
Goes well with: Adipower Barricade Shoes, $90
Style meets performance at a super high level with this Stella duo. Offered in White, Shell Beige, Bright Coral, and the above Ultra Green, the separates feature built-in support thanks to tights and sports bras in a Climalite fabric to keep you dry on court. If you're looking for a more modern look on the court check out Stella.
$65 (Tank), $60 (Skort)
<!--nextpage-->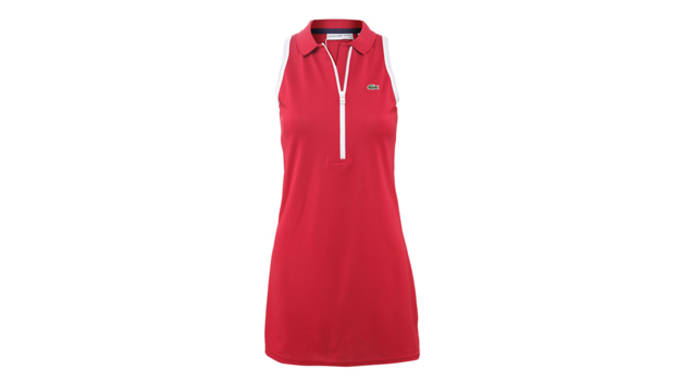 Lacoste Fall Pique Dress
Worn by: Rene Lacoste was the original tennis style icon.
Goes well with: A racket that means business, may we suggest this one?
So you're slow to slide into the latest synthetic fit that the pro's are rocking? Maybe this reinvented pique polo from an original tennis brand will snag you into a match. The cut allows you to choose your own sports bra while the overall look is classic tennis performance.
<!--nextpage-->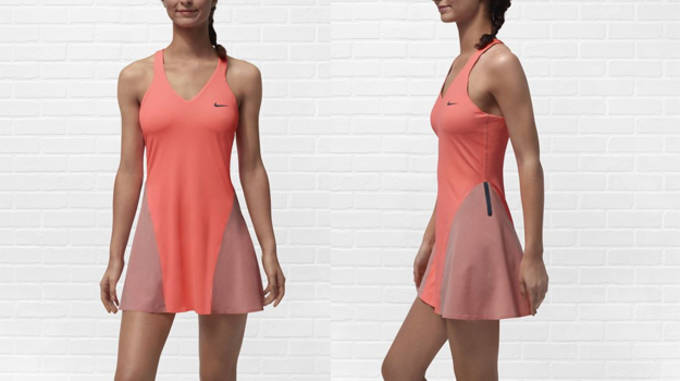 Nike Premier Maria Flounce Dress
Worn by: Maria Sharapova at 2013 Wimbledon
Goes well with: Nike Zoom Vapor 9 Tour shoes, $130
Thanks to her partnership with Nike, Maria has always been on point when it comes to making style headlines at the Open, most notably taking the 2006 title in an Audrey Hepburn inspired black number. But after crashing out of Wimbledon and dropping out of the US Open due to hip injury, Ms. 'Sugarpova' continues to put her name on some of the best tennis styles out there. While we won't spot the Premier Dress in action this week, you can pick up the simple shift now.
$125
<!--nextpage-->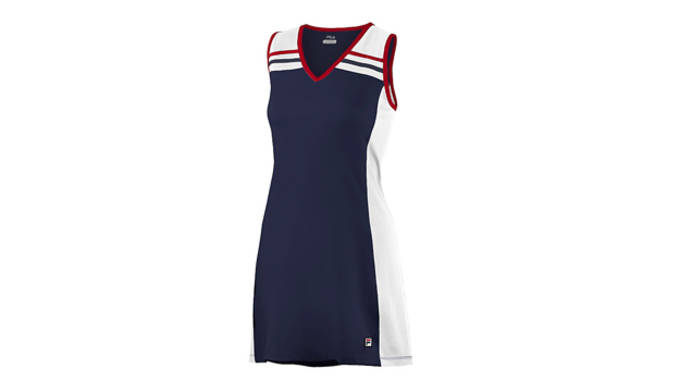 Fila Tradizione Dress
Worn by: Lucille Bluthe
Goes well with: Bloody Mary's and Fila's Ace Vest, $60
An easy item to throw on when you're headed for a day at Forest Hills or any similar destination. While this dress looks better suited for a part in a Wes Anderson film or at the court side bar, the synthetic jersey is breathable and flexible enough for the more competitive player.
<!--nextpage-->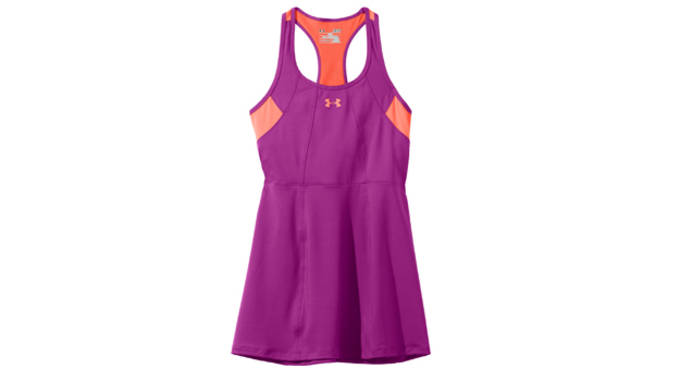 Under Armour UA Tennis Dress
Worn by: Sloane Stephens
Goes well with: Sloane's now-signature Multi Braided Headband, $15
While Under Armour isn't a brand with a super strong hold in the tennis category, Sloane Stephens is helping UA make it's mark at the US Open. Combining Under Armour's specialty streamlined fit with a small pop of color, this tennis dress is super wearable for off-court activities too.
<!--nextpage-->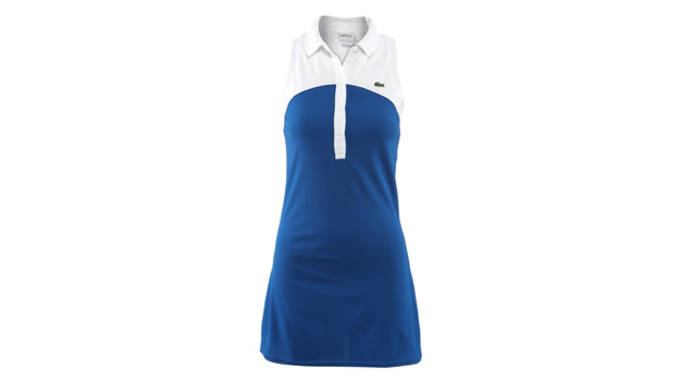 Lacoste Fall Tennis Dress
Worn by: The ladies of tennis for generations to come.
Goes well with: Balance your classic look with a sneaker that is pure performance. The Babolat SFX All Court is made for the smoothest footwork possible on the court, $150
Perfect for on and off the court, this classic style is still used on the court today for it's fluid fit, no fuss design and timeless look. Wear with these so you can hold extra balls between serves.
<!--nextpage-->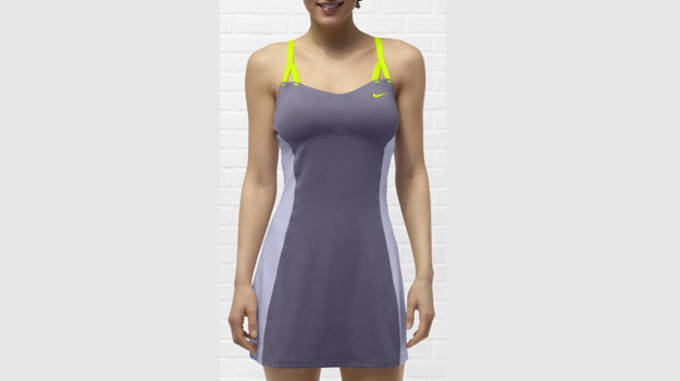 Nike Maria Sharapova Premier Dress
Worn by: Maria Sharapova
Goes well with: The Nike Vapor Advantage is made to match, perfect for players that like to take full advantage of big slides, $85.
Maria rocked a white version of this look to Wimbledon, so you can scoop up this colorful version this month for a lesser price. With neon hits over a gloomy purple, this dress is the perfect August go-to.
$88
RELATED: The 10 Best Hard Court Tennis Shoes for Women
RELATED: The 10 Best Clay Court Tennis Shoes for Women