When the 1998 NBA Finals rolled around, Michael Jordan committed one last act of rebellion: He debuted the Air Jordan XIV months before their scheduled release (specifically for Game 3, and then worn famously for his "last shot" in Game 6). Designed by Tinker Hatfield and Mark Smith, the XIV was worn by Jordan during what was supposed to be his final act on an NBA court.
The Air Jordan XIV placed an emphasis on comfort, implementing a low-profile heel and Zoom Air cushioning the forefoot to make it an ideal fit for the slashing guard or swingman who needed to maneuver all over the court. An asymmetrical collar offered strong ankle support while the tire-like treads on the rubber outsole provided outstanding court grip.
Debuting for anyone not named Michael Jordan in the 1998-99 season, the Air Jordan XIV is still considered one of the top performance basketball shoes of all time; as a result, it is still worn on the court today by many of the game's top players. Here are the 10 Best Non-Jordan Performances in the Air Jordan XIV.
Doug Sibor contributes to Sneaker Report, Complex Media, and Bleacher Report, and can often be found shuttling between Fenway Park, Gillette Stadium and TD Garden. If you wish to discuss sports, sneakers, reality TV or acceptable meats to use as pizza toppings, follow him here.
RELATED: The 10 Best Non-Jordan Performances in the Air Jordan XII
RELATED: The 10 Best Performances in the Air Jordan XI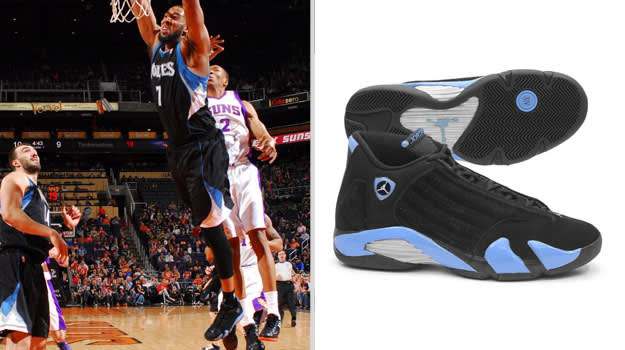 No. 10 - Derrick Williams, Minnesota Timberwolves
Stats: 21 points, 12 rebounds, 2 steals, 1 block
Game: 2/26/2013 vs. Phoenix Suns
While the former No. 2 overall pick has been a bit of a disappointment thus far in his NBA career, wearing the Air Jordan XIV he sure looked like the real deal this past February against Phoenix. Williams hit a big three in overtime to give his team a chance to win the game, but unfortunately they did not run their final play for the hot-shooting forward and ended up losing by one point.

No. 9 - Malcolm Armstead, Wichita State Shockers
Stats: 22 points, 3 rebounds, 5 assists, 1 steal
Game: 3/21/2013 vs. Pittsburgh Panthers
Every Cinderella has to start its run somewhere, and for Wichita State that happened in the first round against Pittsburgh on the strength of Malcolm Armstead's outstanding effort. The senior guard jumpstarted his Shockers team and Armstead hit all nine of his free throw attempts as the Wichita State blew Pitt out by a final tally of 73-55.

No. 8 - Reggie Miller, Indiana Pacers
Stats: 26 points, 3 rebounds, 3 assists, 1 steal
Game: 3/24/1999 vs. Atlanta Hawks
Reggie Miller switched over to the Air Jordan label later in his career, and in the Air Jordan XIV he saw immediate dividends like this game against the Hawks. Miller routinely lost his defenders around the perimeter, allowing the Hall of Famer to shoot an amazing 10-for-13 from the field including 4-for-4 from three-point land. The then-33 year old did everything he could to help his team, but a poor night from big man Rik Smits doomed the Pacers as they lost by a single point.

No. 7 - Dwyane Wade, Miami Heat
Stats: 28 points, 6 rebounds, 5 assists, 2 steals, 2 blocks
Game: 3/13/2012 vs. Orlando Magic
Wade took a brief hiatus from wearing his own signature Jordans to break out the Air Jordan XIV, and the results were outstanding. On this night against the Magic Wade had it going on, doing a little bit of everything. Wade's all-around effort carried his team through four quarters, but they were unable to pick their captain up in overtime as they came up short.

No. 6 - Monta Ellis, Milwaukee Bucks
Stats: 33 points, 4 rebounds, 8 assists, 1 steal
Game: 3/27/2012 vs. Atlanta Hawks
Ellis has always been a prolific scorer, and in the Air Jordan XIV he has been able to put all his talents on display like he did in this game against Atlanta. With his new Bucks team trailing entering the fourth quarter, Ellis slashed his way to the basket for a staggering 17 points in the quarter. His effort propelled his new team to a much-needed comeback victory, with the high-performance Jordans leading Ellis to describe himself as feeling "light on [his] feet" all game long.

No. 5 - Jason Taylor, Miami Dolphins
Stats: 7 tackles, 3.0 sacks
Game: 12/18/2005 vs. New York Jets
Most don't think of the Air Jordan XIV as a football cleat, but they were the footwear of choice for future Hall of Famer Jason Taylor throughout the 2005-06 season. In this game, he blew past the Jets' hapless linemen time and again, recording a ridiculous 3.0 sacks in the contest. Inspired by Taylor's effort, the Dolphins were able to win this hard-fought AFC East battle and get back to .500 on the season.

No. 4 - Reggie Miller, Indiana Pacers
Stats: 29 points, 5 rebounds, 4 assists, 1 steal
Game: 5/21/1999 vs. Philadelphia 76ers
In the Pacers' first road game of their first round playoff series against the 76ers, reliable star Reggie Miller showed why he was destined for the Hall of Fame. Miller gave his team an insurmountable 3-0 series lead on the strength of four made three-pointers and a 9-for-14 shooting performance overall. Miller was aggressive in going to the hoop as well, getting to the line seven times and converting on every attempt.

No. 3 - Charles Barkley, Houston Rockets
Stats: 15 points, 10 rebounds, 6 assists
Game: 3/13/1999 vs. Cleveland Cavaliers
While Barkley's stats may not have been gaudy, his solid all-around performance in the Air Jordan XIV allowed Sir Charles to become the third member of an illustrious NBA club: he became just the third person in NBA history to record 20,000 points, 10,000 rebounds, and 4000 assists over the course of his career, joining Kareem Abdul-Jabbar and Wilt Chamberlain.

No. 2 - Dwyane Wade, Miami Heat
Stats: 28 points, 4 rebounds, 7 assists, 1 steal, 1 block
Game: 3/10/2012 vs. Indiana Pacers
The Air Jordan XIV is considered one of the elite on-court shoes in part because of how it allows its wearer to stay cool under pressure; on this night, Dwyane Wade proved how. With time winding down in overtime and Wade already having had a big night, the Heat guard faked out the Pacers' Paul George and buried a jumper to give his team the lead with just 0.1 seconds remaining on the clock. This huge win gave the Heat a big confidence boost when they met Indiana in the playoffs less than two months later, allowing them to dismantle them in six games en route to a championship.

No. 1 - Richard Hamilton, University of Connecticut
Stats: 27 points, 7 rebounds, 2 assists, 3 steals
Game: 3/29/1999 vs. Duke Blue Devils
Rip Hamilton has long been a wearer of the Jordan brand, and he wore the XIV for what could be considered the greatest performance of his career. With UConn matched up against powerhouse Duke with the NCAA championship on the line, few gave the Huskies a chance. Hamilton did not get the memo, slashing the Blue Devil defense to pieces, getting to the basket and burying open jumpers all game long. On the strength of this performance not only did UConn win their first national championship, but Hamilton was named Most Outstanding Player of the Final Four.