This year marks the 117th consecutive race of the BAA Boston Marathon, promising to highlight the dramatic sportsmanship and historic lore that this storied race has exhibited in the past. Boston has become one of the best proving grounds for both world-class athletes and citizen runners who train hard each day in the context of their busy lives. Some of the most triumphant moments in the sport have taken place on the 26.2ml trek from Hopkinton to Boylston Street, as the inspiring lore of this race is practically endless. In this year's elite field, fans of the sport can expect to see a very close race in both the men's and women's competitions. Reigning champions Wesley Korir and Sheron Cherop are returning to Boston this year, and will have to defend their titles among one of the deepest marathon fields ever assembled.
American running idol Ryan Hall, who was touted as one of the original favorites for 2013, will be sitting-out of this year's Boston Marathon. Following set-backs in both 2011 and 2012, including dropping-out of the Olympic Marathon last summer, Hall is still mending a quadriceps strain that has prevented his training from taking full form in recent months. Also unable to compete due to injury, 2:03 marathoner Moses Mosop of Kenya.
In the past, Boston has always been a place for dim stars to shine at their brightest, so keep an eye out for exciting  breakthroughs amid the crowds at the 2013 Boston Marathon. These are 10 Athletes to Watch at the Boston Marathon and Why You Should Care. 
Peyton Hoyal is a graduate of Berry College in Rome, GA where he was a 2009 NAIA Track & Field All-American. Working as a high school teacher and coach in Blowing Rock, NC, Peyton still competes at a high level today and has aspirations to qualify for the Olympic Marathon Trials, pursue races in the mountain/trail arena, and help others achieve their goals in the sport.
CLICK TO CONTINUE STORY
RELATED:  adidas' Official Boston Marathon Gear is Here
RELATED:  SNEAK PEEK: Saucony Kinvara 4 "Boston" Edition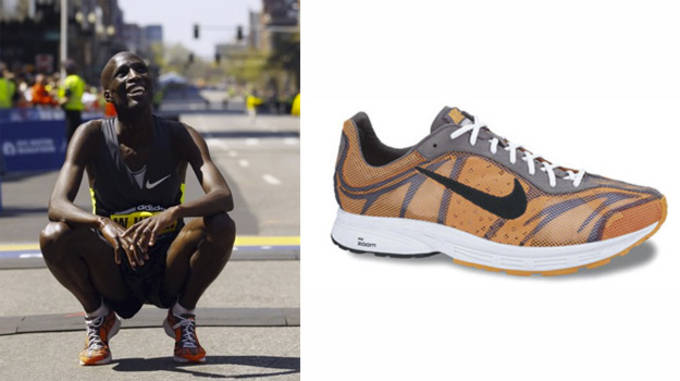 No. 1 - Wesley Korir
Nickname: The Philanthropist
Country: Kenya
Sneaker: Nike Zoom Streak
Wesley Korir claimed the title in last year's Boston Marathon with a 2:12.40 under extremely warm conditions. He defeated Boston course record holder and fellow countryman Geoffrey Mutai in this outing, which came as a big surprise to many. He also delves heavily into both political and social work for his home of Kenya, working closely with Ryan Hall in developing schools and housing for children in his homeland.  Korir, who is known for always eating half of a Subway Tuna Sandwich prior to his marathons, has been seen giving is other half to homeless people on several occasions. His big heart and ability to persevere in tough weather conditions make him one to watch closely in 2013.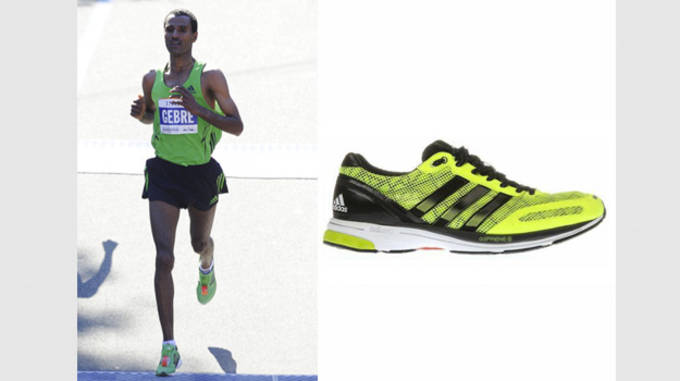 No. 2 - Gebre Gebremariam

Nickname: The Contender
Country: Ethiopia
Sneaker: Adidas Adizero Adios
With a World Cross Country Gold Medal and New York City Marathon title to his credit, Gebremariam has proven himself as a tough runner with abilities across the racing spectrum. He ran 2:04.53 at Boston in 2011, and he brings a unique set of skills to the table for this year's race. Gebre has always been one step out of the limelight in the past, thanks largely to frequent racing with the likes of Kenesia Bekele and Mo Farah, so it is apparent that this athlete is on the verge of a major breakthrough in 2013. Will it be at Boston?
No. 3 - Levy Matebo
Nickname: The Upstart
Country: Kenya
Sneaker: Nike Zoom Streak XC 2
A Junior star in both track and cross country, Levy Matebo has taken to the roads as of late to try his hand at the marathon distance. He has already won major marathons in Brussels and Barcelona with a 2:05.16 personal best- not bad for a young man of only twenty-three years. At last year's Boston Marathon, Matebo held the lead until the final kilometers when he began to falter in the heat. Wesley Korir was able to pass him in classic Veteran fashion, but this year the two could very well go head-to-head again. This would make for an exciting marathon thrill ride as spectators cheer each runner on their way. It is difficult to say whether youth or experience will prevail at this year's race, but viewers can expect an exhilarating duel no matter the final result.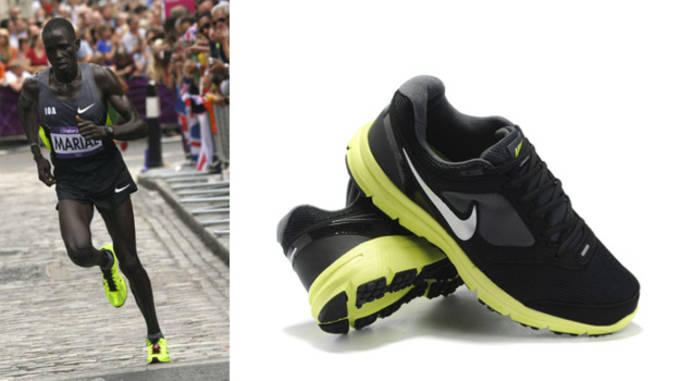 No. 4 - Guor Marial
Nickname: The Ronin
Country: Sudan / USA
Sneaker: Nike Lunar Fly+ 2
While not the fastest man in the field, Guor Marial represents a fine example of the marathoner's spirit to endure through hardship. Born in Sudan, Marial fled the country in 1994 during the Sudanese Civil War. Twenty-eight members of his family were killed, including eight of his brothers and sisters. He has made a name for himself on the roads in recent years, and competed under the Olympic Flag as an Independent Athlete at the 2012 London Olympic Marathon. He currently lives and trains in Flagstaff, AZ, and has been granted a pending US citizenship status. Look for him to be a strong factor if conditions are less than prime in Boston; Marial has proven that he thrives under adversity, as his life's story has shown thus far.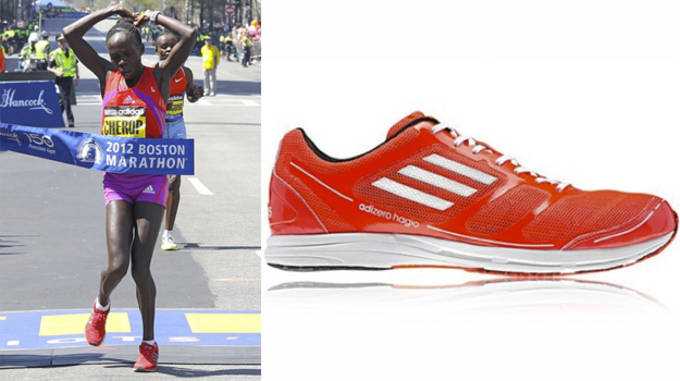 No. 5 - Sharon Cherop
Nickname: The Protégé
Country: Kenya
Sneaker: Adidas Hagio
Cherop enjoyed a good deal of success as a junior athlete in both track and cross country, due in part to being inspired by the methods of Catherine "The Great" Ndereba and Evans Rutto. She was accepted to train with the Sing'ore Girls under renowned coach Boniface Tiren, and that is when her career on the road began to take form. She was last year's Boston Marathon champion, besting a stacked field in terrible marathon conditions. With her PR of 2:22.42 and long experience of training with some of the world's best, Sharon Cherop could easily wear the laurel wreath again this year.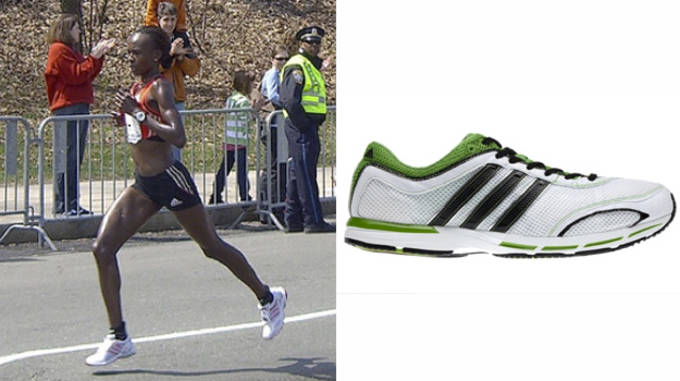 No. 6 - Rita Jeptoo
Nickname: The Road Warrior
Country: Kenya
Sneaker: Adidas Adizero Rocket
Rita Jeptoo has been at it for a while now, and has left a streak of course records and titles in her wake. A prolific big-stage road racer, especially on the European circuit, Jeptoo has won major races in Paris, Turin, Milan, Stockholm… the list is quite extensive. Most importantly among these victories on the road, her 2006 win at Boston gives her a great deal of both general marathon experience and the specificity needed to perform well on April 15. Coached by the famous Renato Canova of Italy, she is in very capable hands going into this year's race and has the talent to support another victory here in 2013.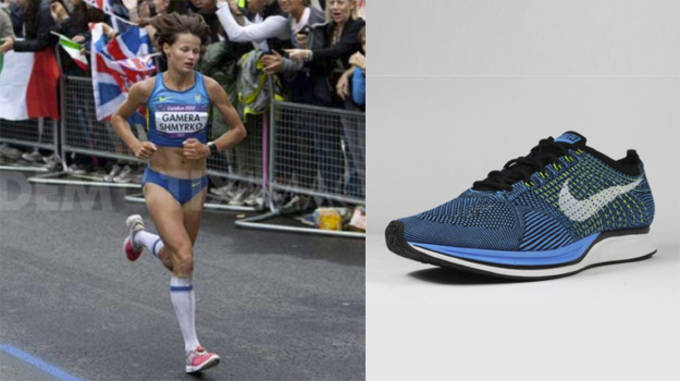 No. 7 - Tetyana Gamera-Shmyrko
Nickname: The Workhorse
Country: Ukraine
Sneaker: Nike Fly Knit Racer
Growing up on a small Ukrainian farm in the Urals, Gamera-Shmyrko has risen through the ranks of international marathoning to reach the level she is at today. Known as an extremely tough runner in training and racing, Shmyrko began her career as a middle-distance runner, but didn't enjoy much notoriety until she moved up to the half and full marathon in 2010. Since then, she has won the Osaka Women's Marathon, the Cracovia Marathon, and placed fifth overall in the 2012 London Olympic Marathon, setting a Ukrainian marathon record of 2:24.32 (which has now fallen to Olena Shurhno). Shmyrko most recently won the Osaka International Ladies Marathon in January 2013, setting a PR of 2:23.32 in route to Boston. If she has maintained this form (or improved upon it), then she will likely be a challenger for the win at this year's race.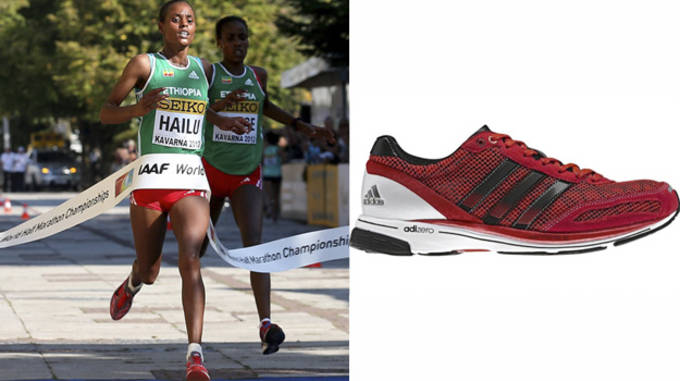 No. 8 - Meseret Hailu Debele
Nickname: The Young Gun
Country: Ethiopia
Sneaker: Adidas Ladies Adizero Adios
To be only 22 years old, Debele has already made a name for herself in the world of elite marathoning. Amassing podium spots in Amsterdam, Reims, and Belgrade, Debele is on the verge of putting her talents to great use at a truly world class marathon like Boston. She won the 2012 IAAF World Half Marathon Championships in Bulgaria, which shows that she is clearly ready to run with the best despite her young age. She boasts a 2:21.09 marathon personal best, which is extremely strong for a runner just finding themselves in the marathon. The late Sammy Wanjiro comes to mind as a similar entity, who was only twenty-one when he took Olympic Gold in Beijing in 2008. No small feat, but proof that youth can be as potent as experience in the marathon.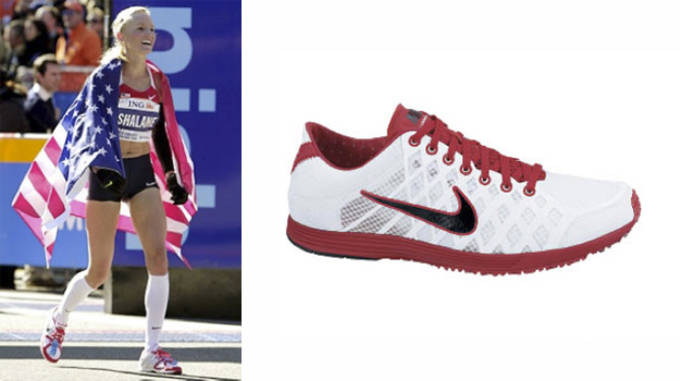 No. 9 - Shalane Flanagan
Nickname: The Renaissance Woman
Country: USA
Sneaker: Nike Lunar Spider R2
Track, cross country, road racing… Shalane Flanagan has perhaps the greatest blend of talent in this year's Boston Marathon field. She holds national records in the 3000m (indoor), 5000m (indoor), and 10,000m. She is an Olympic 10,000m Bronze medalist from Beijing, won the US Olympic Marathon Trials in 2012, and placed second in the NYC Marathon in 2010. She also owns a coveted World Cross Country Championships Bronze Medal, the first non-African female to do so since 2004. With this compilation of skills, Flanagan will be hard to beat at this year's Boston Marathon. She is truly a Renaissance Woman in the sport with few rivals to match her overall list of accomplishments.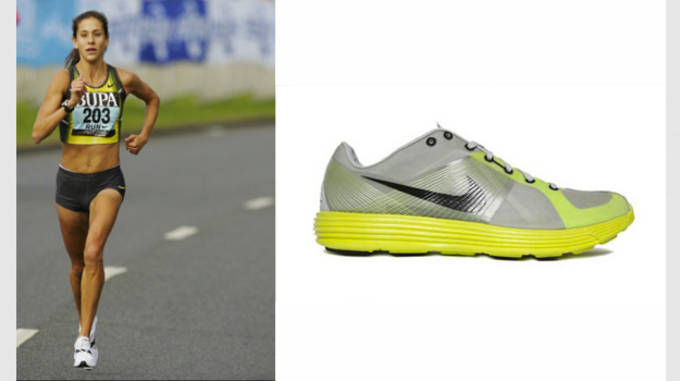 No. 10 - Kara Goucher
Nickname: The Girl Next Door
Country: USA
Sneaker: Nike Lunar Racer
A "dark horse" only by comparison in this year's Boston Marathon, Kara Goucher has a great deal of experience on the course, and finished third in Bean Town in 2009 with a 2:32.25. This followed a third place 2008 NYC Marathon finish, and sits atop an illustrious career on the track, as well. Don't let her disarming demeanor and "girl next door" amiability fool you, however. Kara Goucher is in it to win it, and has the credentials to place high in this year's race. Couple this with the fact that she trains with Shalane Flanagan on a daily basis, and the USA could very realistically see two ladies on the podium this
Patriots Day.
RELATED:  adidas' Official Boston Marathon Gear is Here
RELATED:  SNEAK PEEK: Saucony Kinvara 4 "Boston" Edition