Just as Bill Bowerman looked to his waffle iron for a new sole, and Kevin Plank upgraded the traditional tee to America's favorite sweat-wicking essential, the most important performance apparel advancements come from an athlete's need for a more effective product. Enter Brooklyn-based brand
RELATED: SAS Supplies a Cycling State of Mind
RELATED: Under Armour Goes Reflective with the Latest Charge RC Running Sneaker
<!--nextpage-->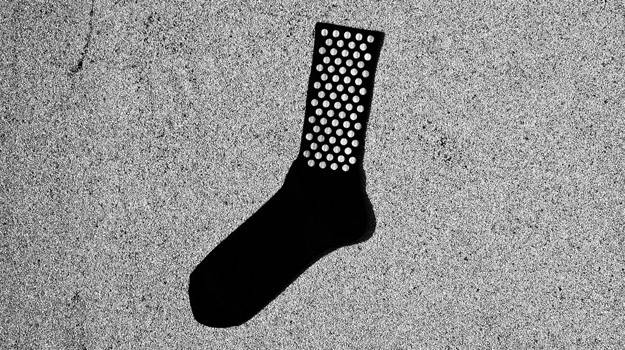 This material is super reflective, what is it? 
It's basically a 3M reflective material; it's great because it's a good quality and I can play with different colors, which will soon be an addition to the apparel collection.
So it all started with the socks.
Yes, the socks were the first thing. I would be wearing them while riding and people would be like, "Yo man, I saw your feet going up and down from a mile away," cars would pull up next to me laughing and saying it looked crazy.
So the hat came after, from working with my mentor from high school, he helped me get the hats produced and from that the shirts were a no-brainer. The whole point is to wear something fashionable and functional at the same time. These are things you don't feel like an idiot wearing so you can stay safe and feel cool, which is the whole concept of ICE COLD.
"The whole point is to wear something fashionable and functional at the same time."
Can you talk a little about this dot pattern?
In order to create something that is fashionable and functional at the same time, the easiest solution for me were the dots as they're fashionable, can be used in any facet, and it's something you know. It's easily accessible and it's something that's easy to sell. So this was the first run, and I have other things ready but I wanted to come out first with the dot. Then I moved onto this pattern made up of all of these scrap pieces, so it's a way of recycling all of the rips and extras that are leftover when I make the t-shirts. The all over t-shirt is made of recycled reflective pieces left over from the other processes, so it's a nice way to use all of my resources in production.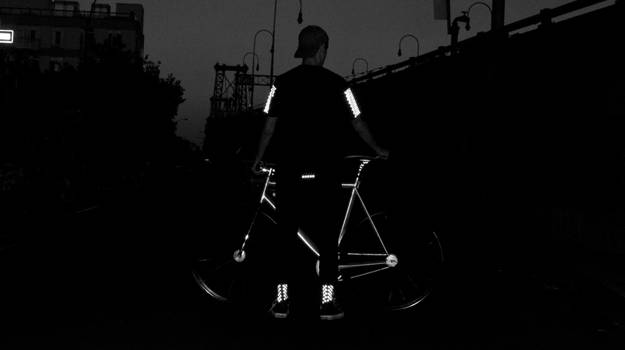 So how does this play into visibility?
This is a highly visible pattern. When photographed, it creates a full-on strobe effect. I don't know if you've seen the Nike Flash jackets, but they can be hard to wear as 3M is a non-breathable material, so being able to leave the full surface out of it allows the product to perform better. The jackets did feature perforation and little performance details, and the hats were great as well, but there were small problems for me that I'm trying to solve with my own product. Instead of literally taking that Scotchlite material and making a garment out of it, I'm trying to find a better solution for riders.
What material do you use for these?
The shirts are made of a cotton poly blend from American Apparel, which is their answer to the performance tees of today, it feels like a cotton t-shirt but wicks away sweat. I'm really pushing the performance aspects on these, so the socks are sweat-wicking, after you break in the dots they wash well and are a great fit for running and cycling— I've been testing them out for a while.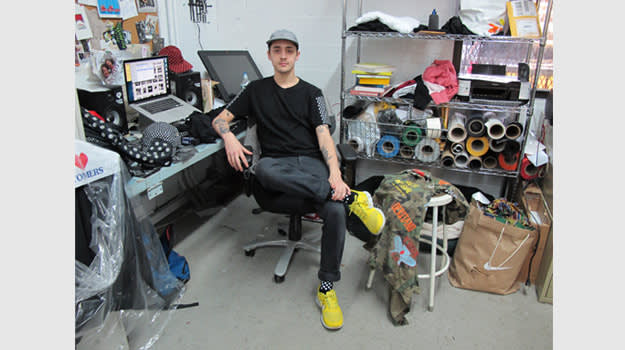 So what's next for ICE COLD?
It's tough, but in the US I want to hit specialty running stores and cycling shops. The biggest thing that people need to understand about the brand is that it's performance over fashion, so I need to make sure I don't go too fast and come into the market with something crazy and then all of a sudden I'm classified as streetwear and then I'm screwed. I love making graphic t-shirts, that's what I do on a daily basis, but I really want to get into more of the cut and sew production for this.
What's the story behind the name ICE COLD?
ICE COLD is the feeling you get when you hit the ground face down and no one is helping you up and hopefully this stuff will save you from that. I spent my whole time in high school selling t-shirts out of the back of my car so I've always been into this, it was just about finding the right idea. ICE COLD is a synonymous for a lot of things. I've seen people do reflective stuff and crazy designs, but it doesn't matter because they aren't trying to do it the way I am, so it's all coming together.
Check out the ICE COLD performance socks and accessories here, and the recently released t-shirt collection here.
RELATED: SAS Supplies a Cycling State of Mind
RELATED: Under Armour Goes Reflective with the Latest Charge RC Running Sneaker