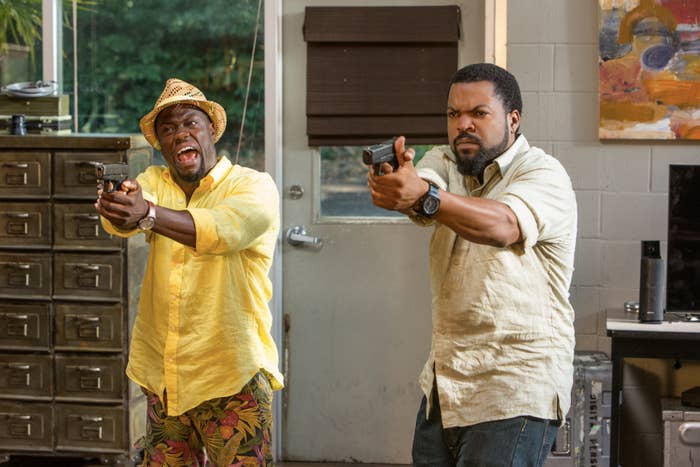 Ice Cube and Kevin Hart are back in Ride Along 2. The first film was a simple throwback buddy-cop movie: Deadbeat security guard Kevin Hart wants to show his fiancé's hard-ass cop brother (Cube) that he's worthy of marrying his sister, so he agrees to go on a police ride along with him to prove how tough he is (LOLs and hi-jinks ensue). And while it was hardly high art, the combination of Hart's manically infectious charm and Ice Cube's secret genius for deadpan comedy (see also: 21 Jump Street) made it all work, and it was a surprise worldwide hit. So of course, we get the sequel, and it doesn't fix what isn't broken. It just gives us Hart, more Cube, more explosions, and moves the whole thing to Miami.
We caught up with Cube and Hart in London, whilst on the press tour for the film. We had them take over our Snapchat (you're already following ComplexMag, right?), but there was also time to fit in this little conversation. 
You guys have great chemistry in the Ride Along films. Are you like that in real life?

Ice Cube: It's fun, we're just having fun with it. That's the cool thing about it; we can bounce of each other and still get the job done. That's how we make our movies. People love the chemistry, and they love our friendship.

Kevin Hart: We get a lot feedback through social media, and people love the back and forth. I think that's a good thing, because in any relationship, you want it to come across real and grounded. And I think Cube and myself have done a great job of bringing that across in Ride Along 2.
What was the best thing about filming in Miami?

IC: It's like you on vacation.

KH: You liar! It's the women! You even said it, Cube!
Kevin, you've also on a UK stand-up tour at the moment—how are you finding the UK crowds?

KH: To be honest, I don't think they're any different from fans in the States. I think that's the beauty of traveling the world. Everywhere there's a passion and a support. When people support your craft, they show up, expecting you to do what you do. That's what they've grown to love, and that's what I feel over here. People come out, all races, shapes, sizes, and they come to laugh and enjoy themselves. And I think with the movie, which we're now being allowed to bring over here, and finally getting the opportunity to bring over [most of Hart's early films didn't make it to UK cinemas], people are showing up and shelling out. Because that's what they want, they want good comedy.

IC: With the crowds out here, to me, you gotta be on your A-game. The crowds out here in the UK always remind me of performing in New York City. You can't just come with a regular show, like you're just going to dial it in tonight. You might get away with that in other territories, because they're going be hype and ready for you and going crazy. But dial it in here in the UK, and they're just going to be looking at you. You gotta bring!
You both met up with Stormzy this week—have you had a chance to listen to his music? What do you think?

IC: I like that video he's got ["Know Me From"]. His flow, that beat…

KH: Hashtag merky! Hashtag problems!
You got that wrong on Twitter, didn't you…

KH: Yeah. He tweeted a picture of us three, saying it was a real pleasure meeting us. So I tweeted him saying "It was a pleasure as well, your music is dope. #Mercy!" And he retweeted me going: "LOL, #MERKY." But he saw where my heart was.