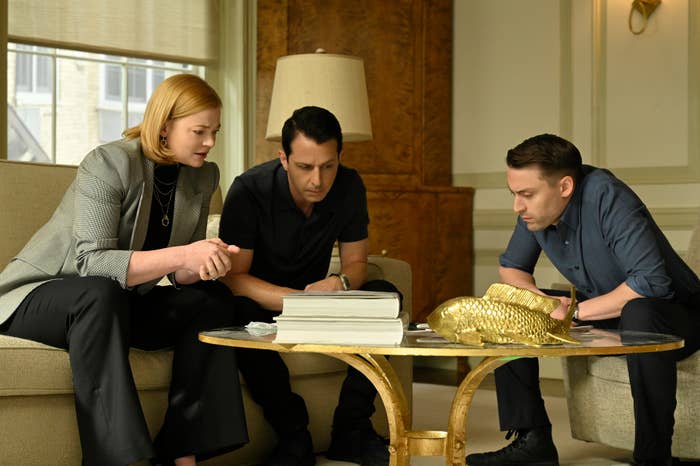 Succession's final season delivered.
The much-anticipated series finale of HBO's masterful series brought to a close the fourth and final season of the show, which had already given viewers some tremendous moments. This means it's time to go ahead and rank the last 10 episodes of the beloved Jesse Armstrong comedy-drama series.
It wouldn't be Succession without some jockeying and competition and we can definitively state that Season 4 is among the series' best. Ending a series in its prime is a bold choice but it's better to go out on top than to overstay your welcome.
None of the episodes in this season were bad per se, as even the quieter episodes were setting us up for an explosive and powerful ending. So if the ones you loved end up further down the list than you may personally like, it doesn't mean they didn't matter in the grand scheme of things. The writers and creators made each second count this season.
With that context aside, here's our ranking of all the Season 4 episodes, from worst to best. Oh, and it goes without saying, but anticipate massive spoilers for the show below.
10. "Rehearsal" (Season 4, Episode 2)
The One Where: The kids buy Pierce
Succession premieres are typically propulsive affairs, and "The Munsters" is no exception as audiences pick up with the full Roy group a few months after the incredible triumph of the Season 3 finale.
While it's difficult to follow that previous episode and also successfully start a final season, "The Munsters" feels like Succession's version of an Ocean's movie; the kids working to outmaneuver Logan conveys the same tension and thrills of a good heist flick. Bold, fresh, and exciting, it's hard to continue to find new gears in a fourth season premiere, but "The Munsters" makes that effort feel breezy.
The One Where: The Roys go to California
An absolute standout episode for Jeremy Strong, "Living+" is the first real public-facing outing for Kendall as CEO…and he kind of nails it? The most cringe-inducing episode of the season (like many viewers, I watched it through my fingers), Kendall and Roman scheme and plan ways to make Waystar strong enough to withstand the impending GoJo deal. It's Roy shit-shoveling at its finest.
The One Where: Everyone attends Logan's wake
While "Connor's Wedding" deals with the immediate emotional fallout from Logan's death, "Honeymoon States" deals with the professional stakes as Schrödinger's pencil mark on a piece of paper left by Logan determines the fate of Waystar. The two concurrent plots in this episode—the matter of succession (ayyyy) and seeing how the whole of the show's characters continue to react to Logan's passing—set the table for the remaining part of the season in a grippingly entertaining fashion.
6. "Kill List" (Season 4, Episode 5)
5. "Tailgate Party" (Season 4, Episode 7)
4. "Church and State" (Season 4, Episode 9)
3. "America Decides" (Season 4, Episode 8)
2. "With Open Eyes" (Season 4, Episode 10)
1. "Connor's Wedding" (Season 4, Episode 3)