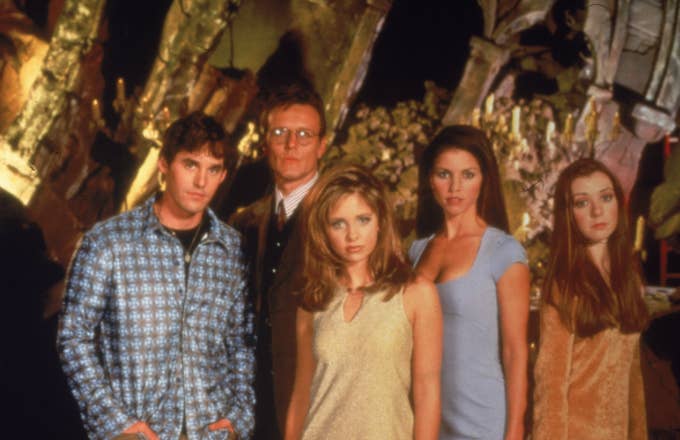 '90s series are more popular than ever as Full House and Will & Grace are revived and back on TV screens while the Charmed reboot is slated to start filming soon. But there's still one show that fans would love to see come back—Buffy the Vampire Slayer. This includes Fox Chairman and CEO Gary Newman who called the series "the most ripe show we have for bringing back."
"It's something we talk about frequently, and Joss Whedon is really one of the greatest creators we ever worked with," said Newman at the INTV Conference in Jerusalem, reports Variety. "When Joss decides it's time, we'll do it. And until Joss decides it's time, it won't happen."
This is far from the first time that fans asked Whedon about a reunion series or campaigned for an animated series that was supposed to happen but never did.
Last year, Whedon spoke about the possibility of a reunion show while celebrating the series' 20th anniversary. "Everything sort of finds its way back somewhere," said Whedon in an interview with EW, when they reunited the cast last year. "I've been trying deliberately to move forward and do something a little bit different. But yeah, the great thing is everybody looks great, and the other great thing is the show is about growing up. If we did it with these guys, they'd be the age they basically are. They'd probably play a little younger because they can do that. But yeah, you'd see somebody going through their life at a different stage."
Even Sarah Michelle Gellar, who's notably tried to distance herself from the Buffy, showed the series some love for its 21st anniversary last week.
"I don't think it's a coincidence that the anniversary of #btvs is the same week as #internationalwomensday," read her Instagram post with behind-the-scenes Buffy photos. "I have always believed that the world is changed by your example, not by your opinion. We have all learned a lot from Buffy, and the best part is, that never ends."
We're not crying, you are!