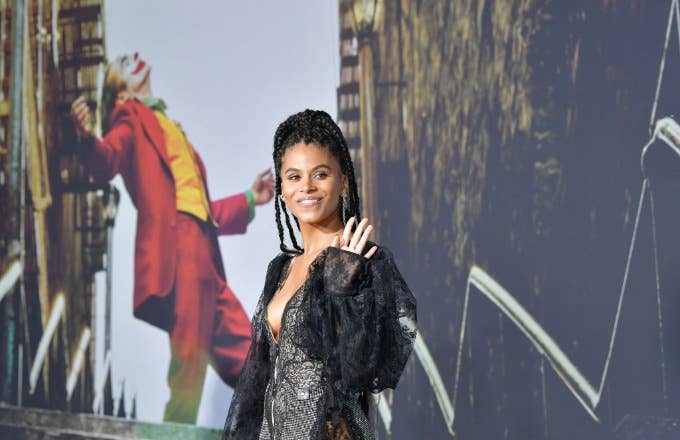 If you fall under the I See Movies Later Than the Rest of the World Out of Vague Protest category of cinemagoers, then perhaps this article isn't for you. Put another way, spoilers abound in the words and embeds below.
As it's Monday, we've now had an entire weekend to properly digest Todd Phillips' Joker, hopefully all coming to a similar conclusion: The movie is strong, while the commentary that preceded it was not. Either way, some pivotal moments are worth additional dissection, including all those involving Zazie Beetz's character Sophie Dumond.
Asked in a new THRinterview about "the big reveal," i.e. the audience's realization that Arthur Fleck is indeed an unreliable narrator and that the bulk of his interactions with Sophie were merely fantasy, Zazie gave her interpretation of that aspect of the story's deeper meaning.
"I think that Arthur's Sophie is what he needs and what he wants," she said. "He's placing that identity on Sophie because in their first encounter, Sophie simply acknowledges his existence. Throughout a big portion of the film, he's trying to find his existence; he's even questioning himself, 'Am I even really here?'"
Sophie, she added, is important to Arthur as she represents someone outside of his immediate circle whose acknowledgement of his existence marks "such a validating experience" for the character on his journey.
"I think it means so much to him that he overemphasizes what it meant," she said. "The woman he has in his mind is, of course, different from the woman that she is. Realistically, I don't think it would work between them."
Zazie also pointed out that the character changed quite a bit from what was presented in the original script. Just as Joaquin Phoenix did with Arthur, Zazie and Todd kept the state of the character in flux during the production. Ultimately, she said, the fantasy element came about via a "slow shift" after some scenes had already been shot.
"I think the movie just really shifted into something where it's all coming from [Arthur's] brain," she said. "In the end, isn't it all up for questioning?"
It certainly is. For the full THR x Zazie interview, click here. Joker is out now.