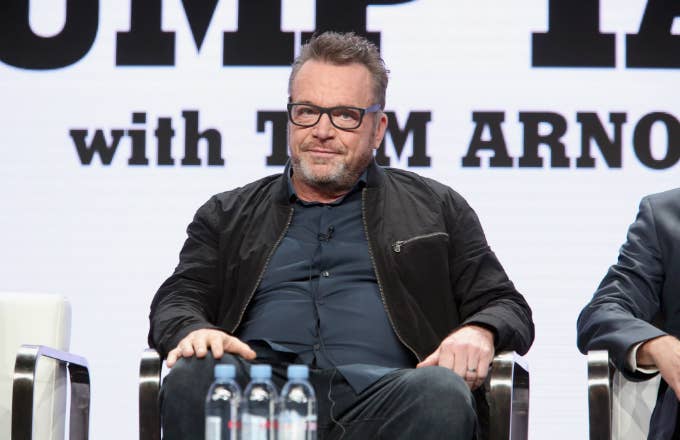 The Hunt for the Trump Tapes host Tom Arnold and MGM Worldwide Television Group chairman Mark Burnett reportedly got into some sort of altercation over the weekend.
During arrivals for the Evening Before Emmy fundraiser at the Lawn at Century Park in Los Angeles Sunday, Varietyreported Monday, a "scuffle ensued" between the two men as they arrived to the event around 9:30 p.m. local time. Sources cited in the report claim that the scuffle consisted of "shoving." According to Arnold, Burnett at one point attempted to choke him. Kevin Bacon, Arnold added, is a "reliable brawl witness." Roma Downey, Burnett's wife, claimed Arnold ambushed Burnett.
Burnett has been a frequent subject of Arnold's criticism for his refusal to unleash Apprenticeouttakes that allegedly show the neo-Nazi-sympathizer-in-chief using the N-word and spewing other offensiveness. In her recent book, ex-White House staffer Omarosa also claimed to have heard the N-word used on multiple occasions during the NBC series' run.
Arnold detailed his dedication to exposing the alleged tapes in Brian Hiatt's excellent Rolling Stone profile last month. "It was like somebody put together a 'fuck this guy' [compilation]," Arnold said of the tapes, one of which is an alleged highlight reel of sorts showing Trump saying offensive shit. "Everyone has one, on every show."
Trump Tapes premieres this week. As Arnold reminded us early Monday, the first episode will indeed include something Burnett-related.