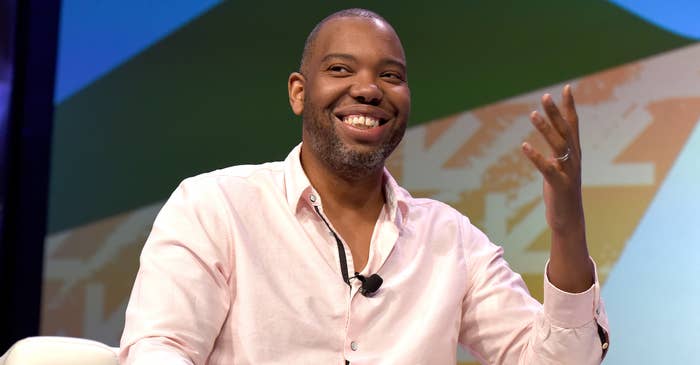 Ta-Nehisi Coates, who's known for award-winning work in the Marvel realm with his Black Panther and Captain America comics, is penning the script for a Superman reboot for Warner Bros and DC.
Per a Deadline report on Friday, the project—plot and cast details for which remain a mystery—will be produced under J.J. Abrams' Bad Robot brand with Hannah Minghella.
The report also claims that—while no star is attached to the reboot just yet—current big-screen cape-rocker Henry Cavill has expressed interest in returning to the role of Clark Kent/Superman in some capacity. Bad Robot and Warner Bros, meanwhile, were previously reported to be putting together a run of Justice League Dark Universe entries for both film and television. Bad Robot's rumored JLD plans were reported several months after WarnerMedia announced a $500 million deal with Abrams.
In a Shadow and Act exclusive statement, Coates said he was honored to take on the project. 
"To be invited into the DC Extended Universe by Warner Bros., DC Films and Bad Robot is an honor," the 2015 National Book Award-winner said. "I look forward to meaningfully adding to the legacy of America's most iconic mythic hero."
Abrams, meanwhile, added that fans can expect "a new, powerful, and moving Superman story yet to be told."
The Hollywood Reporter's Borys Kit noted in his report with Aaron Couch that the untitled project is being set up as a Black Superman story. In subsequent tweets Kit noted that Michael B. Jordan has been trying to get a Black Superman project off the ground since 2019.
"It is possible that the studio could return to him to star down the line," he said on Friday.
Last June, Cavill—who will indeed be Supermanning it up once more in next month's "Snyder Cut" of Justice League—said in a Variety interview with Star Trek legend Patrick Stewart that he also hopes to do more Supermanning in the future. For Cavill, being known for portraying such an important character marks a responsibility with which he's happy to be tasked.
"Because it's such a wonderful character, it's actually a responsibility I'm happy to have, and I hope that I get to play more of Superman in years to come," he said at the time.
In related news, the CW this week added the new series Superman & Lois to its Arrowverse, with Tyler Hoechlin and Elizabeth Tulloch—who have appeared on Supergirl, The Flash, Batwoman, and more—as Supes and Lois Lane.
Coates, whose acclaimed writing has spanned a variety of different mediums and genres, released his debut novel The Water Dancer in 2019. In November of last year, HBO premiered an 80-minute TV adaptation of Coates' nonfiction book Between the World and Me featuring Mahershala Ali, Yara Shahidi, Angela Bassett, Oprah Winfrey, and more.