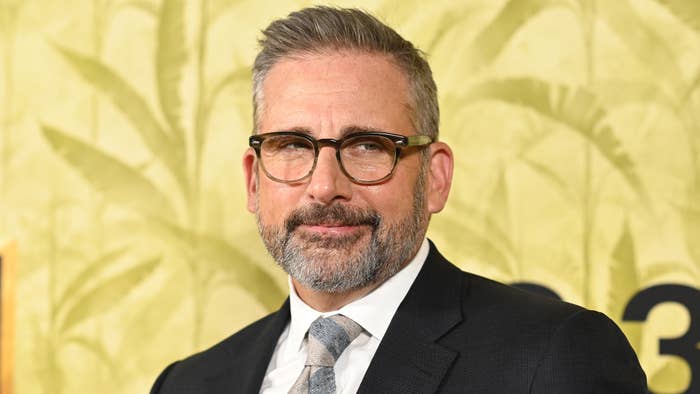 Steve Carell joined fellow The Office alumni Jenna Fischer and Angela Kinsey on the latest episode of the Office Ladies podcast, resulting in an hour-long discussion about their favorite memories from the classic comedy.
The three also bonded over a habit they expectedly fell into due to the nature of the production, i.e. looking directly into the camera. This, of course, is most often regarded as exactly what an actor is not supposed to do.
A little over 39 minutes into the episode, Fischer first reflected on how fulfilling it was early into the series' run to hear from those who appreciated what they were trying to do, especially other artists. This led into a mention of the show's documentary-style presentation, at which point she asked Carell if he ever looked into the camera after The Office.
"I have never had a job where I didn't look into the camera at some point," Carell said. Both Fischer and Kinsey agreed, adding that they too had this same problem post-Office.
Carell then mentioned how this came into play with his acclaimed performance in Bennett Miller's 2014 drama Foxcatcher, which ultimately earned him nominations at the Academy Awards and the Golden Globes.
"At least once," Carell said. "I'm sure on Foxcatcher I, like, looked into the camera and went, 'Nope, you cannot comment on what you just did. Because that's not this show.'"
For Carell, the added task as an actor of figuring out how to use the Office camera as a character while mindfully avoiding a false-feeling "over-awareness" of its presence was both a "learned strength" and a "really interesting acting exercise." Office guest star Amy Adams, in Carell's opinion, was one of the actors who took to this approach immediately.
Hear the full discussion here.
In June, Carell will be seen among the decidedly stacked cast of Wes Anderson's latest film Asteroid City. Others confirmed for the 1955-set film co-written by Anderson with Roman Coppola include Jason Schwartzman, Maya Hawke, Jeffrey Wright, Bryan Cranston, Margot Robbie, Stephen Park, and many more. Per Deadline, a Cannes unveiling is possible.