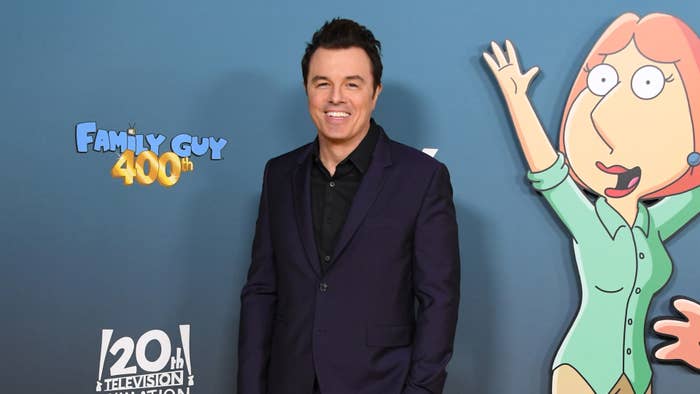 Seth MacFarlane is hitting pause on the wildly popular Family Guy and American Dad properties until striking writers are given a fair and equitable deal.
As first reported by Deadline last week, MacFarlane and the showrunners behind both animated hits have ceased work and walked off the job amid the Writers Guild of America strike.
This particular group of creatives includes MacFarlane, Rich Appel and Alec Sulkin of Family Guy, and Brian Boyle and Matt Weitzman of American Dad. MacFarlane, notably, has been photographed alongside other striking film and TV writers in recent days.
As noted in the report, Family Guy finished its 21st season earlier this month. American Dad, meanwhile, launched its 20th season earlier this year and is expected to continue for at least three months, as that's the amount of scripts and related material that was already finished prior to the strike.
Complex has reached out to a rep for MacFarlane for additional comment. This story may be updated.
Though some outlets have posited this development as meaning that MacFarlane has "quit," that's, as should be obvious to anyone reading this, very much not the case. Instead, MacFarlane—like all guild members—is simply throwing his support behind the strike as writers push for a deal with the thus-far-resistant Alliance of Motion Picture and Television Producers (AMPTP).
The current WGA strike kicked off on May 2 after failed negotiations between the guild and the AMPTP, which consists of a group of major studios ranging from Netflix to Sony.
"They have taken so much from the very people, the writers, who have made them wealthy," the WGA's negotiating committee said in a recent statement. "But what they cannot take from us is each other, our solidarity, our mutual commitment to save ourselves and this profession that we love. We had hoped to do this through reasonable conversation. Now we will do it through struggle."
Moving forward, it's likely that the Screen Actors Guild (SAG) will also be launching a strike soon. In fact, the SAG-AFTRA National Board just this week announced its unanimous decision to recommend a strike vote ahead of its own AMPTP negotiations.