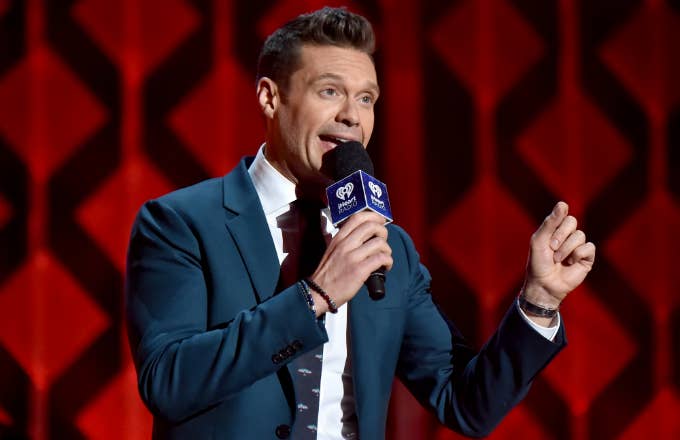 The former E! News stylist who has accused Ryan Seacrest of sexual assault and harassment has issued a new statement saying she refuses to let him "victimize" her for "telling the truth."
"I remained quiet for years out of fears that my story wouldn't be believed and that I would be subject to scorn and ridicule for telling it," the stylist, Suzie Hardy, toldVariety Tuesday. "I was emboldened by the bravery of others to finally and confidentially tell my story to NBC. Ryan elected to take the story public with a false narrative that he was exonerated and the victim of some sort of money grab. He is not the victim, and I refuse to let him victimize me for telling the truth."
Hardy's latest statement arrives after Seacrest, who previously published a THR column called "What Happened After I Was Wrongly Accused of Harassment," claimed Hardy had offered to withdraw her allegations if paid "millions of dollars." In a separate Varietypiece Monday, Hardy detailed years of alleged harassment and assault while working as Seacrest's personal stylist.
Hardy accused Seacrest of "grinding his erect penis against her" while in his underwear, "groping her vagina," and once leaving a "large welt" on her buttock. Prior to that report, E! announced that an independent investigation into a "misconduct allegation" against Seacrest had found insufficient evidence. Hardy, however, has alleged that E!'s investigator intentionally chose not to interview four people who could have backed up her allegations.
Also on Tuesday, Scandal star Bellamy Young apologized for saying Seacrest should step down from his Oscars red carpet role. "The world is changing quickly right now, and many of us have been affected by this issue: I spoke up because I feel deeply that the secrecy of shame plays a significant part in what has kept this shift from happening before now," Young toldVulture. "But never has there been a more urgent time to make sure our voices are used for truth, and I failed in that regard Monday night. Our words matter. Our word matters. I apologize to Ryan Seacrest. He has been exonerated from the allegations I was told about on the carpet, so my opinion is different now. I just want to clarify that anyone who uses my quote going forward is using the quote of an uninformed person and fanning the flames of a non-story by making use of an unwitting accomplice."