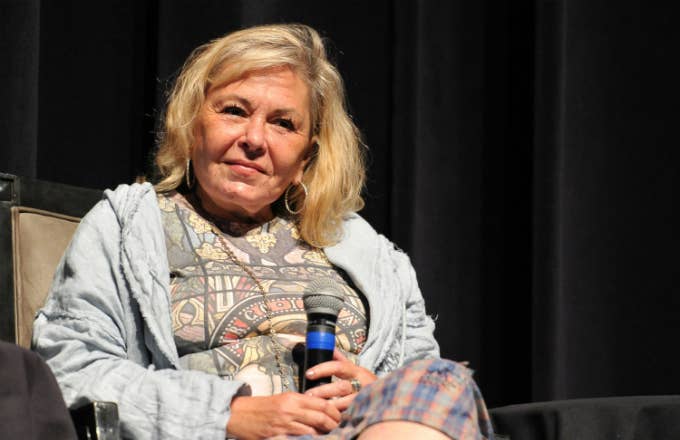 The Conners, to my surprise, premiered Tuesday night. Marking the continuation of the since-canceled Roseanne revival, original series star and executive producer Roseanne Barr marked the occasion (which, as expected, included the death of Barr's character) with a predictable tweet about being alive. 
Barr also shared a full-length statement on the Conners premiere in conjunction with friend Rabbi Shmuley Boteach.
"While we wish the very best for the cast and production crew of The Conners, all of whom are deeply dedicated to their craft and were Roseanne's cherished colleagues, we regret that ABC chose to cancel Roseanne by killing off the Roseanne Conner character," the two said in their statement. "That it was done through an opioid overdose lent an unnecessary grim and morbid dimension to an otherwise happy family show." Across multiple paragraphs, the two also claimed that Roseanne was "the only show on television that directly addressed the deep divisions" in 2018 America and attributed the revival's cancelation to "fear, hubris, and a refusal to forgive." Barr previously suggested the narrative surrounding her character's death was pulled from her own idea.
ABC pulled the plug back in May amid backlash for a Barr tweet about former Obama advisor Valerie Jarrett. "muslim brotherhood & planet of the apes had a baby=vj," the comedian said in the since-deleted tweet. Later, Barr characterized the remark as a "bad joke," blamed Ambien, and exclaimed, "I thought the bitch was white! Goddammit! I thought the bitch was white! Fuck!" 
Roseanne and Conners star John Goodman recently defended Barr in an interview with the Sunday Times, saying he knows "for a fact" that Barr wasn't racist. "She had to sign a paper saying that she relinquished all her rights to the show so that we could go on," Goodman said in August. "I sent her an email and thanked her for that. I did not hear anything back, but she was going through hell at the time. And she's still going through hell."