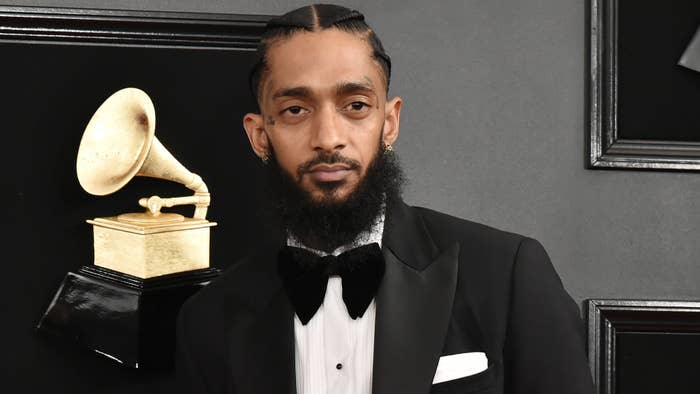 A joke about Nipsey Hussle originally included in a 2021 episode of Family Guy has resurfaced on social media, stirring some belated commentary.
The moment in question occurs in the Season 19 episode "Young Parent Trap," which aired in April of 2021 and was directed by Jerry Langford. In it, Chris (voiced by Seth Green) tells his parents, Peter and Lois, that he's going to attend a music festival. When asked for more details about the festival, Chris mentions the expected presence of 2Pac and Nipsey Hussle holograms.
"They're gonna have holograms of 2Pac and also Nipsey Hussle, who I'd never heard of and then was told to care immensely about," the character says.
As the tweet above started its ascent into virality, a debate broke out about the joke itself, with some criticizing it while others argued that this is par for the course when it comes to Family Guy-style mockery. Those on the latter side of the debate also pointed out how the joke itself appears to be targeting not Nipsey himself, but rather how some people responded to the death.
Amid the back-and-forth, some have also pointed to another Seth MacFarlane series, The Cleveland Show. A spin-off of Family Guy, the since-canceled series focused on Cleveland Brown, a Black character who was voiced by white actor Mike Henry. In 2020, Henry announced that he would no longer be voicing the character.
In December, a judge was reported to have turned down an attempt from the lawyer of the man convicted in Nipsey's murder to have the conviction reduced to a less serious charge. Earlier that year, Eric Holder Jr. was announced to have been found guilty of first-degree murder, among other charges, in Nipsey's killing.