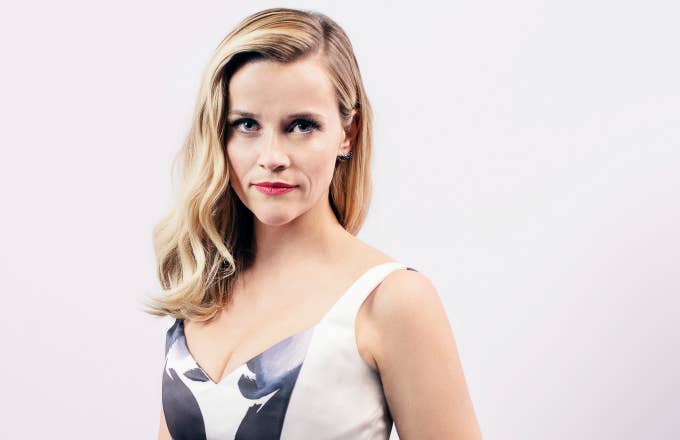 In the past 24 hours, multiple actresses have come forward with details on their own experiences with sexual harassment and assault in the wake of the disturbing Harvey Weinstein allegations.
At Elle's Women in Hollywood event Monday night, Reese Witherspoon and Jennifer Lawrence opened up about their experiences while praising the bravery of those who have come forward against Weinstein and others in recent weeks.
"This is going to be a real emotional rollercoaster because, before we get started honoring one of my very favorite people in the whole world, I just want to say, this has been a really hard week for women in Hollywood, for women all over the world, for men in a lot of situations and a lot of industries that are forced to remember and relive a lot of ugly truths," Witherspoon said before introducing her Big Little Lies co-star Laura Dern. "I have my own experiences that have come back to me very vividly, and I found it really hard to sleep, hard to think, hard to communicate."
Witherspoon said she felt "true disgust" at the unnamed director who assaulted her when she was 16 years old. At the time, Witherspoon said, agents and producers made her feel that "silence was a condition of my employment." The assault was also not an isolated incident in Witherspoon's career. "I've had multiple experiences of harassment and sexual assault, and I don't speak about them very often, but after hearing all the stories these past few days and hearing these brave women speak up tonight, the things that we're kind of told to sweep under the rug and not talk about, it's made me want to speak up and speak up loudly because I felt less alone this week than I've ever felt in my entire career," she said.
After speaking to the same Elle's Women in Hollywood crowd on the "harrowing" Weinstein allegations, Jennifer Lawrence recalled the time she was part of a "nude lineup" with other women. "And we all stood side-by-side with only paste-ons covering our privates," she said. "After that degrading and humiliating lineup, the female producer told me I should use the naked photos of myself as inspiration for my diet." Later, Lawrence added, she mentioned the experience to another producer—a man—but was told only that she was "perfectly fuckable."
Superstore star America Ferrera, in response to Alyssa Milano's #MeToo solidarity campaign, shared a note on Instagram Monday night about being sexually assaulted when she was nine years old. "I told no one and lived with the shame and guilt thinking all along that I, a nine-year-old child, was somehow responsible for the actions of a grown man," Ferrera wrote. "I had to see this man on a daily basis for years to come."
Following Melancholia director Lars Von Trier's statement Monday denying speculation that he was the unnamed man accused of sexual harassment by Björk, the singer came forward with more details. In a Facebook post early Tuesday, Björk—"in the spirit of #MeToo"—listed six alleged incidents involving "a Danish director." According to Björk, the unnamed director once smashed a chair in front of the crew "like someone who has always been allowed to fondle his actresses" after she told him to stop touching her. Björk and Lars Von Trier worked together on the 2000 film Dancer in the Dark, which the singer alludes to in her recent Facebook post by mentioning what she says were "fabricated stories" about her in the press following production.
Another alleged sexual assault by Harvey Weinstein was revealed Monday by Lauren Holly, most known for her roles in Dumb and Dumber and Beautiful Girls. During an appearance on the Social Monday, Holly said Weinstein had disrobed and used the bathroom in front of her at a hotel in Los Angeles and asked for a massage.
Over the weekend, Weinstein was expelled from the Academy of Motion Picture Arts and Sciences.