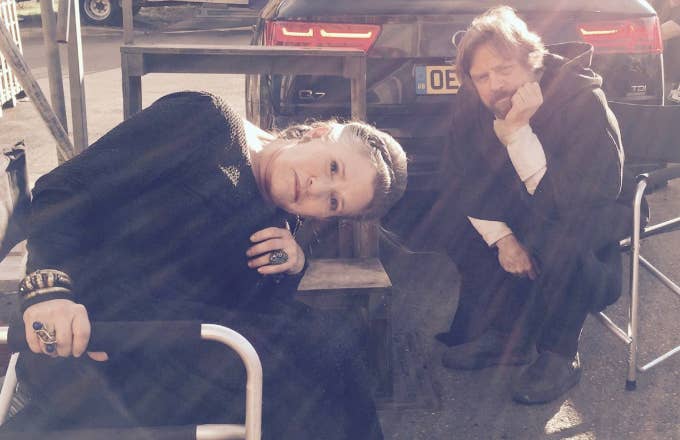 Mark Hamill remembered his fellow Star Wars legend Carrie Fisher on Monday, sharing a heartfelt memory of their first meeting in a new guest column for Hollywood Reporter. 
"Carrie and I occupied a unique area in each other's lives," Hamill said. "It was like we were in a garage band together that somehow hit it huge. We had no idea the impact StarWars would have on the world." But Hamill knew immediately that Fisher was very much the real deal as soon as the two met for dinner ahead of their first day on set.
"You know, she was 19 years old at the time," Hamill recalled. "I was a worldly 24. So I was thinking, 'Oh my God, it'll be like working with a high school kid.' But I was just bowled over. I mean she was just so instantly ingratiating and funny and outspoken. She had a way of just being so brutally candid. I'd just met her but it was like talking to a person you'd known for ten years."
Hamill and Fisher would pass downtime during shoots by committing to the task of making each other laugh, often by any means necessary. "She was so committed to joy and fun and embracing life," Hamill said Monday. "She had an Auntie Mame quality to her. I would do crazy things to amuse her on the set. Making her laugh was always a badge of honor."
Fisher died last week at the age of 60. Just one day later, Debbie Reynolds—Fisher's mother—died following what Rolling Stone reported was a severe stroke. Fisher and Reynolds will reportedly be buried side by side at Forest Lawn in Burbank, TMZreported. A public memorial is also expected to be announced in the days ahead.