UPDATED 8/10, 1:44 p.m. ET: Lil Tay is not dead.
Per a report from TMZ, Tay's Instagram account was "compromised by a third party and used to spread jarring misinformation and rumors" about the viral star and her brother.
"I want to make it clear that my brother and I are safe and alive, but I'm completely heartbroken, and struggling to even find the right words to say," the statement, credited to Tay, said.
See original story below.
Viral star Lil Tay is dead.
"It is with a heavy heart that we share the devastating news of our beloved Claire's sudden and tragic passing," reads a statement shared to Tay's Instagram account on Wednesday. "We have no words to express the unbearable loss and indescribable pain. This outcome was entirely unexpected, and has left us all in shock. Her brother's passing adds an even more unimaginable depth to our grief."
The statement continued from there, with the spokesperson asking for "privacy" during this time of grief. Both Claire and her brother's deaths "are still under investigation," per the post.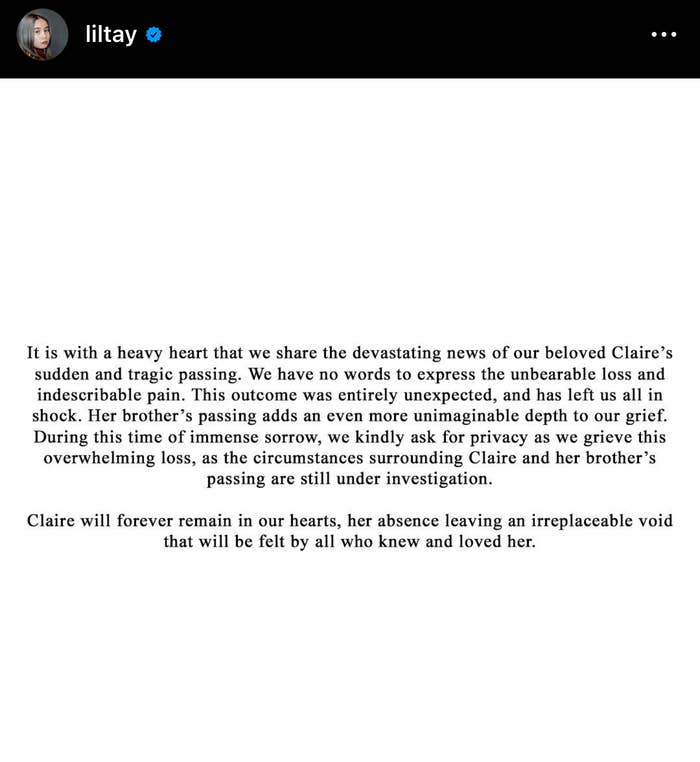 Lil Tay was said to be nine years old when she first went viral back in 2017. That year, she also drew attention due to a well-publicized back-and-forth with YouTube personality RiceGum. Later, Tay's online saga grew to also include Bhad Bhabie and Woah Vicky.
In a Good Morning America interview in 2018, Tay responded to speculation that she was being forced and/or coached to make viral content by family members.
"I run my own Instagram," Tay, who also referred to herself as "the youngest flexer," said at the time.
In 2021, after nearly three years of no activity on social media, abuse allegations against Tay's father and his wife were shared to the official Lil Tay Instagram. Shortly after, Tay's father addressed those allegations—as well as accusations of spending money Tay had made through her viral stardom—in an interview with Hollywood Life.
At the time of her death, the most recent post on Instagram still displaying on the account was one from 2018 in response to the shooting death of XXXTentacion. X was a "father figure" to Tay, per the post.
"X you truly changed me," the caption read. "[Y]ou were there for me when everyone wanted me to fail, you were there to give me advice, you were there."
Though her exact age is unknown, Tay was widely reported to have been 14 at the time of her death.
RIP.