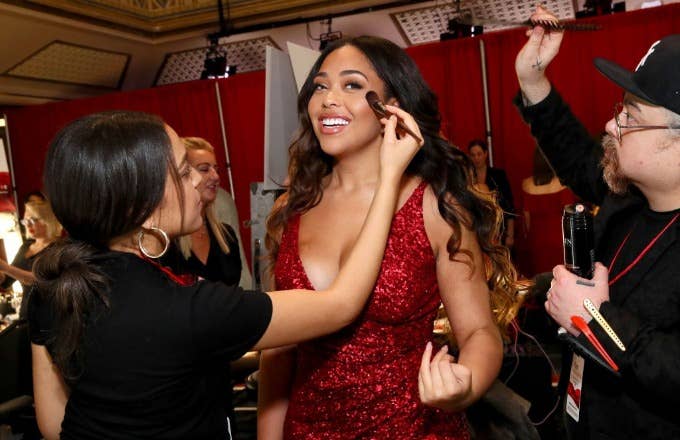 Against a determined storm of people fighting the good fight by replying "Who cares?" to news publications' tweets about it, the Jordyn Woods x Tristan Thompson x Khloé Kardashian x Kylie Jenner x End of the Fucking World tale of multi-chaptered nothingness is vehemently persisting.
For the latest, we have a few vague phrases from Woods which are (of course) being interpreted as her making public comments on that aforementioned ordeal. "Thank you guys for coming out and supporting through everything that's going on," Woods told attendees of a recent Eylure launch event, perThe Cut. "It's been real, and Eylure has been super-real with a project I've been working on for over nine months right now."
The video, embedded below, is admittedly a bit hard to hear. Also worth noting is the fact that these comments could of course be interpreted another way.
Presumably in need of clarity amongst this are those reports of Jenner's Jordy kit being hit with a markdown at a seemingly peculiar time. However, despite what may have been suggested on the timeline, the Jordy kits were actually marked down back in January before any of the proverbial shit hit the fan.
As for the original ordeal in question, there are allegations that Thompson had some sort of thing with Woods, which Thompson has denied. Still, entire news articles have since been written under great duress about resulting social media unfollowings and related matters.