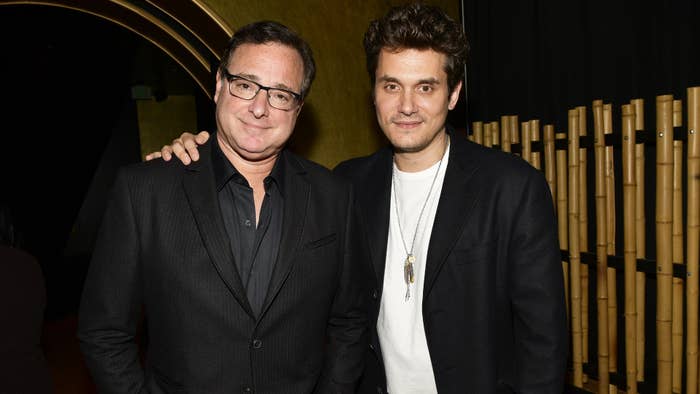 John Mayer paid for a private plane to transport the body of Bob Saget to California, per a new report.
Thursday, Peoplereported they had confirmed a prior Showbiz 411 report on the touching act of kindness, noting that Mayer (a friend of the comedian) had "arranged and paid" for the plane to take the body to California from Florida.
Earlier this month, Saget was found unresponsive in his room at the Ritz-Carlton Orlando, Grande Lakes. The Full House and America's Funniest Home Videos star was 65. Following Saget's death, Mayer was joined by Jeff Ross for the Instagram-documented experience of picking up the late comedian's car from LAX.
As seen near the top of the 25-minute video below, Mayer said he's never known anyone else who was able to "give that much love individually and completely" to so many different people. And not only that, Mayer added, but Saget was able to do so in a way that allowed each person to feel like he was "a main character" in their life.
"The biggest fear would be talking the love of Bob in a way that would supersede someone else's love of Bob," Mayer said at the time.
Mayer also recently announced that he had asked Maggie Enterrios and J. Dean to collaborate on a charity hoodie in support of the Scleroderma Research Foundation, a cause that was particularly close to Saget's heart due to having lost his sister to the disease back in 1994.
Kelly Rizzo, Saget's widow, made an appearance on Thursday's episode of Today, speaking with Hoda Kotb about how the current state of the world had compelled her late husband to do even more of what he did best.
"All the weight of everything going on in the world right now, it was just weighing very heavily on him and that's why he felt more compelled than ever to make people laugh and bring people together," Rizzo said, adding that he did so "up until the very last moments."
Rizzo was also asked about the final communications she had with Saget, revealing that their last texts were expressions of love for each other. "I'm just very grateful that it was all 'I love you so much,'" she said, as seen in the clip below. "It was, I think I said 'I love you dearly' and he said 'I love you endlessly.' And then I said, 'I can't wait to see you tomorrow.' It was just all love."
Also this week, the last episode of Saget's Here for You podcast was released, featuring guest Margaret Cho. See the full episode (including a special intro from Bill Burr) below.