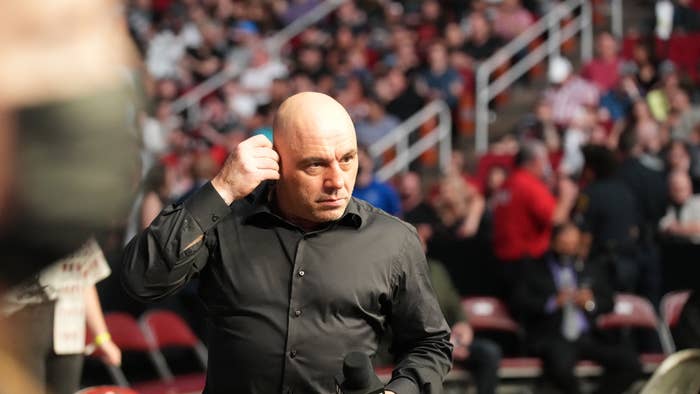 Joe Rogan, a self-described "fucking moron," is in pandemic-related headlines again this week for suggesting on his Spotify podcast that President Biden didn't receive a "real" booster on TV because he might die.
As spotted by Media Matters, Rogan was speaking with guest Mike Baker on the Sept. 30 episode of his podcast when the topic of Biden's televised booster was broached. Rogan asked Baker if he thought it was "a real booster," with Baker responding by comparing it to performance art. "The next step of performance art would be, like, not giving him the booster but just giving him a shot," Baker said.
Rogan then leaned into the conspiratorial aspects, theorizing that Biden could have had some sort of averse reaction while on the air.
"I think if they were gonna give him a booster shot, the last thing they would do is give it to him live on television," Rogan said. "What if he dies? What if he blacks out? What if he, like, gets it and faints? Because people have had very bad reactions, like, in the moment for whatever reason."
At the time of this writing, the CDC recommended that people 65 and older (as well as those 18 and older in long-term care settings and others with underlying conditions) receive a booster of Pfizer at least six months after the completion of the initial two-dose series. As for any purported "very bad reactions," here's what the CDC says:



"Serious side effects that could cause a long-term health problem are extremely unlikely following any vaccination, including COVID-19 vaccination."
Of course, though none of us should need reminding, this is far from the first instance of a Rogan-centered pandemic story. Earlier this year, the biggest of these—i.e. the one in which Rogan discussed young people and vaccines—was met with a rebuke from Dr. Anthony Fauci himself.
The latest from Rogan has also inspired a flurry of tweeted expressions of frustration, not to mention exhaustion, and a sampling of that is available below.
But first, if you're still not vaccinated, please stop fucking around and get it done.