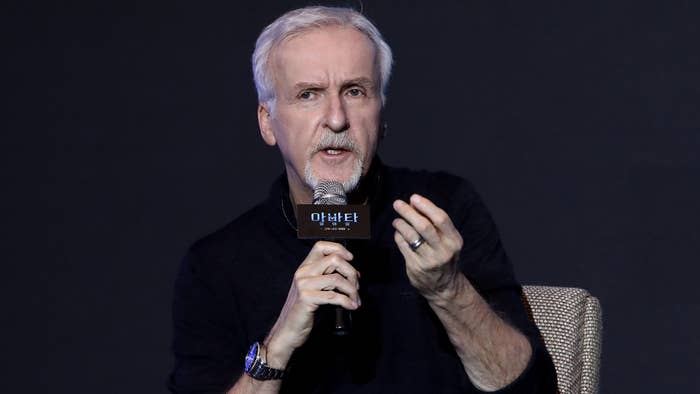 James Cameron is going all out to settle a decades-long debate about the death of Leonardo DiCaprio's character in Titanic.
Cameron, who's currently on the promo circuit for his long-awaited Avatar sequel, detailed his plans to put the issue firmly to rest during a chat with the Toronto Sun this month. First, the should-never-be-doubted director was asked if he ever thought he should have let DiCaprio's character (Jack) live instead of dying from hypothermia.
"No, no. He needed to die," Cameron said, as seen below. "It's like Romeo and Juliet, right? … It's a movie about love and sacrifice and mortality. So the love is measured by the sacrifice. Now maybe I didn't do it in a way that everybody agrees with but Jack had to die. It's that simple."
"Incidentally," Cameron added, fans in need of further convincing have a National Geographic special to look forward to surrounding the February 2023 re-release of the film, which first hit theaters in the U.S. 25 years ago today (Dec. 19).
"We have since done a thorough forensic analysis with a hypothermia expert reproducing the raft from the movie," Cameron explained. "We're gonna do a little special that comes out in February about this where we took two stunt people that were the exact body mass of [Kate Winslet] and Leo, and we put sensors all over them and inside them and we put them in ice water and we tested to see whether they could have survived by this method or that method or that method."
What the experts found, per Cameron, was that "only one could survive" in such a scenario.
"So we actually did a scientific study to put this whole thing to rest and drive a stake through its heart once and for all," he told the Sun, adding that "maybe" this will lead to him not having "to deal with this anymore."
Quick to playfully respond to this news was Keke Palmer, who quite famously expressed frustration over Winslet's character (Rose) not saving Jack during a Steve Harvey interview back in 2017.
"It's too late beloved," she said in a tweet, adding that she long ago "cracked this case" on her own.
In related Cameron news, the director will soon be honored alongside producer Jon Landau with the Voices for the Earth Award in connection with Avatar: The Way of Water. Per the Hollywood Reporter, the award—which is bestowed upon selected honorees by the Advanced Imaging Society and Earthday.org—will be formally presented during the Lumiere Awards ceremony in February.
Avatar: The Way of Water is now playing. Ahead of its release, Zoe Saldaña made an appearance on Hot Ones during which she praised Cameron for finding a way to "manifest what was inside of his mind" with the sequel. See the full interview here and/or below.