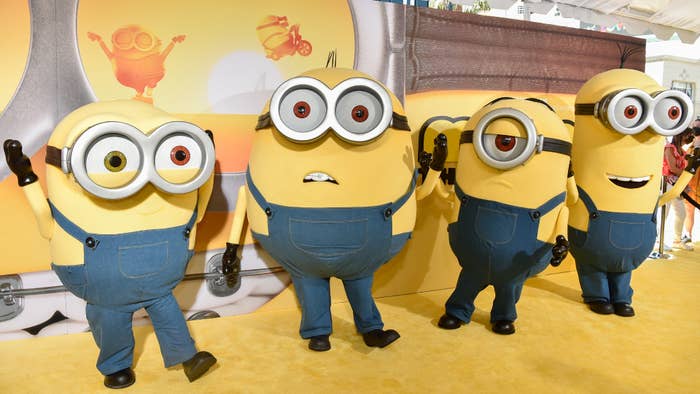 The record-setting box office success of Minions: The Rise of Gru isn't without its mini-controversies.
As you've surely seen on TikTok and elsewhere in recent days, particularly enthusiastic fans of the franchise have been showing up to their local theaters in uniformly well-suited throngs. This practice—formally known as the #Gentleminions trend—has resulted in a windfall of viral footage.
While the trend clearly began with wholly harmless intentions, it hasn't been without its detractors. Some theaters in the U.K., for example, have responded to what staff members described as unruly behavior from TikTok trend participants with posted warnings. Several Odeon theater locations, per BBC News, have also been reported to have instituted temporary policies addressing the fad.
"Due to recent disturbances following the #Gentleminions trend, any group of guests in formal attire will be refused entry for showings of Minions: The Rise of Gru," an alleged paper sign found at one location read.
Universal Pictures, meanwhile, recently threw its weight behind the trend with a simple tweet:
The trend, as broken down nicely by KnowYourMeme here, dates back to at least June 30, at which point TikTok user @____pan shared a compilation video showing suited-up Minions fans getting their theatrical appreciation on.
Fittingly, the video was soundtracked by Yeat's "Rich Minion," which previously served as the soundtrack to a Cole Bennett-directed Gru trailer and has since been used in a number of #Gentleminions posts.
See more gentle minionry below. The Rise of Gru is out now.