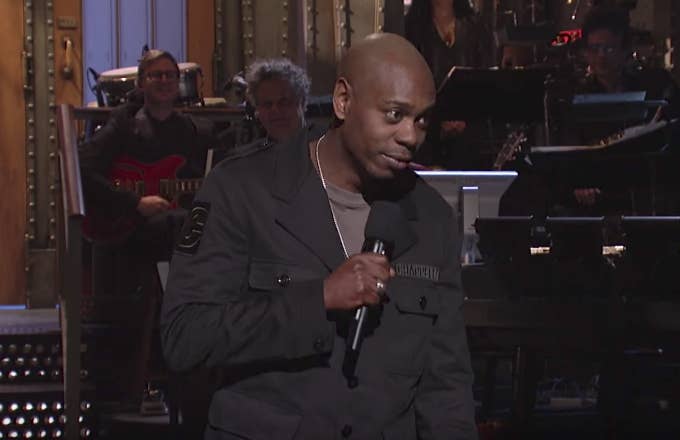 Dave Chappelle has offered an apology for comments he made during his opening monologue onSaturday Night Live in November. Chappelle, while speaking to attendees at a benefit event for the Robin Hood non-profit Monday, said he "fucked up" when he told viewers of the much-discussed SNL episode to give the former Apprentice host who's currently in the White House a chance.
"I was the first guy on TV to say 'Give Trump a chance,'" Chappelle said at the benefit dinner in New York Tuesday, according to MSNBC anchor Willie Geist. "I fucked up. Sorry."
During his monologue in November, Chappelle recalled the optimism he felt for America's future at a White House party he attended when Barack Obama was still POTUS. Everyone at the party was black "except for Bradley Cooper," Chappelle said, before making the apology-earning comments in question. "So, in that spirit, I'm wishing Donald Trump luck, and I'm gonna give him a chance," Chappelle said. "And we, the historically disenfranchised, demand that he give us one, too."
Previously, when misleading headlines suggesting Chappelle was a Trump supporter were published, Chappelle and his reps clarified that he in no way supported the reality TV personality. "Jesus Christ," Chappelle toldTMZ of the headlines, which popped up just days before the 2016 election. "I'm not a Trump supporter. Unequivocally no." In a subsequent statement to Variety, a Chappelle rep said the comedian had voted for Clinton.