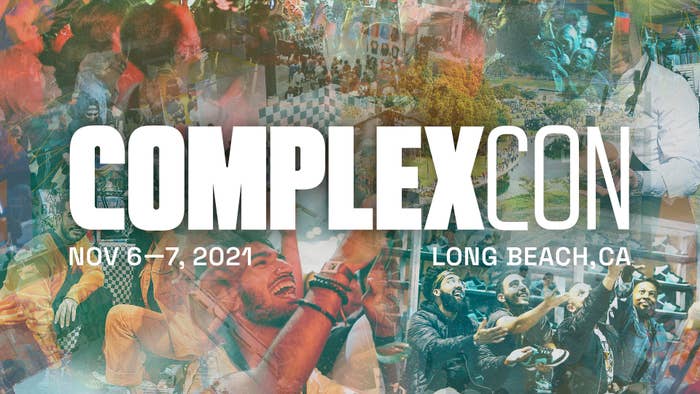 ComplexCon is back.
The uniquely curated festival—known for bringing together brands, trendsetters, artists, and other creatives—is again touching down in Long Beach, California, for two stacked days of experiences ranging from shopping exclusive pieces to witnessing a mixtape anniversary-celebrating performance from ASAP Rocky.
"After almost two years of living digitally, we knew that the return to ComplexCon was going to be the first opportunity for our community to come back together and it had to be special," Neil Wright, Head of Experiential at Complex Networks, explained earlier this year when announcing the festival's 2021 return. "We're excited to bring together a diverse mix of familiar names and faces from all over the world for the first time in a long time, but also allow room for discovery in a safe and curated environment."
Below, we've put together a handy rundown of everything you need to know before attending, including how to get last-minute tickets and more.
ComplexCon brings together people, brands, and trends that are leading the pop culture conversation about what's important now and what will undoubtedly be important next. The 2021 edition takes place on Nov. 6 and 7 in Long Beach, California, at the Long Beach Convention Center.
Attendees can expect to see musical performances, a shopping floor with dozens of brands, special activations, great eats, and more. In short, the ComplexCon experience is designed as a blend between a festival and an exhibition. For general admission ticketholders, doors open at 11 a.m. local time.



Long Beach Convention Center


300 E. Ocean Blvd Long Beach, CA 90802
ASAP Rocky is celebrating the 10th anniversary of his 2011 mixtape Live. Love. ASAP, as well as performing recent favorites, during his headlining set on Sunday.
Also on Sunday, attendees will be treated to a performance from hardcore punk outfit Turnstile, who earlier this year released their acclaimed third album Glow On. 
The weekend will also feature two days of DJs and special live guests. Lil Yachty delivers his first-ever DJ set on Saturday via the Pigeons & Planes Stage and is joined on that day's lineup by DJ Scheme, Zack Bia, Siobhan Bell, Kitty Cash, and Pedro. Sunday brings attendees special sets from A-Trak, Kerwin From, Blondie Beach Records, Mia Carucci, DJ Cam Girl, Angel & Dre, Mike Nasty, Yannick Jones, and more.
For 2021, the ComplexCon Host Committee members are J Balvin and Kristen Noel Crawley.
"I'm honored to be on the host committee and ambassador for the 2021 ComplexCon. It's always amazing to see so many different elements of the culture come together in one place," Balvin said of the opportunity. "I'm excited to create a mini Medellin within ComplexCon that will host many different exclusive collaborations and teleport attendees to my beloved hometown. By taking people to where I'm from, I want to continue to empower Latin people and our culture. I can't wait to see everyone there and I'm so thankful that we can do so safely this year. Lego!"
Crawley is similarly excited about the hosting duties, adding that her personal ComplexCon 2021 schedule also includes some exclusive KNC action.
"I'm thrilled to announce my involvement as part of this year's host committee for Complexcon, while also bringing a new KNC product launch and exclusive collab drop to the festival," she said. "The convention has always served as an amazing platform for KNC Beauty, and I could not be more excited to assume a larger role in creating and curating a diversified platform for upcoming and emerging designers and brands. It's an honor to be the second female to have ever served on the committee as well as the first woman of color."
As always, the 2021 take on ComplexCon's marketplace will provide attendees with a range of options, including the chance to secure surprise drops and exclusive pieces. 
Among the brands you'll find at this year's ComplexCon are Billionaire Boys Club, Adidas, AWGE, Pleasures, Crocs, Market, Topps, Bricks & Wood, Atmos, Vandy the Pink, Babylon, Psychworld, Crosby Studios, Barriers, Felt, Hypland, 1XRun, Funko, Blondie Beach, and more.
Complex SHOP is also presenting a curated selection of exclusive items form Jason Markk x Sneaker Shopping, Born x Raised x The Comedy Store, and more.
Also on the floor this year is a dedicated Brands to Watch section featuring Juliet Johnstone, Curves by Sean Brown, Everything We Do Is Limited, and Advisry.
Art of the food variety is also making a strong showing at ComplexCon this year.
The First We Feast Lagoon at ComplexCon's 2021 lineup—featuring exclusive first tastes, as well as bites that'll be available via the Lagoon for one weekend only—offers attendees a truly varied range of dining possibilities.
Joining the Lagoon this year are Afters Ice Cream, All Flavor No Grease, Beleaf x Trill Burgers, Bridgetown Roti, Broad Street Oyster Co., Burger Scholar Sessions, Coffee Manufactory, Fat Sal's, Fluffy's Sno-Balls, Ggiata, Hot Ones, Katsu Sando, Kuya Lord, Little Coyote, Milk Bar, Perilla LA, Petite Peso, Pocari Sweat, Señoreata, Sesame Dinette x Twaydabae, Sweet Chick, and more.
If you haven't already secured your tickets, there are a number of options available.
Two-day general admission passes are $135 and include access to Rocky and Turnstile's sets, performances at the Pigeons & Planes Stage, the chance to be among the first to shop from a range of brand and retailers, access to panels (and a live recording of The Complex Sneakers Podcast on Sunday), and more. Single-day GA passes, meanwhile, run $80.
There's also availability for select bundles, with buy two, get one 20 percent off for day passes and two-day passes.
To purchase tickets, click here.
ComplexCon is keeping safety at the forefront by requiring all attendees entering the Long Beach Convention Center to provide either proof of full COVID-19 vaccination or a negative rapid antigen or PCR lab COVID-19 test (taken within 72 hours of venue entry). Attendees are also required to wear an approved face covering while attending the festival.
In partnership with the Long Beach Convention Center team, ComplexCon is providing attendees with the added comfort of knowing that increased sanitization standards are being implemented. Additionally, attendees will notice an adjusted festival layout that utilizes directional and distance markings. This year's festival will also have a reduced capacity in comparison to previous iterations.