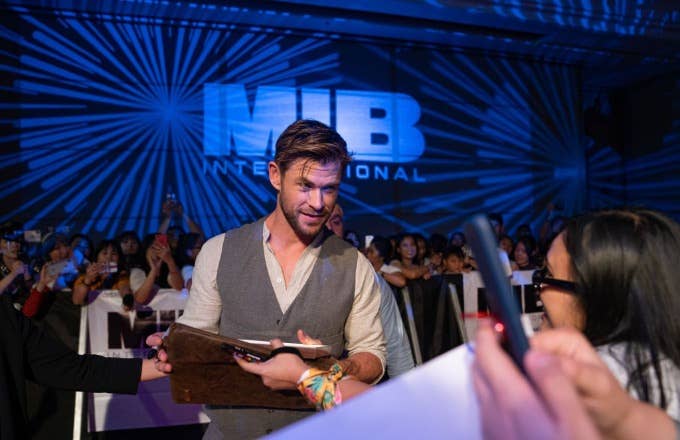 Chris Hemsworth rather enjoyed the task of playing a fat version of Thor in Avengers: Endgame. In fact, he pushed for the character to maintain his new weight throughout the course of the film, when an earlier plan had him slimming down midway through.
In a new Varietypiece out Tuesday, Hemsworth explained that the process of getting into character as this incarnation of Thor took roughly three hours by way of hair and makeup. The prosthetics used in certain scenes of the shirtless variety weighed "about 90 pounds," though the labor was worth it.
"It was certainly exhausting," he said of what he dubbed the "Lebowski Thor" era, which also included the use of weights on the actor's hands and ankles to emulate the general physicality of a heavier person. Once suited up each day, Hemsworth recalled, cast and crew treated him like a makeshift Santa.
"People just kept coming up and cuddling me like a big bear or rubbing my belly like I was pregnant," he joked. "Or trying to sit on my lap like I was Santa Claus. You get a lot of affection. I felt like an old man, an old grandpa, with a bunch of kids around."
Hemsworth is back to his traditional Hemsworth physique in this summer's Men In Black: International alongside Tessa Thompson. The Will Smith-less franchise extender, directed by F. Gary Gray, is out June 14 and is currently tracking for an opening weekend haul (against the new Shaft, no less) of roughly $40 million. That projected box office would technically mark a franchise low, with all three previous entries bagging openings of at least $50 million.