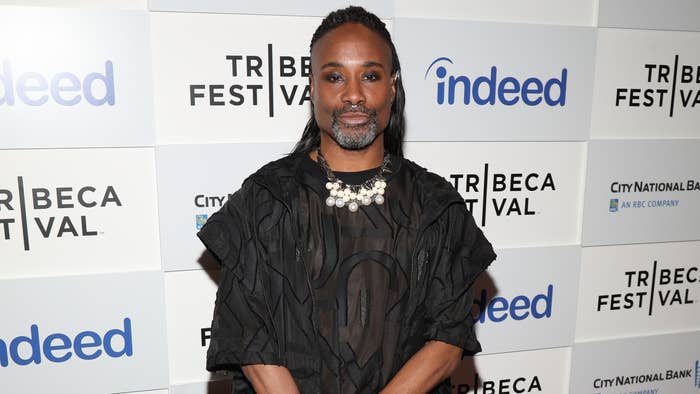 Billy Porter has revealed he is being forced to sell his home due to the ongoing dual strikes caused by greedy studios.
Speaking with Craig McLean for the Evening Standard last week, the Emmy-winning Pose star discussed the beginnings of residual payments decades ago, noting that the industry has changed drastically since then, especially recently. Thus, Porter pointed out, the deals actors and writers are being expected to sign need to catch up with the modern reality of being a working artist.
"I have to sell my house," Porter revealed, adding that it remains unclear when the strikes might end. Elaborating further, Porter spoke on the misconception many somehow have about the majority of artists, namely how much money they make.
"The life of an artist, until you make fuck-you money — which I haven't made yet — is still check-to-check," Porter said. "I was supposed to be in a new movie, and on a new television show starting in September. None of that is happening. So to the person who said 'we're going to starve them out until they have to sell their apartments,' you've already starved me out."
The latter, of course, is a reference to a report from Deadline last month in which a studio executive was quoted as saying "the endgame is to allow things to drag on until union members start losing their apartments and losing their houses."
In the full Porter piece, available here, the multihyphenate also responded ("Fuck you") to recent remarks from Disney boss Bob Iger. The preposterously wealthy CEO said in an interview with CNBC last month that what artists are asking for in these strikes "is just not realistic."
Iger was swiftly called out for these remarks, including by Breaking Bad actor Bryan Cranston. In fact, Cranston directly named Iger while speaking at SAG-AFTRA's Rock the City for a Fair Contract rally in New York.
"I know, sir, that you look through things through a different lens," Cranston said. "We don't expect you to understand who we are but we asking you to hear us, and beyond that to listen to us when we tell you we will not be having our jobs taken away and given to robots,. We will not have you take away our right to work and earn a decent living. And lastly, and most importantly, we will not allow you to take away our dignity. We are union through and through, all the way to the end."
The WGA strike began on May 2, while the SAG-AFTRA strike began on July 14. Last week, SAG-AFTRA Foundation President Courtney B. Vance announced that the nonprofit organization had raised more than $15 million for the Emergency Financial Assistance Program, thanks in large part to several familiar names who made individual donations of at least $1 million.