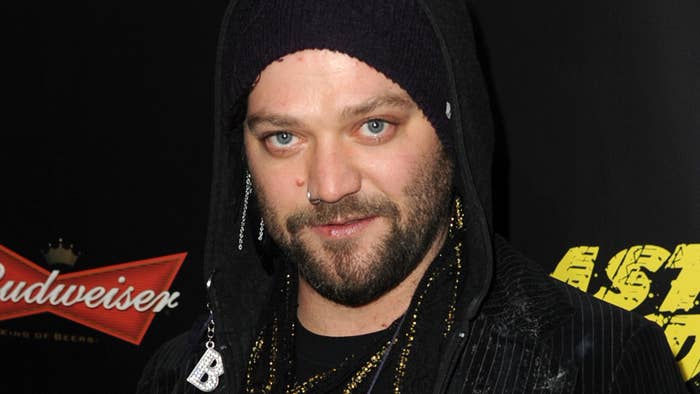 UPDATED 6/7, 9 p.m. ET: Bam Margera is headed to a new rehab, thanks to Lamar Odom.
TMZ reported that the former Jackass star was released from his 5150 psychiatric hold. Odom welcomed him with open arms as he left.
In a conversation with Page Six, Mangera's brother Jess confirmed that Bam is seeking treatment, saying, "[Police] found him, I believe he is going to Lamar Odom's new treatment facility. Or at least they're trying."
The 43-year-old is currently detoxing as he will soon transfer to the rehab center owned by the former NBA champion.
See original story below.
Bam Margera was reportedly placed on a psychiatric hold over the weekend after being tracked down by cops in Los Angeles.
According to a report from TMZ, Margera was found by officers with the Los Angeles Police Department (LAPD) at a Trejo's Tacos location in the Los Angeles area on Sunday. Due to his behavior at the time, the report further alleges, Margera was placed under a 5150.
For those unfamiliar, California law defines a 5150-spurring incident as follows:
"When a person, as a result of a mental health disorder, is a danger to others, or to themselves, or gravely disabled, a peace officer, professional person in charge of a facility designated by the county for evaluation and treatment, member of the attending staff, as defined by regulation, of a facility designated by the county for evaluation and treatment, designated members of a mobile crisis team, or professional person designated by the county may, upon probable cause, take, or cause to be taken, the person into custody for a period of up to 72 hours for assessment, evaluation, and crisis intervention, or placement for evaluation and treatment in a facility designated by the county for evaluation and treatment and approved by the State Department of Health Care Services."
Complex has reached out to an LAPD rep for comment.
Earlier on Sunday, Bam's brother—Jess Margera—shared a tweet asking for "anyone in the LA area" who may know where his brother is to please share such information with police.
"I am trying to get them to ping his phone but as usual it's a whole huge process and I don't think we have that kind of time," he said at the time. Per Monday's report, a phone ping is ultimately how police were able to find the Jackass and Viva La Bam star.
News of the reported 5150 development comes less than a week after word that Margera's estranged wife, Nikki Boyd, had formally requested sole custody of their son. Following reports on related court documents, Margera threatened to "smoke crack with the bums down at the boardwalk" in a video shared to social media.
Things initially seemed to be taking a more progressive turn earlier this year following Bam's appearance on Steve-O's Wild Ride podcast. After that appearance, which saw Bam opening up about his struggles with addiction, Bam joined Steve-O on the road for a string of tour dates.
But as Steve-O later revealed, what started as a positive experience later grew into something else entirely.
"Sitting in jail is the only place where everybody can have a reasonable expectation that he's safe, that he's not harming himself or others," Steve-O said during an episode back in April. At the time, what was fresh in the news cycle was word that an arrest warrant had been issued for Margera in connection with an alleged confrontation with his brother in Pennsylvania.