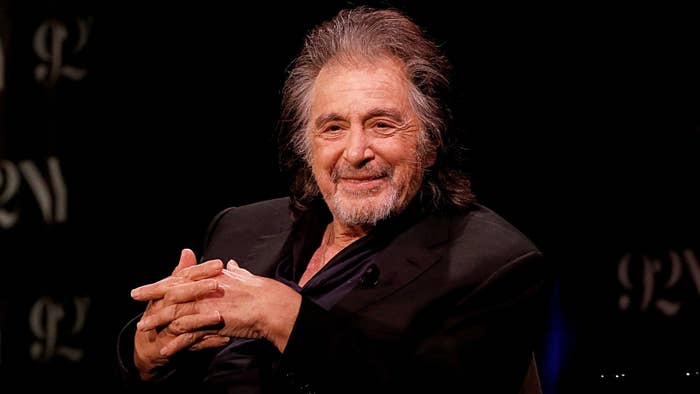 UPDATED 6/15, 7:50 p.m. ET: Congratulations are in order for Al Pacino, who recently welcomed baby No. 4.
The actor's representative Stan Rosenfield verified the news in a statement to TMZ on Thursday, just weeks after it was revealed Pacino's 29-year-old girlfriend, Noor Alfallah, was expecting.
"I am confirming that Al Pacino and Noor Alfallah have welcomed a son, named Roman Pacino," Rosenfield said.
The baby boy's exact birth date has not been revealed, but sources told the outlet it was recent. Pacino and Alfallah, who began dating in the spring of 2022, were spotted out in Los Angeles this week having dinner at the Sunset Tower. Photos shared by TMZ showed the couple riding around the city, but it's unclear if baby Roman was in tow.
Shortly after the pregnancy was revealed, sources claimed Pacino was "shocked" to learn his girlfriend was expecting, as he didn't believe he could impregnate a woman at his age. Sources told TMZ that his doubts were so strong that he asked for a DNA test. His girlfriend obliged, and he was confirmed to be the child's biological father.
Although Pacino was reportedly shocked, his good friend Robert De Niro was apparently thrilled. The 79-year-old actor, who recently welcomed his seventh child, was asked about Alfallah's pregnancy during the Tribeca Film Festival last month.
"What a guy," De Niro told People magazine about his Heat co-star. "Go Al, God bless him."
See original story below.
Al Pacino will soon become a new father again.
As first reported by TMZ, the iconic 83-year-old actor whose extensive filmography more than speaks for itself will soon welcome a new child with his current partner, 29-year-old Noor Alfallah. The two have been rumored to be a couple since April of last year. Per the report, Alfallah is eight months pregnant.
When reached for comment by Complex on Wednesday, a rep for Pacino offered the following:
"I can confirm the story on TMZ is accurate."
For Pacino, this will mark the actor's fourth child. His prior three children include two with actress Beverly D'Angelo and one with acting teacher Jan Tarrant.
The news follows a similar update from the world of Pacino's fellow Godfather alum and longtime friend Robert De Niro, who earlier this month was confirmed to have welcomed a new child, his seventh, at the age of 79.
Despite undue speculation attempting to posit otherwise, De Niro later told Page Six at the About My Father premiere that he had indeed "planned" to become a father again for the seventh time.
"How could you not plan that kind of thing?" De Niro was reported to have asked the outlet.
As for what's next for Pacino, there's plenty potentially on the horizon. At the top of the year, the Pacino-led Prime Video series Hunters debuted its second and final season. One month earlier, Pacino was confirmed to have joined the cast of Michael Keaton's upcoming drama Knox Goes Away. Though an official release date has not been announced, the film is expected to be rolled out at some point this year.