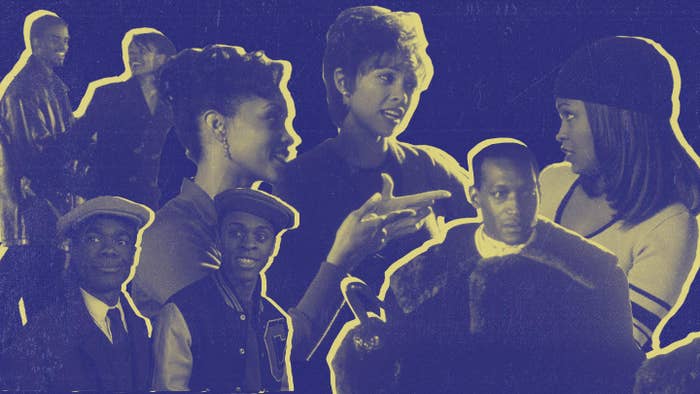 Look here. Black Chicagoans do not play—at all—about the way we are portrayed in television and film. If we feel, at any moment, that a filmmaker or showrunner is trying to do us bogus, we'll cut them off with the quickness and then run to social media to voice our disdain. Shall I recall Chi-Raq, legendary director Spike Lee's ill-fated take on Chicago's violence in 2015? There's still so many of us, myself included, who can't get through the film because the blatant misrepresentation of our people, our culture, and our pain is too infuriating to bear. Or what about The Chi, Lena Waithe's coming-of-age series about Black life on the South Side? Black Chicagoans lit up Twitter with their disappointment when it presented West Side views of the city as South Side vantage points in the first season.
Long story short: We're sensitive about all of our shit. And for good reason. For years, the mainstream media has gotten Black Chicago's story wrong time after time. Since Chi-Raq, we've been unable to shake the damaging caricatures and stereotypes of our people, so much so that we can barely go out of town without someone referring to our home as "Chi-raq." For years, journalists and filmmakers and the like have come into the South and West sides wanting to paint a realistic picture of being Black in a violent city, but only leaving with sensationalized half-truths to gas up their audiences for clicks and views.
See. Black Chicagoans know better. We know what it feels like to be accurately represented on the big and small screens. It's the inner romantic aroused each time you see Larenz Tate cruising down Lake Shore Drive on his motorcycle with the beautiful Nia Long in Love Jones. It's the nostalgia awakened each time you see Vanessa L. Williams and Vivica A. Fox fighting over a man at the Rink in Soul Food. With more filmmakers and showrunners looking to strike gold in telling a good Black Chicago story, the real-life people who live these experiences every day ask for accuracy and nuance—the ingredients that gave Black Chicagoans our first real depiction on-screen: Cooley High.
"Cooley High is sort of the beginning of something modern," says Theodore Witcher, writer and director of the Chicago 1997 cult classic Love Jones. As a boy playing with Super 8 cameras in Chicago's western suburbs, Witcher looked up to producer Michael Schultz and writer Eric Monte, the guys behind some of the most popular Black films and shows of the 1970s, including 1975's Cooley High.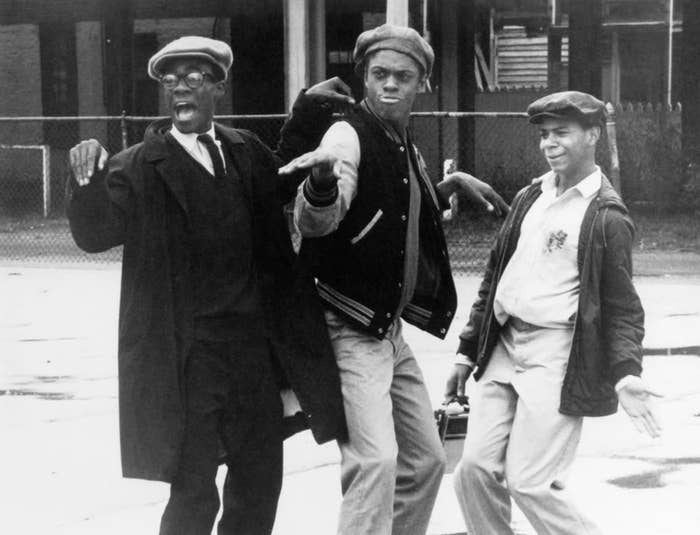 "There's a tone to that movie, because it was done in a style that I prefer, which is a more naturalistic style," Witcher says about Cooley High. "It felt like real, actual people. But it's a '70s movie. That was the style of the day. All of the pictures were done in a slightly more muted, realistic style than Hollywood movies of the generation prior. All of that was very influential, to me, anyway."
For many Black Chicagoans, Cooley High set the standard for Black cinema in Chicago. The fictional tale is loosely based on the experiences of Monte, who grew up in the Cabrini-Green housing projects and attended Cooley Vocational High School. A young Robert Townsend has a small speaking role toward the end of the movie inside the school's gym, a scene shot at Providence St. Mel High School on the West Side. And theatre powerhouse Jackie Taylor plays Johnny Mae, a young girl with her eyes set on Lawrence Hilton-Jacobs's Cochise. 
"It gave the world the opportunity to see Chicago in a different light, so to speak. They had not seen it before because most of the films were filmed in Hollywood," says Taylor, who went on to found the Black Ensemble Theater on Chicago's North Side. "What Cooley High did was, it did not fit the mode of Blaxploitation. At that time, the films that were being made glorified the negativity of our community and instilled highly derogatory images and myths about who we were as an African-American people, which were very damaging."
Cooley High reshaped the narrative. According to Taylor, who grew up in the Cabrini-Green projects, the film was one of the first to show that not all Black Chicagoans were drug dealers, prostitutes, and gangbangers. "It demonstrated that, first of all, we were human beings."
A new generation of Black Chicago cinema is born
Before writing and producing blockbuster hits like Soul Food and the Barbershop series, George Tillman Jr. studied the works of Black Chicago filmmakers who came before him at Columbia College. Schultz, who hailed from Milwaukee, just like Tillman, was a big influence on his decision to be a filmmaker. But Andrew Davis' 1978 film Stony Island also helped him find the secret sauce in Chicago filmmaking.
"How do we continue to bring a style to film that feels like Chicago?" Tillman says. "Those guys came from Chicago. It's not like they came from anywhere else to shoot their films. So it's honoring where you come from. And the most successful Chicago films, and the more authentic ones, are the ones where the filmmakers are from the Midwest."
Being a child of the 1980s, Tillman also watched the rise of Spike Lee's cinematic odes to his beloved Brooklyn. Then John Singleton came along in the early '90s, while Tillman was in college, with his socially conscious Compton tear-jerker, Boyz n the Hood.
So when Tillman got the opportunity to make his first big film, 1997's Soul Food, he ensured that it would be a love story inspired by his family and Chicago.
"Soul Food was based off my experiences with my family in Milwaukee, but a lot of my family extended into Chicago. I have relatives that live on 79th Street on the South Side," Tillman explains. "On the North Side, where we shot a scene at the Green Mill, I remember hearing jazz there and I was, like, 'Wow, it would be nice to shoot my own project here.' I always believe it's important to shoot wherever feels right for the scene and characters. That's one of the things that you really get a chance to explore when you come from the same city where you're shooting at. If I had've shot that in L.A., I wouldn't know where to begin because I wasn't from there."
Witcher feels similarly. Having grown up in a west suburb of Chicago, and living in Chicago as a young adult, he wanted to tell a love story about two Black people experiencing the Chicago he knew and loved. The hip-hop and poetry scenes in the city were booming at the time. When Witcher was in his early to mid-20s, he and his band, the Funky Wordsmiths, would play at Hot House near the Wicker Park four corner. He would go to reggae parties at the Wild Hare and Exodus II. They went to poetry slams, and the Tiki Room in Hyde Park. 
"I was a part of it and thought that it was a colorful scene that no one was really hip to. I thought it would be great as a backdrop for some other kind of movie—like, a love story," Witcher says.
But back then, it cost more money to shoot a film on location than in Los Angeles. Witcher fought pushback from Hollywood to keep his story in Chicago.
"I didn't think there was a comparable poetry scene for young Black people in L.A. We looked at San Francisco, where you would believe that there was a kind of bohemian artistic scene for young Black people. That proved too costly. And, of course, Brooklyn, because there was the Nuyorican Poets Cafe, but at that time there was no tax break money in New York," Witcher explains.
Tillman experienced similar pushback about Soul Food's location.
"When I sold it, one of the producers really wanted to set it in Los Angeles because it would be easier for them to shoot it there," Tillman says. "But I insisted that if it isn't shot in Chicago, they won't have the script because I own the script."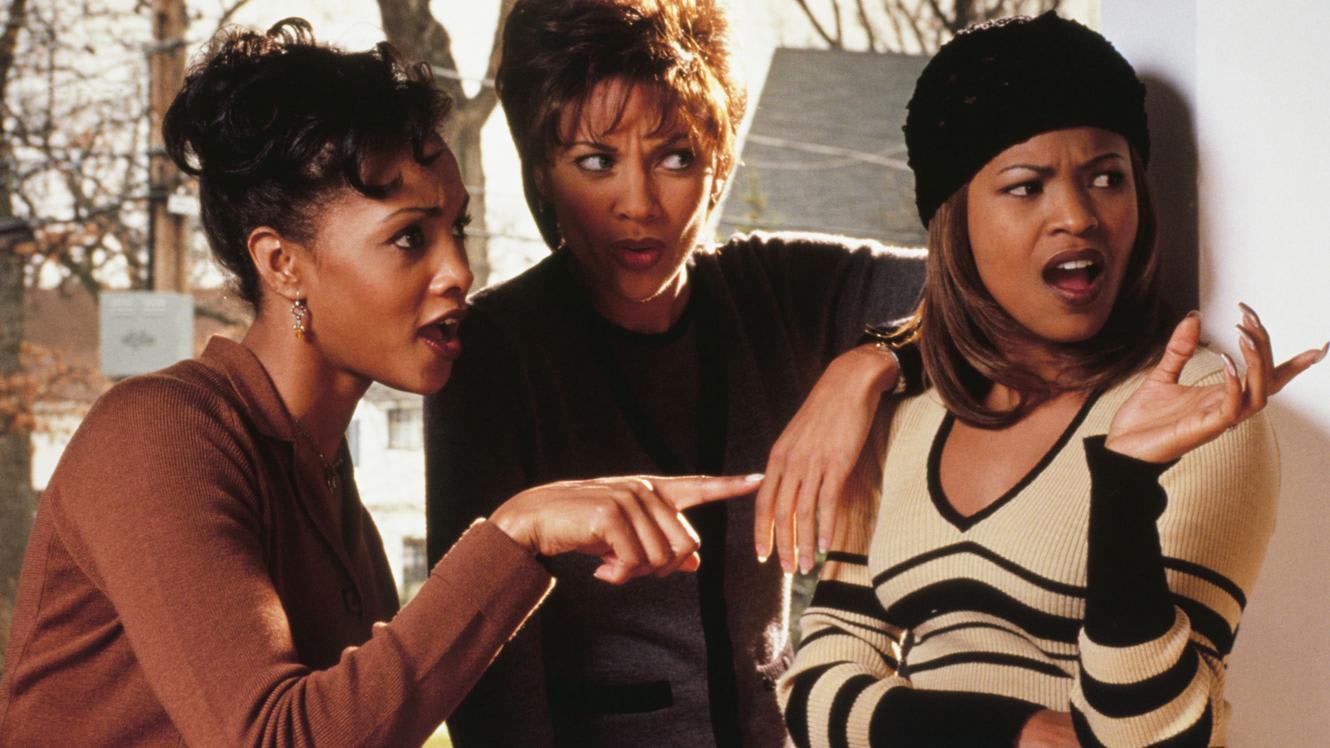 Los Angeles has been the epicenter of cinema since film studios opened up shop in Hollywood in the early 20th century. But Chicago had a bustling scene at the time, too. According to Taylor, Chicago was one of the places where film was born.
"Charlie Chaplin had a very lucrative film company here," she explains. "And all of those early movies that he made were made here. So, in that sense, Chicago was part of the game."
Additionally, there's Oscar Devereaux Micheaux, the first major Black filmmaker and a pioneer of the "race films" genre. According to the Chicago Tribune, Micheaux directed 41 full-length movies, many of which he shot in Chicago.
But Chicago never fully caught on as a film town. 
"The history of Black film production in Chicago goes in fits and starts. There's enough crew there. There's enough professional film people there to make a movie, and there's facilities and vendors because there's an advertising industry in Chicago, with Leo Burnett and so on and so forth," Witcher explains over the phone from New York. 
While at Columbia College, where he met classmate-turned-friend Tillman, Witcher said everyone talked about how Chicago would become the new epicenter of film. With filmmakers like Monte, Schultz, Robert Townsend, and Michael Mann all hailing from Chicago, it was only a matter of time before the city underwent a film renaissance. 
"I keep waiting for some massive renaissance, but I don't know if it's ever going to happen in the way that we hoped it would," Witcher says. "Film production is basically Los Angeles and New York. Although, with the rise of soft money, the tax break states, there's production in Georgia. There's production in New Mexico and Louisiana. But the core of it, where academia is, where the financing is, where all of the post-production vendors with distribution, all of that stuff stubbornly remains in Los Angeles and New York."
When asked what it would take for Chicago to position itself as a film hub, Witcher doesn't seem too hopeful.
"You would think, particularly in the digital era, especially with the rise of these massive streaming companies, that the distribution aspect would be, as a result, decentralized," he explains. "But it seems that the opposite has happened. Even with Amazon based in Seattle, their film operation is based in Los Angeles. Netflix is based in Los Angeles. It's just the way it's always been with the entertainment industry. It resists change."
Don't give up on Chicago just yet
In the last 10 years, Chicago has seen an uptick in the number of films and television shows shot in the city. According to local neighborhood news hub Block Club Chi, the city has given out 2,478 permits to 520 film projects since 2011. 
Because of this, films like Widows and the Netflix flick Beats were shot in Chicago, alongside new TV shows such as Comedy Central's upcoming series South Side and, most notably, Showtime's The Chi.
Though this trend certainly brings more production jobs to Chicago, some Black residents worry that some filmmakers and showrunners are using this moment to capitalize on the violence narrative.
"I was super disappointed in Spike Lee because he made New York the best place ever to us. We all wanted to go to Brooklyn because Spike Lee made us want to go to Brooklyn," says Gemini Jones, a popular DJ in the city. "So when he did Chi-Raq, first off, the name alone was him kind of smacking us in the face. I tried to watch that movie and I legit only made it, like, 10 minutes in. I couldn't do it because there was absolutely nothing about that movie that felt Chicago. Even the soundtrack didn't have real Chicago music on it."
Jones grew up in the Cabrini-Green housing projects on Chicago's near North Side. Her granddad would tell stories about the good ol' days in their neighborhood, using the film Cooley High as a historical reference.
"That venue that they were partying in, [in Cooley High], we called that 'the End.' That was an actual real place that they really did cut school to go party at," Jones says. "I lived on the other side of the projects. I was from the buildings they filmed Candyman in."
Candyman, a supernatural horror shot in the Cabrini-Green projects, shook up nearly every Black kid in the projects and across Chicago when it came out in 1992. For me, growing up on the West Side, Candyman felt too real and too close—like he could be lurking in a gangway on my block at night. For Jones, who lived in the building in front of the Candyman building, you couldn't tell her that urban legend wasn't real.
"Every kid from the Cabrini Green projects will tell you that we thought Candyman was real," Jones says. "You used to be able to move the medicine cabinets out of place and climb through to the other apartment. I thought that whenever we did that, we were going into Candyman's house. It used to scare the shit out of me."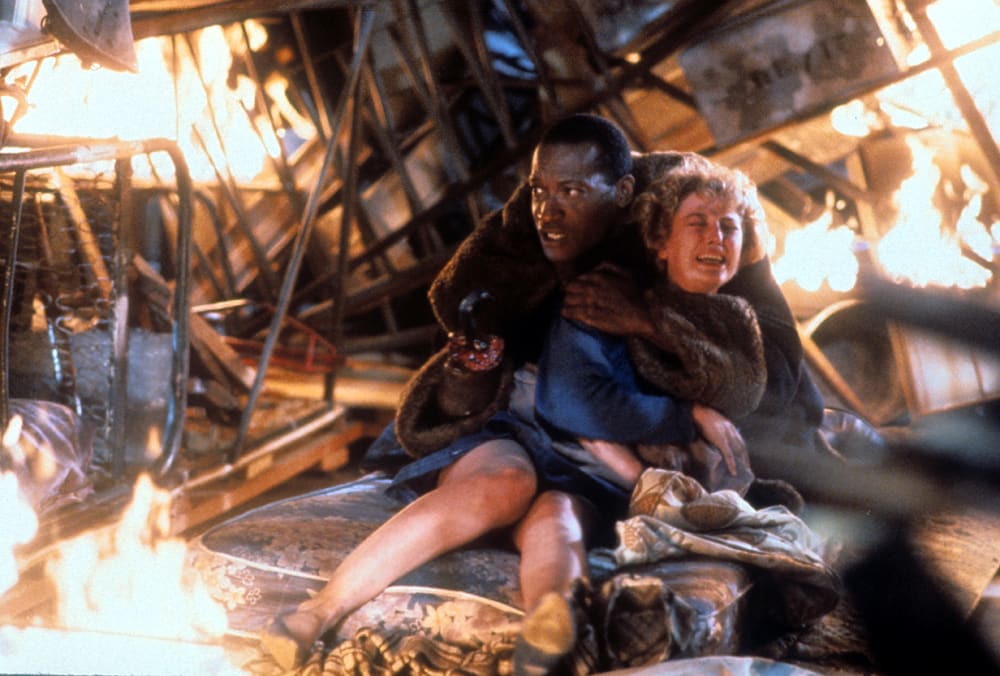 Get Out's Jordan Peele is rebooting the Candyman franchise, and is apparently filming it in the now super gentrified Cabrini neighborhood where the projects were and replaced with high-end townhouses and condos years ago.
For Jones and many others, authenticity matters when telling a story about Black Chicago. Brandon Calhoun, a footwork dancer with the Era, saw himself in Sean Patrick Thomas' character, Derek, from 2001's Save the Last Dance. Set and partially filmed in Chicago, the film sees Derek, a smart Black guy from the hood, step in to teach Julia Stiles how to incorporate hip-hop in her Joffrey Ballet-style of dance.
"Footworking was big back then. Save the Last Dance let me know you can be masculine and dance," Calhoun says. "It also lets you know that you can be from the hood and still be a smart dude. You may have friends that are in the streets, but you could be an educated man in the hood and dance. It's, like, one of those roles that you don't see Black men being highlighted in that light."
When asked if there are any films or TV shows that embody a nuanced representation of being Black in Chicago, Calhoun says not in the mainstream. He points to Drive Slow, a 2017 indie short written and directed by Terrence Thompson. Featuring rapper Rhymefest, local AirGo radio personality and organizer Damon Williams and other local talent, Drive Slow follows a Black teen from the South Side who struggles to write a 500-word college essay about how his environment influences his view of the world.
"I just wanted to see Chicago's violence given the context it never receives," Thompson says about his film. "Instead of exploiting violence to be trendy, it calls out how sensational narratives of violence are used to further destabilize communities."
In Chicago, documentary filmmakers have been finding the perfect balance between social justice and representation in the stories they tell about Black folks. Most notably, 1994's award-winning Hoop Dreams successfully captured the real-life experiences of two young Black men growing up in the hood, while commuting to a prestigious white high school in the suburbs, to make their NBA dreams come true. Another doc, 2011's The Interrupters, explored the issue of violence in Chicago's Black neighborhoods without sensationalizing or demonizing its characters. Both titles come out of Kartemquin Films, a storied nonprofit documentary house in Chicago.
"For fiction stories, sometimes it's all about representation. We like to see our stories and ourselves represented on screen," says Morgan Elise Johnson, a documentary filmmaker and co-founder of Chicago-based The Triibe, the platform behind the award-nominated multimedia series, The Block Beat, and the docu-poetry series, Another Life. "But it's something about real life and seeking truth in documentary that makes us really have to examine the world around us."
Johnson credits Kartemquin Films with helping her become the filmmaker she is today. But she also applauds Kindling Group, Media Process Group, and Sisters in Cinema, who, together, have built a strong documentary community in Chicago. At the moment, Johnson is a co-producer on Unapologetic, a documentary film in development with Kartemquin that tells the story of the movement for Black lives in Chicago through the lens Black women organizers on the front lines after the fatal police shootings of Laquan McDonald and Rekia Boyd.
"Being a young Black woman filmmaker and being able to produce my own film with another Black woman director, Ashley O'Shay, shows the diversity of Chicago and the support and growth of the community here," Johnson says. "I really do think Chicago has made a name for itself in terms of documentary production."
Outside of documentary, director Terrence Thompson believes Black Chicago's depiction on the big and small screens has a long way to go. For independent filmmakers like himself, the real work lies in showing the complexities of Black Chicago: telling stories about the Black queer, femme, and women experience, like Aymar Jean Christian does with his Open TV platform, or stories about the missing and murdered women and trans women, two subjects that doesn't get much press. 
"Most films engage with our violence in really lazy ways that limits how complex and connected it is in the great national landscape," Thompson says. "I think old Black Chicago films did a better job because they didn't have the pressure to make a political statement."
ComplexCon is coming to Chicago on July 20-21, 2019. Experience the festival and exhibition at McCormick Place, featuring performances, panels, and more. For ticket info, click here.