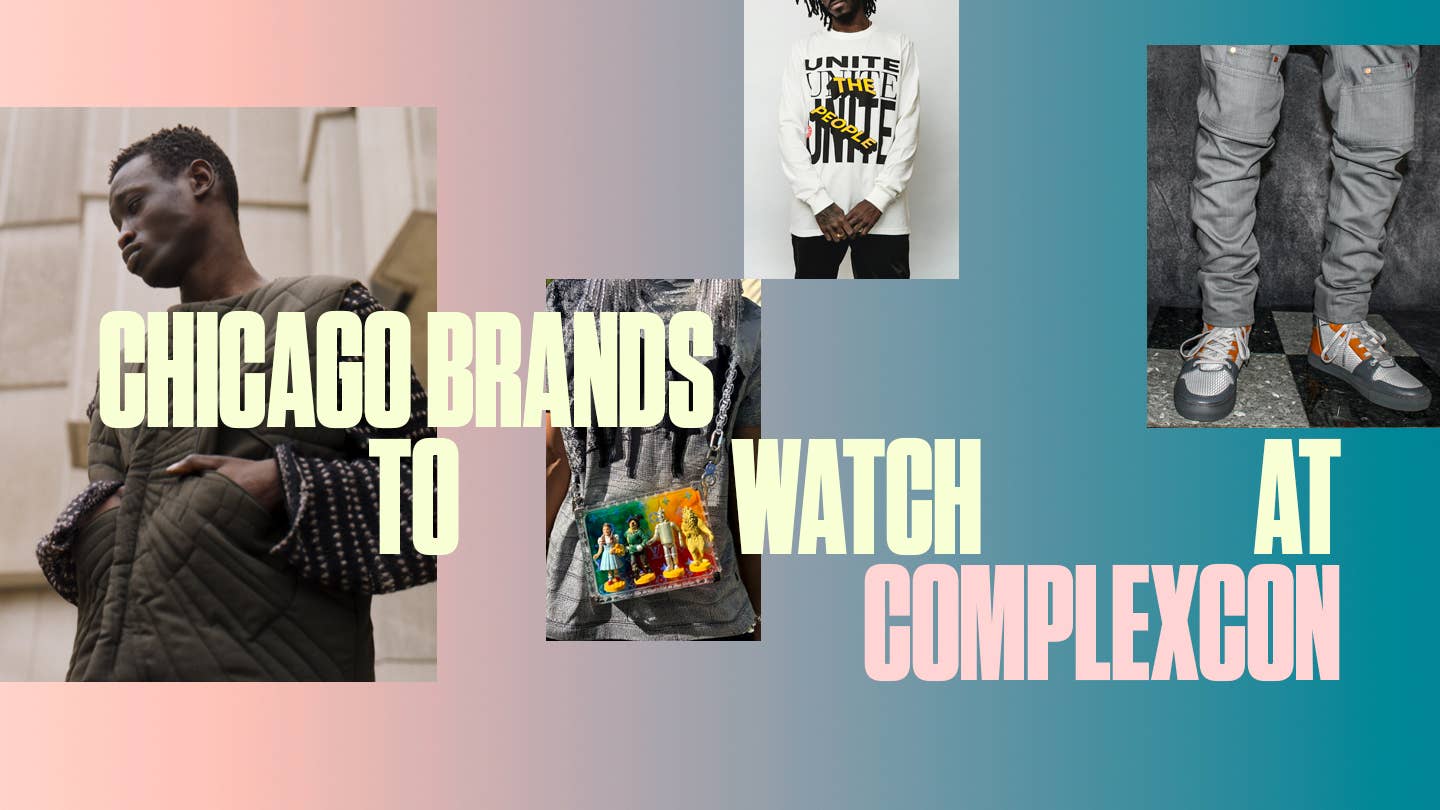 Chicago has long been home to artists who influence music and fashion, but previous generations of creators felt like they had to leave the city to gain success—see Kanye West, Virgil Abloh for example. But that idea is starting to shift, and younger Chicago-based designers including Rello, Sheila Rashid, Kristopher Kites, and Casper Wright are establishing their brands in the Windy City and still receiving global attention with help from the internet, as well as forefathers in Chicago retail and fashion such as Corey Gilkey, owner of streetwear store Leaders 1354, and Alonzo Jackson of Fashion Geek. They made living, creating, and running a successful business in Chicago feel achievable. 
On the weekend of July 20, Rello, Rashid, Kites, and Wright will represent for this new class of designers at ComplexCon Chicago's Brands to Watch space. Here, they detail how Chi-Town set the foundation for their brands and what you can expect from them during the big event.
Rello (VITA WORLDWIDE)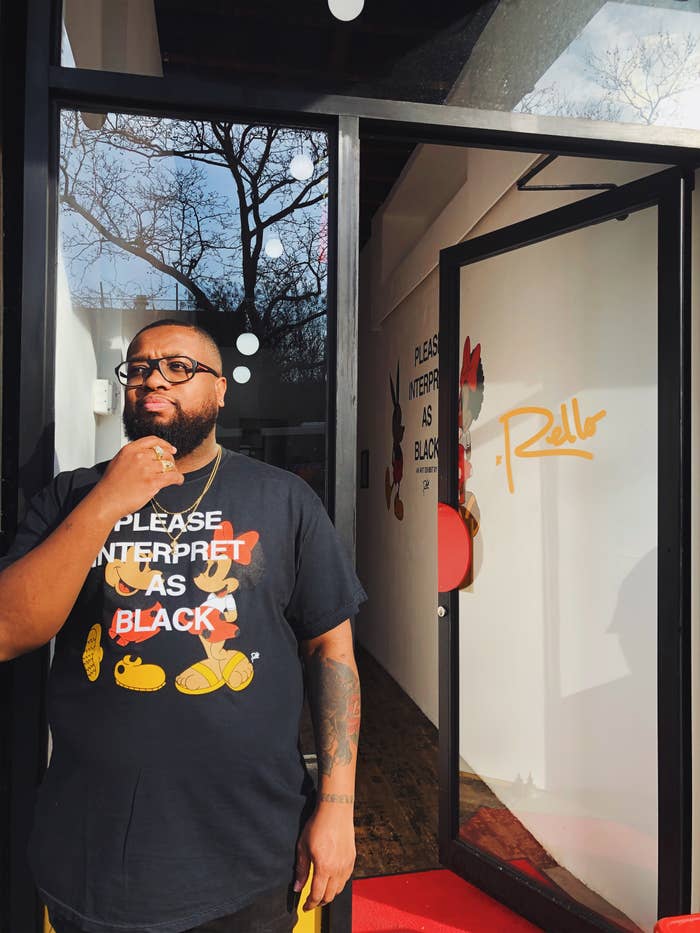 Rello definitely isn't someone who lets his creativity go to waste. The 32-year-old, along with his close friends Joe Robinson (aka Joe Freshgoods), Des Owusu, and Victor Pitre, first opened Chicago's Fat Tiger Workshop back in 2014 before moving to its current location in 2017. The multifaceted creative also operates his own streetwear label, Vita Worldwide, and Paradise Design House, a project that focuses more on his passion to grow as a contemporary artist. 
Before all of these endeavors came to fruition, Jones got his start working at the popular Chicago streetwear boutique Leaders 1354, a place where he says many of his generation's creatives from the Windy City first got their feet wet.
"Leaders was the first streetwear store here in, like, 2004-2005. It was the first store to show us that independent look at clothes and fashion. That opened up my eyes a lot," he tells Complex. "Guys that look like me, where I'm from, were doing something different. I made picture T-shirts in high school and sold them during lunch. It was just a hustle to buy shoes, but after meeting some people at Leaders, it connected some of the dots for me, as far as turning art and design into a business."
Things got serious for Rello around 2006, the period when he began to learn more about what it took to operate a brand and improved as a graphic designer. This was also when one of his most popular Vita designs, "Chicago Over Everything," first released. Since then, the phrase has been repurposed, and knocked off, in a multitude of ways across T-shirts and hoodies. Vita's other designs have caught the attention of big names like LeBron James, Quavo, and SZA over the years.
"Chicago doesn't get enough respect and love for what it has going on. If you're a true Chicago person, you really feel the 'Chicago Over Everything' shit. You know what it's like to grow up and try to make it, to fall in love, to grow up in this city. You lived through it. That's the beauty of it. The design is simple, but the message speaks to a lot of people."
A lot of Rello's art focuses on positive representation and black empowerment, something he feels is very important, given the current social climate. In May, he released his "Everything Starts With a Woman" collection, a line centered around the character Ruby Bad Mouse, a black reimagining of Minnie Mouse inspired by civil rights activist and actress Ruby Dee. He also credits his daughter with inspiring him to design more pieces she can relate to as she grows up. 
At ComplexCon Chicago, he will have a hand in multiple installations. Vita Worldwide will be dropping some exclusive designs at its booth. Rello will also operate a section dedicated to his personal art. It will feature the release of his first collectible vinyl figure of his Mickey Mouse-inspired character, Ozzy the Bad Mouse—think something in the vein of KAWS' popular BFF and Companion statues.
Rello's next move is to put a heavier focus on his art, with his own gallery stationed in Chicago currently in the works. —Michael DeStefano 
Kristopher Kites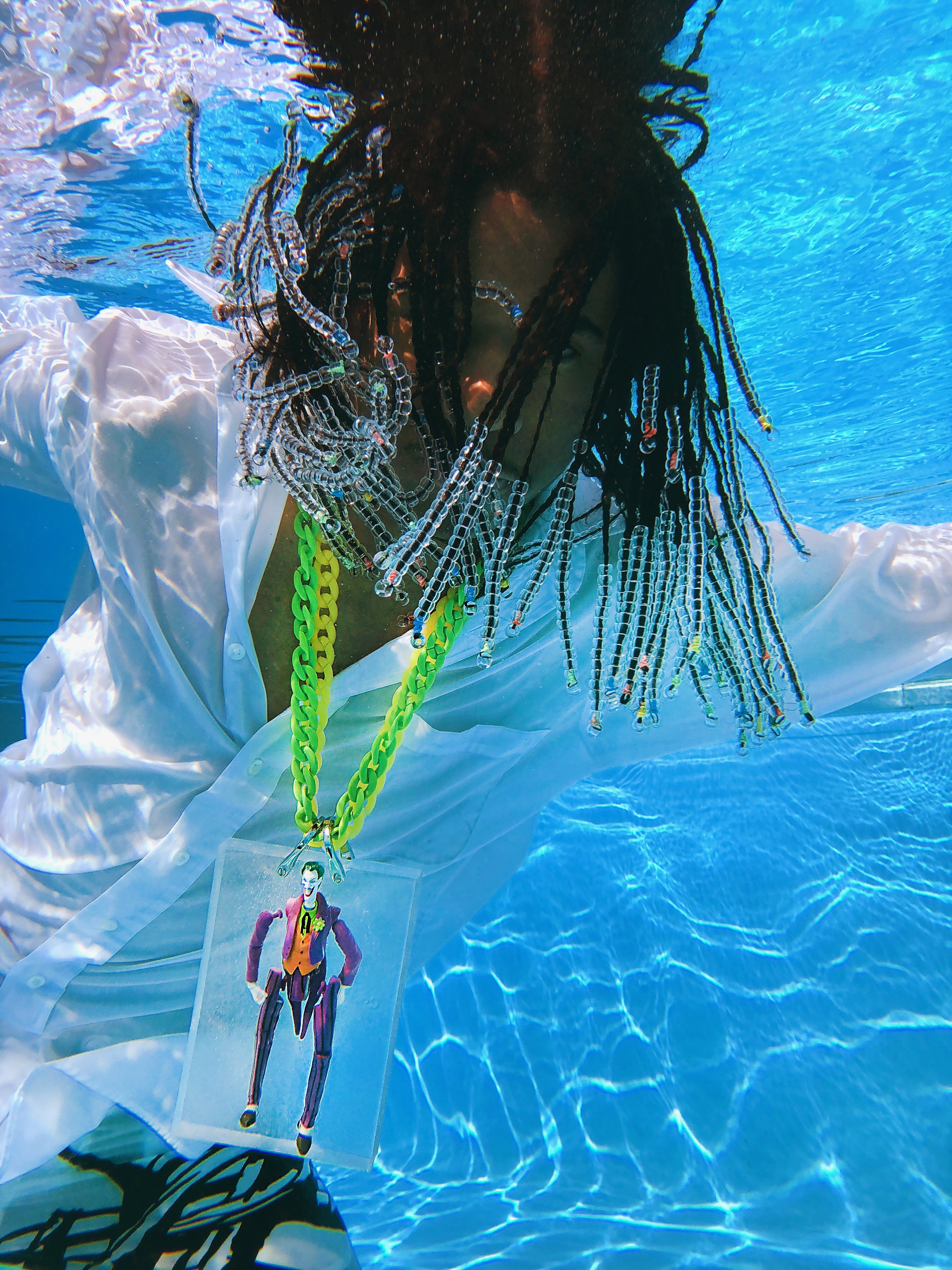 Kristopher Kites, who grew up on the South Side of Chicago, feels like he was validated as a designer when he collaborated with J Balvin on a collection of glow-in-the-dark jewelry for ComplexCon Long Beach in 2018. Now, less than a year later, Kites will have his own booth space at ComplexCon Chicago. 
"It felt surreal," says Kites when asked about finding out ComplexCon would come to his hometown. "Big events like these don't happen in Chicago, so it feels like it's open season for creatives to make things happen."
Although going to Long Beach and partnering with the Reggaeton star took his career to another level—he recently collaborated with streetwear brand AIPL on a pop-up at Nubian in Tokyo and was flown out to Paris for Fashion Week courtesy of Jordan Brand—his relationships in Chicago got him to this point. Before the 20-year-old started designing clothes and jewelry, he was modeling for well-known figures in Chicago's fashion and retail scene, including Joe Freshgoods from Fat Tiger Workshop and Don C from RSVP Gallery. Kites says Don C was the person who connected him with J Balvin. 
Before that, an exhibition/pop-up at Congruent Space in Chicago, where Kites decided to debut his jewelry—a playful collection that places superhero figurines and toys in clear cubes attached to plastic Cuban-link chains—led to a Vogue write-up in July 2018, which was published on the same day he was rejected from the Fashion Institute of Technology's menswear program. 
Betting on Chicago, and himself, has served Kites well, and for ComplexCon, he wants put his best ideas forward for the community that raised him with his Ice booth concept, where he will sell edible popsicles shaped like his pendants and debut his new translucent Jesus pieces, along with his take on Gucci chain link necklaces—the style popularized by Pharrell Williams.
Kites is hoping his activation will wow a city that isn't easy to excite. 
"Being a designer isn't glorified here, so my creativity has to be out of this world," says Kites. "The first thing everyone wants to do is make a T-shirt, but where I'm from, that's just not impressing anybody. They don't care if your work is good, OK, or great. It has to be fantastic for them to give you a little bit of credit." —Aria Hughes
Casper Wright (GUTTER TM)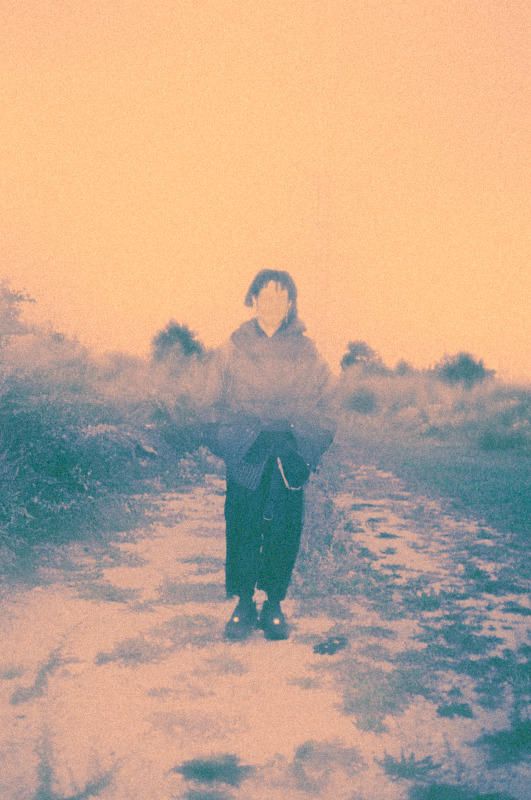 Casper Wright isn't from Chicago—he was born and raised in Cleveland—but the city is where he found the inspiration to launch his brand Gutter in 2016. He was living in a shoddy basement in Pilsen, a neighborhood in the Lower West Side of Chicago, and despite owning a collection of archival pieces from Raf Simons, Undercover, and Comme des Garçons, Wright says he was surviving on coffee and cigarettes and had no hot water. His circumstances influenced one of his first products: a cropped yellow hoodie with "Hot Water" printed on it that sold out. 
"I was living in a fucking hell hole. I was living inside a basement that flooded every time it rained," Wright says. "There was mold everywhere, and it was literally a gutter. That's how I came up with the name."
Now, three years later, Wright has moved out of that musty basement where he founded Gutter, a brand inspired by both cult Japanese streetwear brands and broken glass windows on the streets. Wright's work has resonated with Chicago streetwear retailers such as Notre and Gallery Aesthete, along with stores abroad, including GR8 Tokyo. It's a quick come-up for a designer living in a city that isn't his own. He moved to Chi-Town in 2015 to study fine art at the School of the Art Institute of Chicago, but because it felt too restrictive, he dropped out and learned painting techniques on his own. He didn't seriously consider making clothing until he developed a relationship with Bobby Hundreds, whom he met at an in-store event in 2014. 
"We got on this back-and-forth email basis. He said that he wanted me to be in a movie but I wouldn't really fit in because I didn't make clothes," Wright says. "I remember sitting in a McDonald's broke as fuck and realizing that I should just start making clothing now. I haven't met him in person since that day we met in Cleveland. But we continue to stay in contact through emails."
Within a year of moving to Chicago, Wright became involved in the city's streetwear scene by drawing graphics for heavyweights like Joe Freshgoods and Vic Lyold. When he held his first installation for Gutter in 2017 at Congruent Space, Wright says he was surprised to see that he already had a growing fanbase. 
For ComplexCon, Wright is planning to bring bondage pants, long-sleeve raglan button-ups with shorts to match, trench coats, and three exclusive T-shirt designs. He also plans to sell 10 "Guts Packs," a plush frog backpack.
Chicago has given him the foundation, but after ComplexCon, Wright plans on attending summer classes at Central Saint Martins and follow the footsteps of Kiko Kostadinov, a Bulgarian menswear designer based in London, by taking up an internship with the designer Aitor Throup, the innovative Argentinian designer behind the brand New Object Research and former executive creative director of G-Star Raw. For Wright, showing at ComplexCon is something he didn't expect but gladly welcomes.

"I never thought I would be someone who was going to be asked to do this because I'm not popular on social media," says Wright. "I'm very humbled to be recognized for what I've done in such a short period of time. Some people do this shit for their whole lives and never even get this much recognition." —Lei Takanashi
Sheila Rashid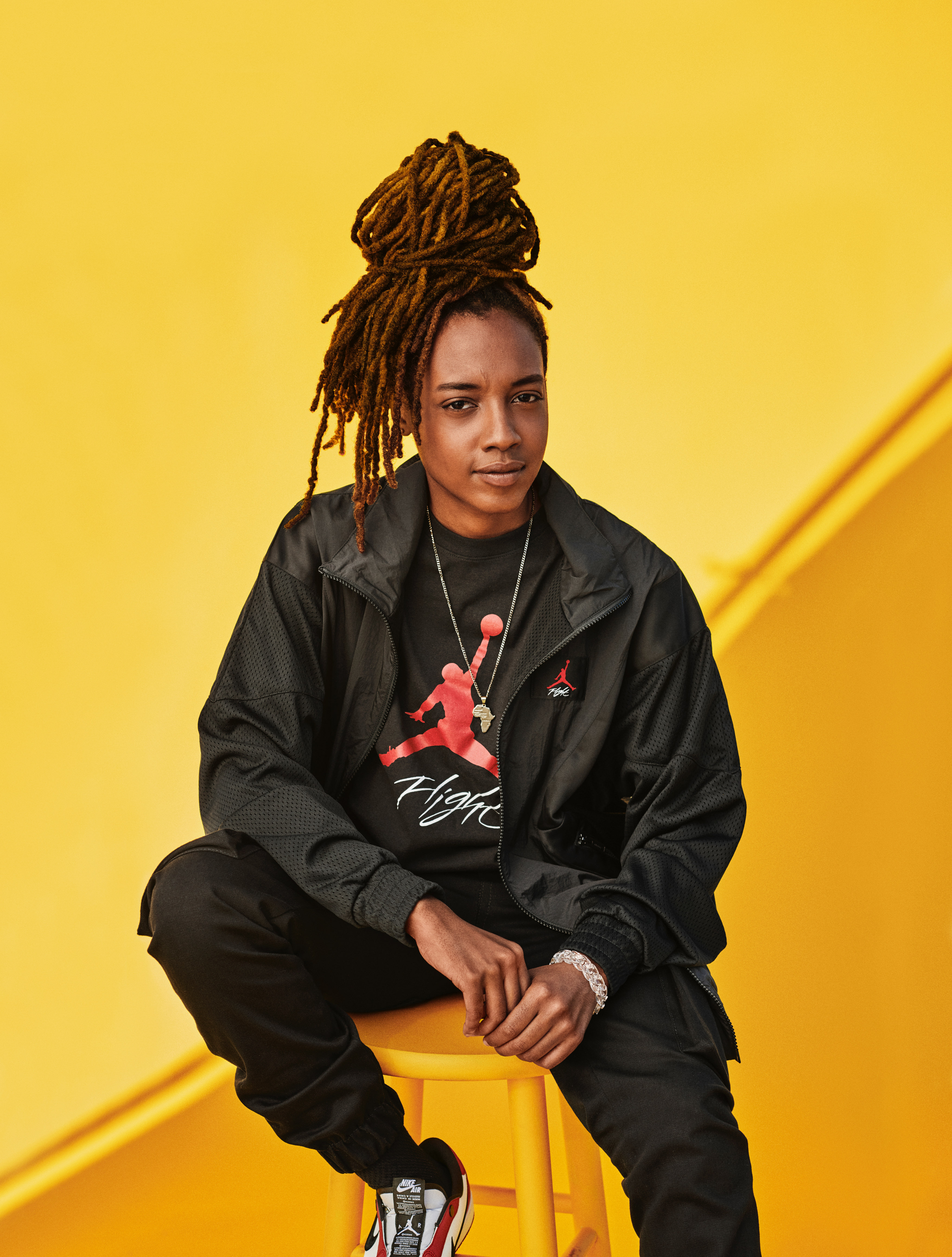 Sheila Rashid doesn't come from a family of fashion designers. She says her mom's style inspired her, but like many people growing up in the early 2000s, she was heavily influenced by iconic brands like Bape and BBCICECREAM. The influence led to her hand-painting T-shirts to sell in high school, which kickstarted her love for design. While those graphic T-shirts were a far cry from the cut-and-sew pieces she has become known for, they did give her a starting point for her eponymous label, which debuted back in 2011. 
That year, following a short tenure at Columbia College studying design, Rashid dropped out and briefly relocated to New York City. She returned home a year later to become part of Chicago's bubbling local fashion scene. It was during this time that she learned more about the business side of operating her own brand and further honed her abilities while interning with designer Horacio Nieto.
"During my college years, I was making clothes from scratch with my portable sewing machine. It just evolved over time. I started off doing a lot of dresses, harem pants, and geometric-inspired dresses," Rashid tells Complex. "So a lot of empowering dresses with a lot of details. I kept that same aesthetic until now, as far as detailing and using classic shapes, and I put my own twist on it."
Much like how she started crafting T-shirts in high school, Rashid operates her brand on a made-to-order basis rather than mass producing the pieces at a factory. For perspective, she says it takes her about five hours to complete a pair of pants, which retail anywhere from $300 to $600. The lesson to keep her design process close is one she learned the hard way.
"I went to a main factory in L.A. because I wanted to make 50 pairs of overalls at the time. [The factory] was legit, but for some reason, he couldn't fulfill my order. Basically, all the money I invested into him was gone. That's how I decided I wanted to continue to do made-to-order. If it wasn't touched by me, I didn't want to go that route. It's still hard for me to decide if I want to do mass production, but it just doesn't sit right with me."
Nowadays, Rashid is known for her gender-fluid line, which boasts bespoke pants and jackets, along with graphic T-shirts and hoodies. Her signature drop-crotch overalls have been seen on big names like the Windy City's own Chance the Rapper and Lena Waithe, as well as Euphoria star Zendaya. She recently designed a special automotive-inspired capsule with Nissan for Black History Month and held a runway show at Museum of Contemporary Art Chicago in conjunction with Virgil Abloh's "Figures of Speech" exhibit in late June. For ComplexCon, Rashid is planning what she refers to as an "elegant" space to showcase her exclusive goods. It will sell multiple T-shirts, sweaters, pants, and overalls featuring graphics inspired by tennis legend Serena Williams and Duchess of Sussex Meghan Markle. 
What does the future hold for the young designer? She hopes to continue to produce yearly collections, collaborate with more brands, and maybe even open up a brick-and-mortar location one day.
"My personal style is pretty androgynous. So it is what it is when I make clothes. I'm not making something specifically for a woman. Anyone can wear it. I just make clothes for people." —Michael DeStefano
ComplexCon is coming to Chicago on July 20-21, 2019. Experience the festival and exhibition at McCormick Place, featuring performances, panels, and more. For ticket info, click here.