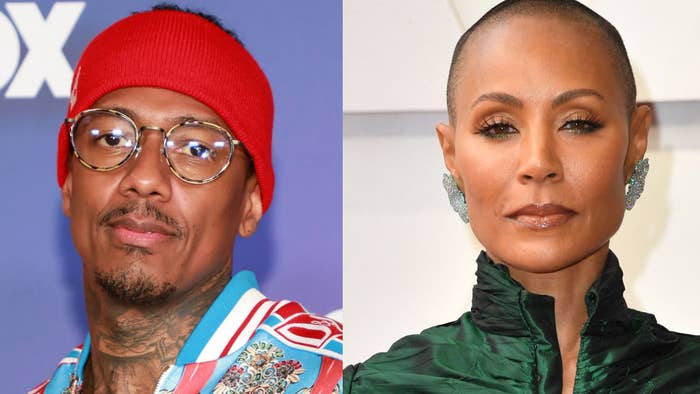 Nick Cannon didn't mince his words with the news that Jada Pinkett Smith's Red Table Talk show has been canceled.
In a clip from his new live radio show, The Daily Cannon, the 42-year-old host said that it was "good" that the show was canceled. He dubbed it, "toxic table" when his co-hosts—Courtney Bee Bledsoe, Mason, and Abby De La Rosa—advocated for the show.
"If there was no Red Table Talk, then he wouldn't have slapped the shit out of Chris Rock," Cannon said, commenting on last year's Oscars controversy, where Will Smith walked on stage and slapped Chris Rock for him joking about Pinkett Smith's shaved head.
"That was royalty, Will and Jada. Then they brought it to the table," he said. "I don't want to know all this shit about y'all." 
"I just want to mind my Black-owned business. I don't want to be up in everybody else's kitchen," he added. "Keep that shit to y'all selves."
Red Table Talk launched in 2018 and starred Pinkett Smith, Willow Smith, and Adrienne "Gammy" Banfield-Norris. The show was canceled following the end of Facebook Watch's original programming. Pinkett Smith previously addressed the Oscars slap on RTT, and Will Smith appeared on the show throughout the years—most notably sitting down with his wife to discuss her romantic "entanglement" with August Alsina when she and Smith were separated. RTT is now looking for a new home.
The cancellation is due to Meta reportedly laying off its Head of Development and Programming, Mina Lefevre. All of the programs that started under Lefevre's tenure will be canceled, including offerings from Gloria Estefan, Steve Harvey, Taraji P. Henson, MTV, Courteney Cox, Paris Jackson, the Biebers, and Tom Brady.