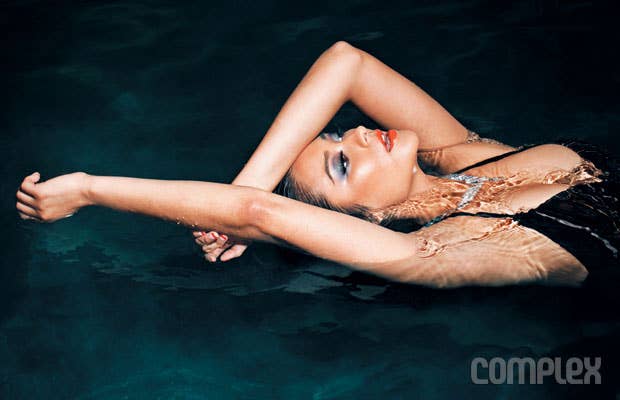 The Pretty Little Liars star talks kissing girls, underage clubbing, and thrill seeking.
This feature appears in Complex's June/July 2012 issue.
Shay Mitchell plays lesbian teen Emily Fields on Pretty Little Liars, which returns for its third season in June. But don't ask her to indulge your girl-on-girl fantasies. The 25-year-old Vancouver native dreams about beating down bad guys, and that includes creeps like you.
Interview by Tara Aquino (@t_akino)
Follow @ComplexPopCult
What is your general view on sexuality?
I think it's the same now as it was before I'd played the character. I've always felt like you should love who you love—sexuality doesn't matter. It would be so awesome if I didn't get questions like, "How did you feel?" It would be so cool in the future if it weren't even an issue to anybody anymore. People would see two girls kissing on TV and it wouldn't be like, "On this show, two lesbians! Dun-dun-dun!" It wouldn't ever even get brought up.
I love the cute girl who can kick ass.
Typically lesbian roles are overly sexualized in movies and TV. How do you think PLL handles it differently? 
The show doesn't shy away from my character's sexuality at all, but it's done in a tasteful way. There are no fans in the room blowing our hair as we're making out. But even when I was telling my guy friends about the character I was playing, they were like, "Oh my God! Do you know who the girls [you'll be hooking up with] are?" And I said, "It's not gonna be like that!" [Laughs.]  
Did you do any special prep to play a lesbian?
Honestly, I didn't do anything. I know people who've played gay characters and they'd hang out at a gay bar or ask questions. I know what it's like to love somebody, and my character loved a girl, so that's how I played it.
Emily hooks up more than anyone else on the show. Have you learned any game from her?
[Laughs.] She definitely has good game. She has a revolving door of girls! You'd think I'd pay more attention to Emily in that department, but no, I haven't thought about bringing any of her swag into my own life.
Did you sneak out a lot when you were a teenager, like the girls on PLL do?
[Laughs.] I was the queen of sneaking out. My parents gave me the basement suite, so I had an easy time getting out from that window. One time, I had friends staying over and we went downtown and got into a club with fake I.D.s. We were there for 45 minutes and I was dancing with a guy when I felt a tap on my shoulder. I turned around and it was my dad. He was like, "Can I have this dance?" We all walked out of the club like little ducklings.
Did he ground you?
No. It was funny to him. He couldn't believe that he actually found us. He got a huge kick out of it when the bouncer said, "You have to go to the back of the line." My dad was like, "Oh really? Because I think my underage daughter and her friends are in this club, so I think you want to move me to the front of the line." [Laughs.]
You once said your dream role would be in an action movie, doing stunts in heels.
I love all the Bond movies. I love the cute girl who can kick ass. As much as I'm a girly-girl and I like to dress up, I'm also adventurous. I've gone skydiving and I really want to learn how to surf and rock climb this year.
What is your action sequence fantasy?
I'm terrified of heights, but I get a sick thrill out of being on an edge, so maybe scaling the side of a building. Then there'd be an explosion and I'd fly off into shark-infested water. You got me daydreaming! [Laughs.]
All Bond girls have great names. What would yours be?
Shay Buttah. [Laughs.]
WATCH SHAY'S "SECRETS & LIES" VIDEO:
ADDITIONAL CREDITS: (HAIR) Tara Jean. (MAKEUP) Crystal Boyce. (CLOTHING) FIRST & FIFTH IMAGE: Swimsuit Stylist's own / Necklace by Swarovski. SECOND IMAGE: Dress by Sass & Bide / Ring Stylist's Own. THIRD IMAGE: Top by Alice + Olivia / Shorts by Sass & Bide / Shoes by Jeremy Scott / Cuff by Lana Jewelry. FOURTH IMAGE: Jumpsuit Stylist's Own / Ring by Erica Courtney.