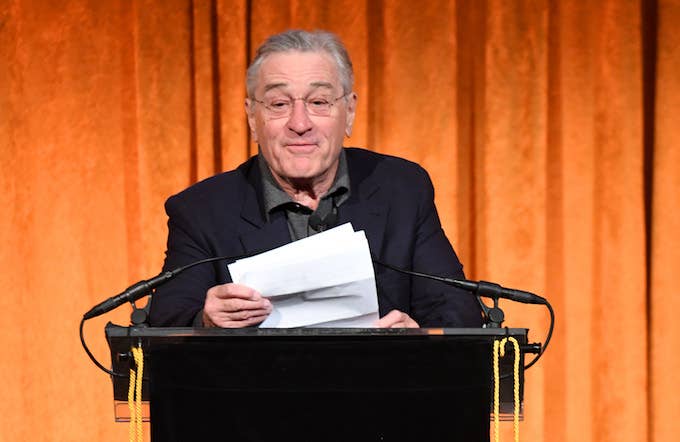 President Donald Trump has been called a lot of things. To John Oliver, he's Donald Drumpf. To Ivanka, he's Daddy. But to Robert DeNiro, he's the "baby-in-chief," or, alternatively, "jerkoff-in-chief"—the moniker that perhaps most accurately encapsulates his character.
When introducing Meryl Streep at the National Board of Review gala, the actor could not contain his ire. "This fucking idiot is the president. It's The Emperor's New Clothes. The guy is a fucking fool," he ranted. "Our government today, with the propping of the baby-in-chief―the jerkoff-in-chief, I call him―has put the press under siege, ridiculing it through trying to discredit it through outrageous attacks and lies." 
This may be De Niro's most passionate Trump diss, but it's not his first. He called him "totally nuts" during his campaign, saying in an outtake from a Get Out the Vote video, "He's a dog, he's a pig, he's a con, a bullshit artist" and "I'd like to punch him in the face." After Trump's victory, De Niro lamented to Jimmy Kimmel that he now couldn't punch him. But at least he can keep insulting him with inventive names. We hope "baby-in-chief" and "jerkoff-in-chief" are two of many to come.