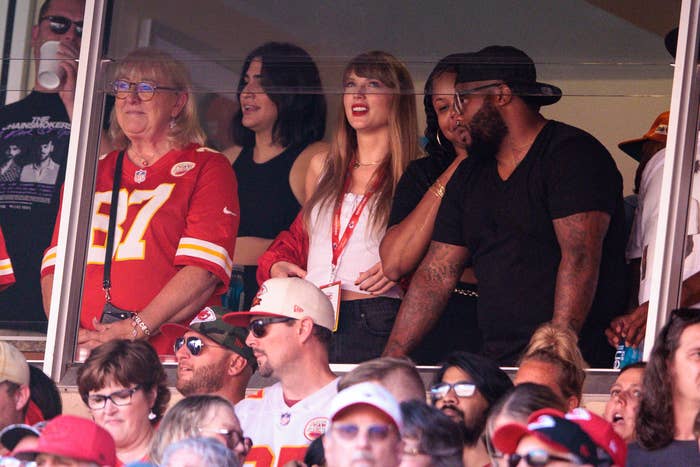 Thanks to Travis Kelce, Swifties have flooded social media. Taylor Swift's devotees are overtaken with excitement and curiosity over the singer's new pro-bowler boyfriend. Romance rumors about the two hit in early September and quickly became trending topics after their public appearance.
The Midnights artist usually keeps her relationships out of the spotlight. But for Kelce, she seemingly made an exception. She was spotted cheering on the 33-year-old ball player at the Bears vs Chiefs game, sitting alongside his mother, Donna Kelce, sporting Chiefs gear. The news went viral, along with a recording of the two exiting Arrowhead Stadium side-by-side, officially confirming their relationship.
The entertainer was recently linked to Matty Healy, which ultimately ended after controversy arose against the lead singer of The 1975. A close source told People, "They were never boyfriend-girlfriend or exclusive and were always just having fun. There is no drama, and who knows what could happen again. It was a good time and ran its course."
As for Kelce, the Ohio native was dating sports journalist and model Kayla Nicole since 2017. The pair were on and off until the end of their relationship in 2022.
Kelce and Swift's relationship has caught the attention of the country. As many fans question their union, here is everything we know so far about their unexpected relationship.
Taylor and Travis are speculated to be dating
Date: September 12, 2023
Romance rumors between Kelce and global superstar Taylor Swift first circulated after an alleged insider spilled the tea on their new relationship. According to The Messenger, the pair were hanging out on the low. "Taylor and Travis have been quietly hanging out. She saw him when she was in NYC a few weeks ago," said the source.
Kelce's brother, Jason, confirms Travis and Taylor's relationship
Date: September 20, 2023
The speculation regarding Taylor and Travis' alleged romance was cleared up by Travis' brother, Jason. In a conversation during DeCamara & Ritchie's Audacy SportsRadio 94WIP, the Philadelphia Eagles center admitted that "It's hard to answer" questions regarding his brother's romance, "Because I don't really know a lot about Travis's love life. I try to keep his business kind of his business, [and] stay out of that world."
He continued, "Having said that, man, I think they're doing great. And I think it's all 100% true. I hope this thing goes a mile—no, I'm joking, I don't know what's happening."
Travis invites Taylor to a Chiefs game
Date: September 21, 2023
In an interview on The Pat McAfee Show, the two-time champ shared details on how he tried to shoot his shot with Ms. Swift. "I told her that I've seen her rock a stage in Arrowhead and she might have to come see me rock the stage at Arrowhead," he recalled, per People. "We'll see what happens in the near future."
Swift is seen at Kelce's game with his mother
Date: September 24, 2023
In the wake of Kelce's brother confirming Travis and Taylor's romance, Swift was seen cheering on her rumored beau at the Chiefs vs Bears game. Cameras captured the megastar decked out in Chiefs gear, while sitting with his mother in the sport star's family sky box.
Kelce and Swift make their first public appearance together after the game
Date: September 25, 2023
On the same day, the singer and Kelce made their first public debut as a couple while leaving Arrowhead Stadium. An internet frenzy erupted after a TikTok recording of the twosome went viral. In the video, they kindly greeted someone heading out as they walked side by side.
Following the game, the pair continued their outing at a popular restaurant in Kansas City.
Entertainment Tonight reported that Kelce spontaneously rented out Prime Social Rooftop for Swift and his teammates. An eyewitness told the outlet that "Travis bought out the restaurant for his family and team. Taylor arrived, wearing a denim dress, and was seen snacking, having some cocktails, and dancing alongside Travis." They continued to describe the duo's nature towards each other, saying, "The two were very affectionate with one another but kept things fun and lighthearted."
The source also added, "Travis' teammates also showed up to the after-party, as well as his mom and dad, Donna and Ed. The party lasted until 2 a.m."
Kelce shares details about his weekend with Swift
Date: September 28, 2023
In a new episode of The New Heights with Jason and Travis Kelce, the Chief's tight end discussed the apparent elephant in the room... Taylor Swift. "We are here," Jason said, insinuating to talk about his brother's love life. "We've been avoiding this subject out of respect for your personal life, but now we got to talk about it."
"My personal life is not so personal," Travis jokingly said. "I did this to myself, Jason, I know this." Jason then jokingly asked, "Well, Trav, how does it feel that Taylor has finally put you on the map?"––seemingly nodding to a Swifties TikTok challenge.
The 33-year-old explained how his life has changed over the course of a few weeks, including paparazzi swarming his home. "Shout out to Taylor for pulling up. That was pretty ballsy," he emphasized, per Complex. "I just thought it was awesome how everybody in the suite had nothing but great things to say about her — the friends and family. She looked amazing, and everybody was talking about her in great light."
Taylor is seen at a Chief-Jets game in New Jersey
Date: October 2023
The "Karma" singer made her way to another Chiefs game in New Jersey, sending Swifties and the NFL into overdrive. She was spotted entering MetLife Stadium, seemingly cheering on her rumored boo, Kelce, for his game against the New York Jets. A star-studded posse accompanied her in a VIP box, including Blake Lively, Ryan Reynolds, Hugh Jackman, Sabrina Carpenter, and Antoni Porowski.
Travis says NFL is "overdoing it" regarding his new relationship
Date: October 2023
Ultimately, Swift's attendance at Kelce's last two games sparked tremendous media coverage, shedding new light on the NFL. On a new episode of New Heights with Jason and Travis Kelce, the tight end spoke on how the media is dramatizing his new relationship. "I think it's fun when they show who is at the game," he said around the one-hour mark. "I think it brings a little bit more to the atmosphere, brings a little bit more to what you're watching. But at the same time, they're overdoing it a little bit for sure…especially my situation. I think they're trying to have fun with it."