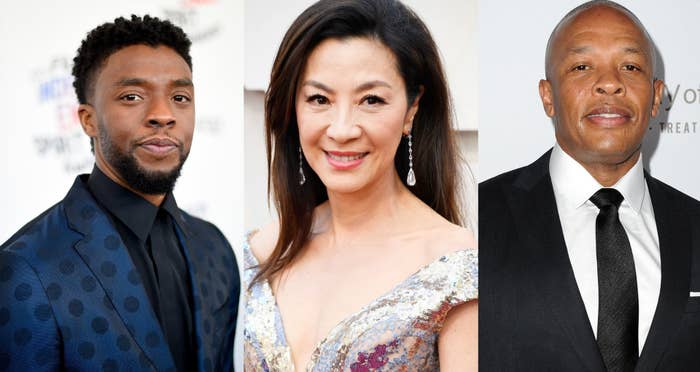 On Monday, The Hollywood Chamber of Commerce announced the 2024 honorees who will receive a star on the Hollywood Walk of Fame.
The Hollywood Walk of Fame Class of 2024 were chosen among hundreds of nominations to the committee at a meeting held on June 16. The finalized list was formally signed by the Hollywood Chamber's Board of Directors on June 21.
Among the 31 entertainers, the late Chadwick Boseman (Black Panther), Dr. Dre, and Michelle Yeoh (Everything Everywhere All at Once) were named to be inducted.
Beloved actor Boseman will receive a posthumous star along with icon soul singer Otis Redding.
In a statement by the organization, Chair of the Walk of Fame Selection Panel and radio personality Elle K stated, "The Selection Committee, which is made up of fellow Walk of Famers, carefully hand-picks a group of honorees each year that represent various genres of the entertainment world."
Adding, "The Committee did an amazing job choosing these very talented people. We can't wait to see each honoree's reaction as they realize that they are becoming a part of Hollywood's history with the unveiling of their star on the world's most famous walkway!"
Along with Yeoh, Gal Gadot (Wonder Woman), Christina Ricci (Yellowjackets), Maggie Gyllenhaal, Kevin Feige, and Kerry Washington (Little Fires Everywhere) will get a spot on the legendary attraction.
In addition to musical artists, Toni Braxton, Brandy Norwood, and Gwen Stefani will get a star.
Radio legend Angie Martinez can add a star to her list of accomplishments as she was also named.
In recent news, the late West Coast legend 2Pac received a posthumous star as his sister, Sekyiwa Shakur, accepted the achievement on the Shakur family's behalf.
She stated, "From the first time he stepped foot on the stage of the Apollo Theater at 13 years old, before anyone recognized his name, he knew he had the dream to have a star here on the Walk of Fame."
Nodding to how his life work is still relevant in society and provides a "lasting impact he's had on this world."