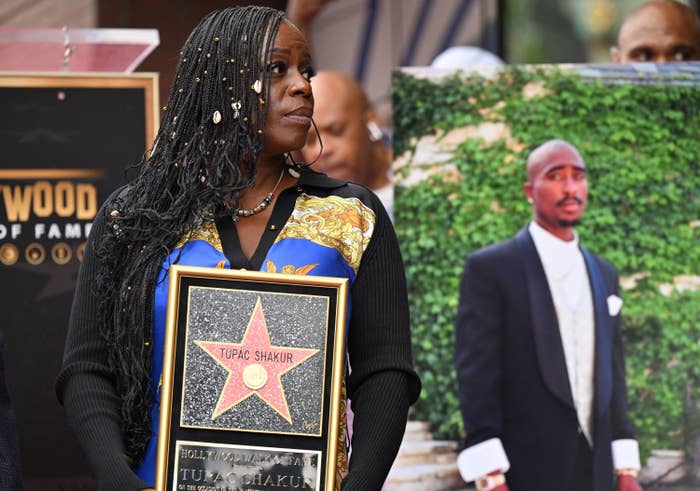 Tupac Shakur officially received a star on the Hollywood Walk of Fame.
The late rap icon was honored on Wednesday as family, friends, and fans attended the event. 2Pac's sister Sekyiwa Shakur shared words on the family's behalf as she nearly cried recounting her brother's legacy.
"From the first time he stepped foot on the stage of the Apollo Theater at 13 years old, before anyone recognized his name, he knew he had the dream to have a star here on the Walk of Fame," she said.
In her speech, Shakur noted that as people gathered together to "pay tribute to [2Pac]'s contributions to the music industry," it shows the "volume" of the "lasting impact he's had on this world."
She added, "Today, we're not just honoring a star in the ground. But we're honoring the work and the passion that he's put into making his dreams come true."
YG, Mike Epps, Naughty by Nature's Treach, and radio personality Big Boy were in attendance.
"He defied the distinction between art and activism," Big Boy said of Pac.
The news comes ahead of 2Pac's birthday, June 16. He would have turned 52.
Hulu's Dear Mama documentary director Allen Hughes spoke about Pac's influence and how it's still prominent in the 21st century. "Tupac Amaru Shakur has become a global symbol of rebellion—a symbol as visible and important as Malcolm X and Che Guevara and an inspiration to activists today," Hughes said,
The director concluded his speech by saying, "The world feels 2Pac's message. Not so bad for a little Black boy from Harlem, right?"